Solutions, Caesars Rome, I Am Hope - Barfly, Cardiff, Saturday 15 March 2010
On the bill were two of the bands I've been writing about as Wales' 'next generation' of rock bands: I Am Hope and Caesars Rome.
On the night they were impressive, with Caesars Rome displaying the post-hardcore and melodic punk sensibilities they avow, with a slight space-rock, proggy element that surprises me, but worked well. I Am Hope played to a decent audience, engaging well - if politely - with their more indie-influenced rock.
But for me the band of the night was Cardiff's own Solutions.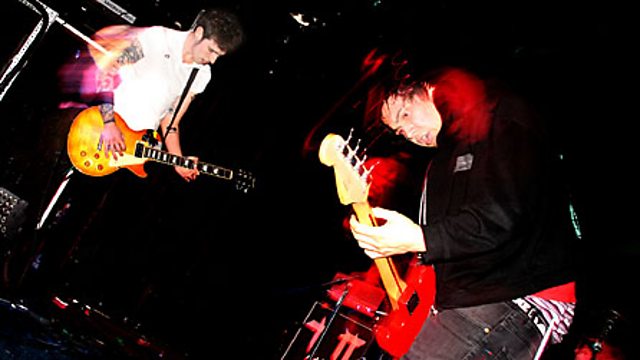 Is it nostalgia? Possibly; I'm always aware that I have a soft spot for bands who remind me of the music of my youth, and Solutions definitely nod their heads to the American melodic hardcore that formed a large part of my musical education. The choruses could have come from Samiam or a range of Revelation Records bands: Farside, Shades Apart or State Of The Nation.
Some of the structures were a bit more off-kilter and put me in mind of the Dischord Records back catalogue: Fugazi or Rites Of Spring.
Yes, this was old-fashioned punk rock music, but they played with admirably accomplished enthusiasm and a sense of entertainment. Sure, they're not the finished article, and they need a bit more live polish, but Solutions made me smile.
Lead singer Nicky Williams, a wiry livewire with an impressive tattoo collection, owns his stage, bashing out power pop chords, and has a proper punk rock frontman presence. Drummer Robin Williams and bassist Kai Woolen-Lewis, meanwhile, provided a beefy, solid rhythm section.
Their self-released début album, Before The Roars, features a few tunes that some much-vaunted established bands would be deservedly proud of. Fighting Tiger and You Can't Outnumber A Mathmetician are the most obvious of these. A new four-track EP is due for release in the next few weeks, so if like me you're a sucker for the power pop punk of bands with brains, this threepiece may tickle your fancy.
Feel free to comment! If you want to have your say, on this or any other BBC blog, you will need to sign in to your BBC iD account. If you don't have a BBC iD account, you can register here - it'll allow you to contribute to a range of BBC sites and services using a single login.
Need some assistance? Read about BBC iD, or get some help with registering.