Royal Welsh Show 2013: day two
On Tuesday morning I was back up bright and early for another packed day at the show.
Definitely my highlight of the day and perhaps the week was a trip down to the sports section to meet up with Richard Jones and young Lucy. Richard runs a very successful judo club in Builth Wells and had kindly agreed to discuss the clubs achievements during a public demonstration of his art.
On meeting up it was obvious that Richard was a very colourful character and passionate for his sport. I knew he'd be fine with me asking him to show me a few moves.
What my crew didn't know was that I used to be a Welsh Bujinkan Nimpo Taijutsu instructor, in short meaning that if I was thrown to the ground I could land pretty effectively and safely.
I decided to conceal this fact from them, and the audience, explaining that I would do the initial piece to camera and then as I approached Richard he would gently pick me up and lower me to the ground in a mock throw.
A few words in Richard's ear and he was in on the act. As I walked towards the camera talking about red rosettes and yellow ribbons Richard grabbed me and thrusting a foot into my abdomen performed a huge Tomoe nage throw which ended with me making a thunderous break fall to the crash mat and then pretending I'd been knocked out.
There were audible gasps from both the crew and especially the ever growing public audience surrounding the exhibition matting. After a couple of seconds I opened my eyes and raising my head gave a knowing wink to the director.
Everyone, now in on the joke, burst out laughing and then ran to the pole camera to see if they had caught the throw. They got their revenge, though, when they sent in the big guns in the form of young Lucy to make sure that, if I was that comfortable on the crash mat, I'd be hitting it a few more times before completing the article.
Little Lucy the judo practitioner (with Mum)
Lucy was truly ruthless and I'm only too glad to have sparred with her now to avoid any further injury at a later date! In all seriousness though, I truly enjoyed the time I shared with the members of Irfon Judo club, a great bunch of people.
Next it was down to the sheep lines, an area where I still have many friends from previous interviews and competing in past programmes. Today I was meeting up with the new sheep section poster girl Angharad Williams.
She was showing arguably the prettiest of all sheep breeds, the Teddy bears of the sheep lines, the Ryelands. I asked her why she had chosen to show Ryelands. Angharad explained that she grew up on a family farm with 2,000 sheep, including Ryeland, but now wanted to leave her own stamp on the farm.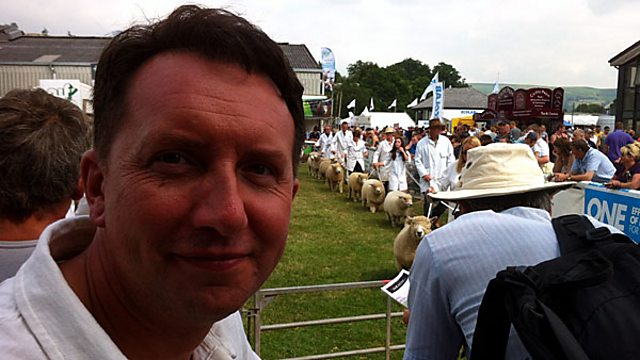 Judging of the Ryeland sheep
She went on to explain that the breed was completely different from others on the farm, non commercial, and although it always attracted a strong class at the Royal Welsh she was determined to have her day and was confident that she would be able to reach the top of that class.
Despite not looking out of place competing for the next Miss Wales title, Angharad didn't let her looks stand in the way of her passion. This was a real farmer's daughter, no gimmicks, no favours, the real deal.
When questioned how important her looks were compared to the looks of the animal when showing, she explained that although it's always important for her to look clean and tidy during the competition, you should be an understatement next to the sheep.
She then went on to explain that you want the sheep to be judged on its merits and not the looks of the handler. "We are not judged as a pair; you're judging the animal." I was impressed with Angharad and wished her all the best for the pending competition.
During the competition I could see that Anghard had been brought forward and ran around for a quick interview to see how she had got on. I was delighted to find out that not only was she carded, a Fifth, but it was the first time she had ever been placed at the Royal Welsh!
She was over the moon and extremely happy that her first triumph had filmed by the BBC documenting a treasured memory for all time.