Headlining the biggest Welsh language inter-colleges student event this weekend in Aberystwyth are North Wales band Yr Ods. They've been steadily building a following for a number of years, gaining fans from Emily Eavis to Huw Stephens.
This year alone Yr Ods headlined one of the showcases at Sŵn Festival, and the Eisteddfod, and now are embarking on a tour of Wales to coincide with the release of their debut album, Troi A Throsi (Toss and Turn).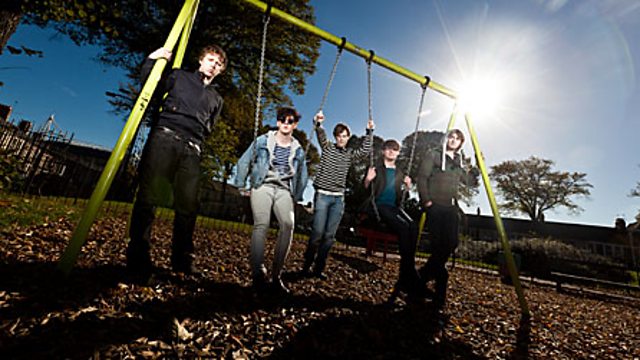 Yr Ods
So a band in our own country, playing huge gigs to thousands of young people, with the catchiest choruses and tight stage presence, and yet we could still know a thing or two about who they are. I thought it was high time we found out a bit more about the band.
Who are the members of the band and how long have you been playing together?
There's Griff Lynch and Gruff Pritchard on the vocals and guitars, Osian Howells on bass, Osian Rhys on the drums and me, Rhys Aneurin, on synths and piano.
What's the potted history and the reason you got together?
Well Yr Ods came to being when Griff and Gruff, who were at Aberystwyth University at the time, started to compose music. After a few acoustic gigs, they decided to get a bassist and drummer, and that's where the Osian came in. I joined about a year later when they felt the need for a keyboardist, and that's how it's been for nearly three years now.
What's been your career highlight so far?
Playing Glastonbury two years in a row were very proud moments for us, yet we see the release of our first album as an great achievement, and we're very proud of it.
Which have been your best and worst gigs to date?
Well, playing Glastonbury and Radio 1's Big Weekend were big gigs for us, and fortunately we got fantastic receptions at both. On the Welsh scene front, we've had great Maes B gigs in the last three years, all of which went very well and the crowds were massive, as well as a few good sets in Sŵn over the last few years.
You mostly write in Welsh. Is there any English on the album, and has language choice ever been an issue?
There's a chorus that's in English on the song Cerdded (Walking) but it doesn't really change the fact that it's a Welsh language album. Growing up listening to Welsh language bands, we've probably always had this aim to make a Welsh language album that people will hopefully remember in years to come, yet to say that we view language as a big issue would be misleading. We write most of our music in Welsh because it's our first language and what comes naturally to us.
All our music is written in the language that comes naturally in the process of composing it - we don't go "right, we need to write an English song". We do intend to write an English EP in the future, perhaps our next release who knows, but it'll happen only when we feel that the music is good enough.
You're about to set off on a tour of Wales, where's usually good to play and what's your favourite welsh venue?
Well, we're off this weekend to play the Dawns Rhyng-Golegol (Inter-University Dance) where all of the Welsh universities get together for a gig and a massive drinking session of course. They're always fun gigs to do, though I'm not sure how many of the crowd are actually about their wits at all by the time we play! I'd say that Clwb Ifor Bach is probably our favourite venue - we always get a warm reception there, as well as a fantastic sound on stage.
Any tales of crazy misfortune while on the road - usually a band staple?
Not anything crazy so far really, only a mad drunken woman (who paid to get in to the gig last weekend) did tell Griff to 'get lost' with his Welsh songs. It was hilarious! It was in Machynlleth too, which made this a bit of a shock!
2011 is closing on a busy high for you, what about next year, and any plans following the album release?
I think that we're going to take a bit of a break after Christmas, and we're probably going to start writing another record in the new year. I think we'd like to have another busy festival season in the summer so perhaps a new record by then would be good. Who knows what 2012 will bring really?
Where can people find you online?
We usually post and announce stuff on our Facebook page and we have a Myspace account.
What's the next few gigs coming up?
We're in the Students Union in Aber this weekend, then Cobdens in Capel Curig (12 November), Telfords in Chester (18 November) then Clwb Ifor Bach (10 December).