Sir Harry Llewellyn and Foxhunter
In the field of Welsh sport, if ever two names sit easily and elegantly together, they have to be the showjumper Sir Harry Llewellyn and his bay gelding Foxhunter.
Starting with the Helsinki Olympic Games of 1952, during the 1950s Harry Llewellyn and Foxhunter together hauled British show jumping from the depths of mediocrity – a position it had held since the end of the Second World War - to the lofty heights of international sporting acclaim and glory.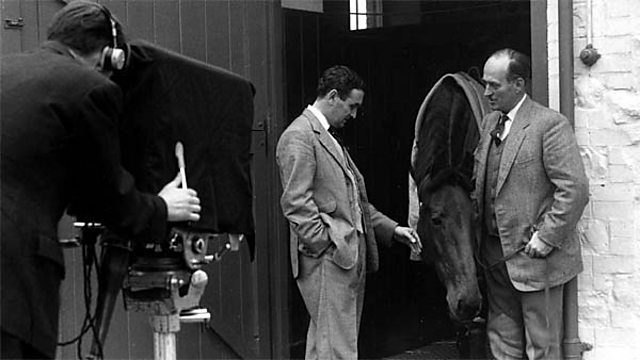 Harry Llewellyn (r) interviewed by Berkeley Smith at Llanfair Grange, Abergavenny, 1955
Born in Aberdare on 18 July 1911, Harry Llewellyn was a son of colliery owner and 1st Llewellyn Baronet Sir David Llewellyn. Educated at Cambridge, Harry was always interested in horses and, to begin with at least, rode as a steeplechaser.
In 1936 he finished second in the Grand National but then war intervened. Harry joined the army, serving in Italy and in France following the Normandy landings. He rose steadily through the ranks, finishing his military career as a Colonel and, at one stage, acting as liaison officer to Field Marshal Montgomery.
In the years after the war, Harry Llewellyn concentrated his efforts on showjumping. If he was going to succeed, however, he was clear that he needed to find the right mount, the right horse.
It took a long and arduous search before, in 1947, he found what he was looking for in Foxhunter. A beautiful looking bay gelding, Foxhunter was powerful and elegant.
Together, Harry Llewellyn and Foxhunter competed at the 1948 Olympic Games in London, finishing in third place in the team event and claiming the bronze medal. It was a significant achievement.
There was more to come, however. The pair somehow seemed to catch the imagination of the British public and, to a rapturous reception, in the 1952 Olympics at Helsinki won the gold medal. It was Britain's only gold in the games.
Over the next decade Harry Llewellyn and Foxhunter won 78 international competitions and Harry went on to become active in the administration of British show jumping. In 1977 he was knighted and succeeded to the Llewellyn Baronetcy after the death of his eldest brother.
Although the family's money had originally come from coal mining, the nationalisation of the mines in the immediate post-war years meant that Harry had to look elsewhere to make a living. He developed interests in brewing and in television and even established a chain of restaurants called the Foxhunter Cafes, named after his famous horse.
When Foxhunter died its remains were buried on the Blorenge Mountain, close to Harry's home in Abergavenny. The spot was marked with a plaque. Harry himself died on 15 November 1999 and, appropriately, his ashes were scattered close to Foxhunter's grave on the mountain.
Harry Llewellyn was inducted into the Welsh Sports Hall of Fame in 1990, a truly remarkable Welsh sporting hero.