An exhibition and gallery for 'the nouveau prole'
This weekend sees the launch of a new gallery, *Subject To Change, in the Castle Arcade in Cardiff.
It will be run by the graphic designer and artist Mark James and aims to explore new ideas in art and design.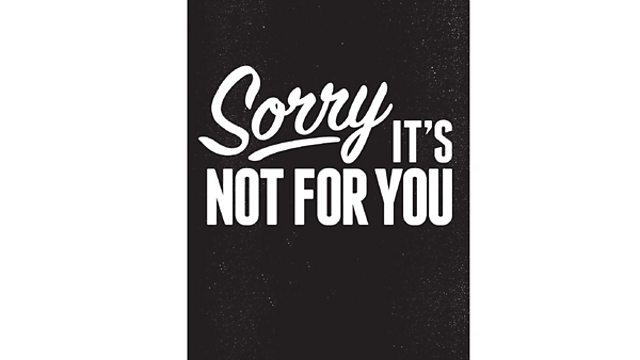 Sorry It's Not For You by Mark James. Image copyright the artist
Some of you may know Mark for his provocative creations made from urban detritus or controversial vinyl figures like the Dalston Fried Chicken, Chinpira football hooligan toys and the collectible CardBoy series, which have proved so popular.
Over the past few years he has also collaborated with music artists such as Super Furry Animals' Gruff Rhys, Hot Chip's Joe Goddard and Underworld's Karl Hyde, creating sleeve covers and artwork, videos and stage sets for Gruff as well as imagery to support Neon Neon.
Now, to coincide with the gallery's opening, Mark has curated an exhibition of his recent work with many exhibits that have never been shown together before.
Sorry It's Not For You aims to showcase the breadth of his portfolio and includes a series of eerie screen prints he created using crumpled bin liners for Super Furry Animals musician Cian Ciaran's second album, They Are Nothing Without Us.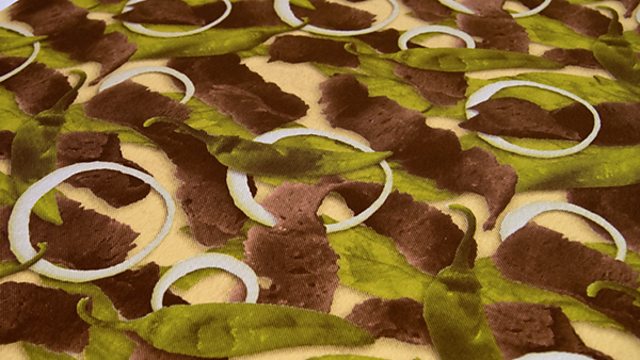 Doner kebab camouflage by Mark James. Image copyright the artist
There will also be various editions of Union Jack flags made out of bin liners as well as camouflage created from the ingredients of a doner kebab and a leather wage wallet embossed with the text of a vintage wage slip, all exhibited alongside new works specially created for the show.
He told me he hopes the gallery, which has been largely funded by Arts Council Wales, will attract artists from all over the world and invite exciting new collaborations in a way that is affordable for artists because it avoids steep rents.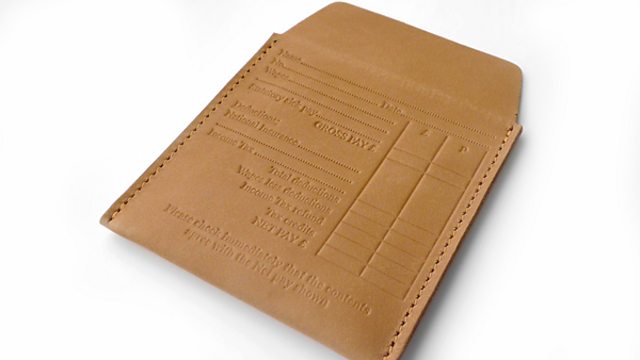 Leather wage wallet by Mark James. Image copyright the artist
He said: "I've exhibited in many places and taken part in group shows and I've also taken work to galleries only to be told that it can't be shown due to space and time constraints.
"It's a complicated process and what I really wanted was to take over a space where I had creative freedom and could show more of my work but could also invite some of the many fantastic artists I have met over the years and give them a chance to exhibit their work in front of a new audience.
"By opening an exhibition and gallery for 'the nouveau prole' I want to explore the times we live in, where the expansive middle classes are getting progressively poorer at the hands of a system built on want and waste.
"Using art and design we can interpret that in ways that are as humorous or as beautiful as they are thought-provoking and *Subject To Change will be an opportunity for me and other artists to have the space in which to explore those themes."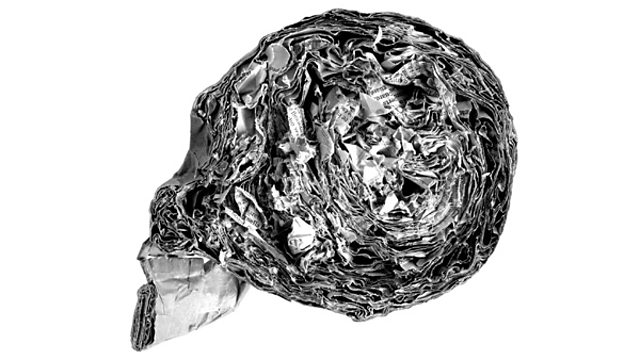 Guardian by Mark James. Image copyright the artist
Mark claims he doesn't set out to make political or social commentary but much of his work uses discarded or disposable products as its raw material. Several years ago he made a film called This Dull Ache, which explored how bin bags unfurl from being crumpled in real time and since then he admits to being fascinated with them as a medium.
He said: "I started using digital manipulation and flipping them and Cian Ciaran liked it so much he let me develop that idea for his album cover.
"I don't feel like there's a huge political message but I like to feel my work is more like social commentary - statements about things I see in the news but created with a sense of humour."
Following this show Mark plans to stage two more exhibitions in the New Year and wants to create a big installation using rubbish and bin bags, before inviting other artists in to the gallery.
Sorry It's Not For You runs at the *Subject To Change gallery from Saturday 7 December 2013 to Friday 24 January 2014.
For information visit www.subject-to-change.com or follow: Twitter.com/subjecttochange
For information about Mark's work visit: www.markjamesworks.com