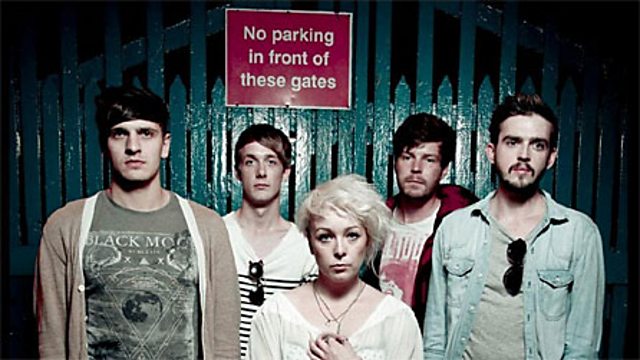 Cut Ribbons
Beth: Hello Cut Ribbons. Is 2012 going to be a busy year for you? Do you have any new releases or live outings scheduled?
"Hello, we certainly hope so. We will be releasing a new single in February if all goes according to plan. We are already working on some new tunes to add to the mix so we will see which ones make the cut. But as far as content goes, nothing is pinned down yet."
Beth: How long have you been making this kind of music, and what drew you to the style that you've settled on?
"We have been together for about two years but I don't think there was ever a master plan in regards to a specific sound. When we started writing together, the songs that came out seemed to have more urgency about them. It sounded like they wanted to get to their destination as quickly as possible. I think we are a little more patient now. We still don't really know where we are going as far as settling on a style - your guess is as good as ours at the moment."
Beth: Did the Kissability single from November 2011 gain you some new followers?
"The Kissability release has been crazy. The whole recording process in the months preceding the release, utilising three studios over the space of a few months, is totally juxtaposed by how quickly things seem to be moving at the minute. As this is our first release, everyone is switched on to that fact and there seems to be a momentum that we are working to maintain and exceed."
Beth: What was the highlight of the year for you, and how do you hope to build on it for the future?
"It's hard to pick one highlight of 2011. We just came off tour so, as you can imagine, that was full of unmentionable anecdotes. We did film a lot of it with the intention of making a tour diary but after trawling through the video, only about three and a half minutes are usable.
"The video for White Horses was really fun. It was hotter than the sun filming it, and I think we must have caused rolling blackouts across Cardiff after drawing so much juice for the vast quantity of lighting. If we could have another year like that we would be ecstatic but we have some great people in our camp that will make 2012 an even greater adventure.
"You can check out the band at www.cutribbons.com, www.facebook.com/cutribbons, www.twitter.com/cutribbons, or www.soundcloud.com/cutribbons.
Ifan Dafydd, London (via North Wales), minimal dance producer
Beth: Hi Ifan. Is 2012 going to be a busy year for you? Will you be promoting the new release with any live outings?
"It could be a busy year I suppose. My main focus is writing and producing, so how busy I will be will all depend on that. DJing is a new venture for me that I'm still getting to grips with. I have gigs in London, Bristol, Nottingham, Glasgow, Birmingham and Belgium during January and February so hopefully that crash course in DJing live will put me in good stead for future shows."
Beth: I understand you've been in a band before. Tell me about it.
"Yes, I played keys and sung a bit in nine-piece funk band called Derwyddon Dr Gonzo over a course of around four or five years. We gigged a lot and recorded an album. It was a lot of fun and it was music for the purpose of fun, but being in a band with eight mates can be difficult and we decided to call it a day in March."
Beth: Have you been surprised by the attention to your new music?
"Yes. It's flattering, surreal and indeed surprising."
Beth: What's your discography so far?
"No Good/Miranda was released as a 12" white label in August. There is also a remix I did of Emeli Sande's single, Daddy, that came out in November. Treehouse/To Me will be my first official release, coming out at the end of January on Push&Run."
Beth: What was the highlight of last year for you?
"I think having No Good played on Gilles Peterson's show would have to be it. I try to take things a step at a time, a song at a time and I don't like thinking too far ahead.
Beth:What are your web links if people want to find out more?
"I'm on www.facebook.com/IfanDafydd and www.twitter.com/IfanDafydd."
Saturday's Kids, Cardiff melodic hardcore band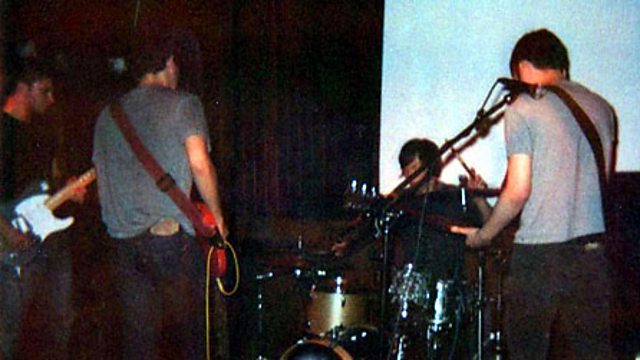 Saturday's Kids
Beth: How was 2011 for you? What were your highlights?
"A personal highlight for me has been putting out the Gorilla 10" EP; it's overall the best piece of music that we have ever put out and that's all I strive for. There are obviously things about it I dislike and I think should have sounded different but we plan to experiment and push our music further over the next year. Another highlight is the amount of shows we have managed to play - we toured the UK several times and made it to Europe for a three week tour as well."
Beth: I hear you'll be planning a new release for January. Is this self released?
"We have got a 7" single, which will have two songs on it - a new version of Grey On White and a brand new song called Black Pocket. It is not a self-release, it is coming out on three DIY labels: Art For Blind, who are based in Ireland; Bombed Out Records from Leeds; and Time As A Colour from Germany."
Beth: What's your discography so far?
"We have not actually put anything out ourselves in over two years. All our records have come out on various UK DIY labels. Our first vinyl record came out in July 2010 which was the Ultrasound Or Baby 7" which came out on Art For Blind Records.
"Our next record was a split 10" with Exeter/Brighton band Kids Return which came out in February 2011 on Art For Blind, Time As A Colour and strictly no capital letters records. Then our last record to come out was our Gorilla 10" EP which came out on Art For Blind, Bombed Out and Time As A Colour records. We release everything we do on vinyl as we see it as the only worthy way to release artistically valid music in the modern era."
Beth: You've played with some good bands this year. Which have been your favourite gigs?
"We've just got off an eight day, nice date tour with Facel Vega around the UK which has been pretty amazing. Facel Vega are a grooving revolution summer style hardcore band whose début LP has just come out on Art For Blind. We also did two pretty big shows with Future Of The Left in Cardiff and London.
"2011 has been the year we have played the most shows. We managed to tour the UK four times and Europe once."
Beth: What's your main hope for 2012?
"I think we hope to tour even more and play even more shows, put even more records out and generally push ourselves and Saturday's Kids to its limits."
Beth: What are your web links for people to discover more?
"There is www.saturdayskids.org, which has all the information on upcoming shows, all our records and generally anything at all to do with Saturday's Kids. But also you can have a look at our Twitter which has the ramblings of our deranged bassist: www.twitter.com/Saturdays_Kids."
Joseph And David, Cardiff and Leeds folk duo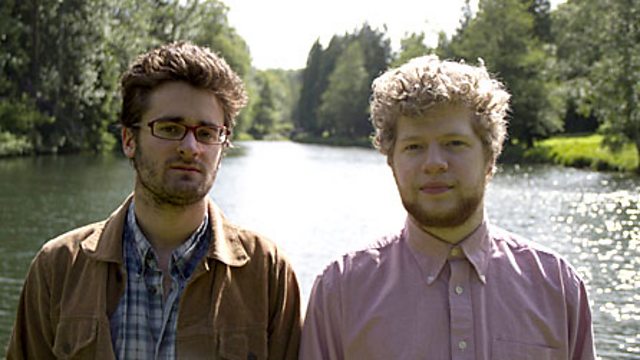 Joseph and David
Beth I've been introduced to your music through Sam Airey, another fairly new artist. Can you tell us about the connection?
"It was Dave that first discovered Sam; I think he saw him playing a gig and just loved his music. Then sometime after that we invited Sam to play the release for our first EP So Short of Time, alongside with Benjamin Francis Leftwich. What a lineup!"
Beth: Having seen your events mentioned on Facebook and Twitter, you seem to have had a busy year. What have been some of the highlights?
"The highlights? Hmm... so many to choose from! I think being on tour with Ben Leftwich was amazing - and so useful for us. But the main highlight has to be the tour we've just finished."
Beth: So where did you play, and which shows were good?
"We played Manchester, Durham, Cardiff, London and Leeds. Every show exceeded our expectations - it was ridiculous - we couldn't believe it! So if you're reading this and you came to one of the shows, thank you so much for making it special for us. Amazing venues - including a boat in Durham - and amazing people. We can't wait to book our next tour and fill it up with loads more shows."
Beth: What music are you inspired by right now?
"Olafur Arnalds. Efterklang. Sam Airey! Seriously, we can't get enough of his music."
Beth: What's the deal with being based in Cardiff and Leeds - it's a bit of a trek between the two!
Beth: What will be the big plan for 2012? Anything up your sleeve yet?
"Our main plan, as I mentioned earlier, is to arrange a bigger and better tour for the spring. Although we've been so pleased with how this one went, so I'm not sure how possible that's going to be!"
Beth: What are your web links for people to find your music?
"Everything you could possibly need to find out about Joseph And David can be found on our website: www.josephanddavid.co.uk."
My Pet Monster, Cardiff artrockers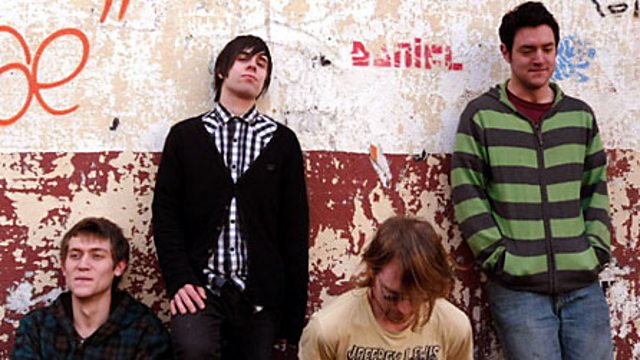 My Pet Monster
Beth: Tell me about who you are, and how long you've been a band.
"My Pet Monster are Paul Atkins (vocals/guitar), Tim Ware (guitar), Tom Ware (bass) and Sam Coates (drums). We've all known each other since school and have been playing together in one form or another since we were 16. We got together in this line up about a year ago when everybody came back from uni with a bunch of songs and ideas and we decided to record an EP (the Soundtracks EP, which is available on Bandcamp). We put the EP out for free in Spillers records and other places and that's how we started playing gigs and getting noticed."
Beth: I hear you have a new EP on the way. Who writes the songs, and where have you been recording?
"Tim and I (Paul) come up with the basic song ideas and then we work on the arrangements as a band, we all live in the same house so things come together quite easily. Our forthcoming Trudy Superstar EP was recorded at our house and was engineered by our bass player Tom."
Beth: What brought you all to Cardiff?
"We're all originally from Cardiff. I stayed here to study but everyone else left at one point or another to go to university or art school."
Beth: What's been the band highlight so far?
"Being in a band is a lot of fun and we all get giddy with excitement whenever our stuff is played on radio or written about. There's been lots of highlights but top of the pile has to be opening for Future Of The Left on World Record Store Day in Clwb Ifor Bach - we had a lot of fun that night!"
Beth: What's on the cards for the forthcoming year?
"We recently put out a download single called Bahhumbug on our label VideoNoise - we figured since we recorded it ourselves we may as well put it out ourselves. The next release is the Trudy Superstar EP which should be out by 15 February via download and limited edition CD and cassette. After that we've hoping to put out another single later in the year. Our next gig is 25 February with Shrag and Tunabunny in Undertone, Cardiff."
Beth:: What are the best web links for people to find you and hear more?
"The best web link is probably www.mypetmonster.bandcamp.com."
And there you have it, some of my favourite new bands of late, who I'll be supporting on BBC Radio Wales over the coming 12 months, especially on the new Saturday night 'new music' night schedule of 7-10pm. My show will be closely followed by Adam Walton's three hour new music omnibus from 10pm-1am. New Welsh music every Saturday night on BBC Radio Wales - tune in!
Feel free to comment! If you want to have your say, on this or any other BBC blog, you will need to sign in to your BBC iD account. If you don't have a BBC iD account, you can register here - it'll allow you to contribute to a range of BBC sites and services using a single login.
Need some assistance? Read about BBC iD, or get some help with registering.