Hugh Hughes to return to native Anglesey as part of National Theatre Wales residency
If you haven't had the pleasure of seeing comedian Shôn Dale-Jones assume the guise of Hugh Hughes, then you might want to head to Anglesey next month for his theatrical homecoming.
For the past eight years Shôn has toured the world with the amusing and loveable character in five different stage shows, including the award-winning Floating, as well as delighting audiences on Radio 4 with Hugh's exploits and stories of his own childhood growing up on the island.
June will see his latest show, Things I Forgot I Remembered, staged as part of a month-long National Theatre Wales residency on Anglesey.
The live show is produced in conjunction with Hoipolloi and will take place at Theatr Fach, Llangefni, accompanied by a raft of different audio, film and digital content to help audiences immerse themselves in the weird and wonderful world of Hugh Hughes.
It is based on Hugh's childhood journals and how when he reads them it rekindles a whole raft of memories he had forgotten until that point.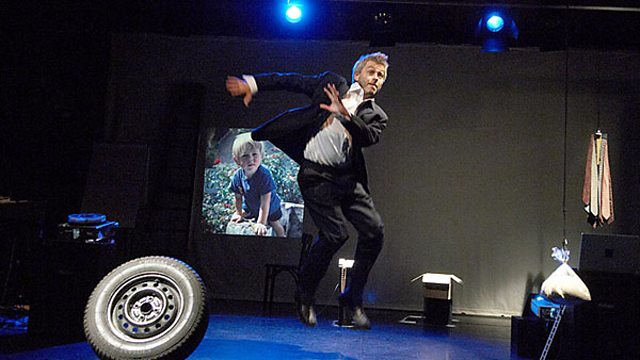 Shôn Dale-Jones as Hugh Hughes. Photo: Geraint Lewis
I caught up with Shôn, who is artistic director of Hoipolloi, as he and the creative team prepare to head north to begin their final stretch of work on the show.
He said that, as Hugh's memories of his native Anglesey are so central to every production, it is very exciting to be bringing him home to audiences at last.
"It feels very different and special and I really hope we get lots of people visiting Anglesey especially to see him.
"There are many different aspects to the show. We are doing free story walks around Hugh's home town of Llangefni, in which audiences will be guided around the town in small groups, listening on special headsets to Hugh's anecdotes about the local characters.
"And there will also be free story boxes dotted around the island housing a variety of audio clips, films and objects from Hugh's life.
"The play is really a reflection on that moment in adulthood when you remember that as a child, you had a certain idea of who you would be when you were a man or a woman, and how you react when you realise that it is not quite what you imagined."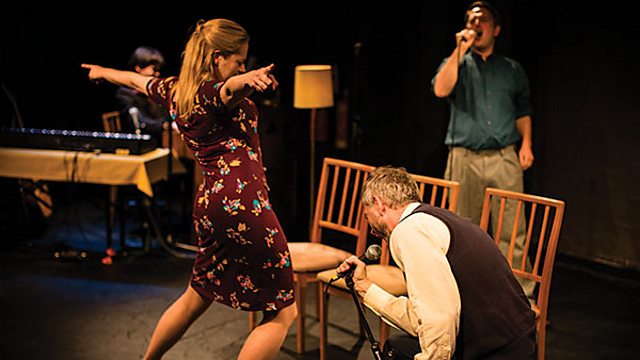 Hugh Hughes with his family in previous production Stories From An Invisible Town. Photo: Jaimie Gramston
Each of the story walks is inspired by Hugh's childhood journeys and is a mixture of things that actually happened and things he imagined or made up.
The creative output will also be accompanied by a website, which will feature an interactive map of Llangenfi, as well as further audio clips and material, aimed at enticing people to see the show.
For many people, playing the same character for several years might become old or creatively stultifying, but Shôn says it is always a pleasure to step into Hugh's shoes.
"He has this boundless enthusiasm and sense of wonder when looking at the world, which I think is quite refreshing in the cynical trade of comedy.
"Even when confronted with some of the darker aspects of life, he is warm and gentle and still manages to have a smile on his face.
"I've been playing him for so long now that I do feel more objective about him and that I really know who he is. Now that I've moulded him, I know just what he can do."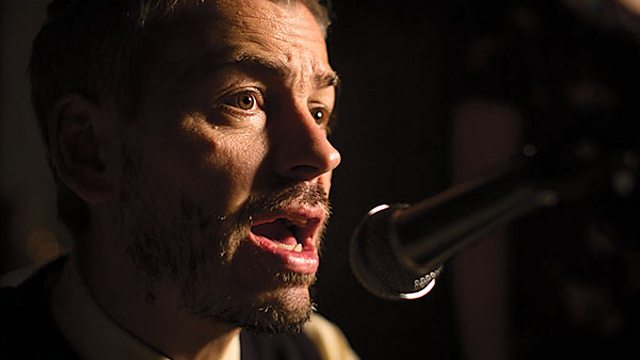 Shôn Dale-Jones. Photo: Jaimie Gramston
Alongside the show NTW will be showcasing the work of up-and-coming artists on Anglesey for the month through its WalesLab initiative, including a two-week summer camp and a DIY festival of emerging work on 14-16 June.
As part of the company's ongoing debate and performance programme, it also plans to hold an Anglesey Assembly and there will be a series of gigs from emerging local musicians, organised with help from the Welsh Music Foundation.
Things I Forgot I Remembered is on from 12-15 June at Theatr Fach, Llangefni and then from 19-22 June at the Ucheldre Centre, Millbank, Holyhead. For tickets visit nationaltheatrewales.org.