Festival No 6 2013 - part one
I think it was Rich Holland who loaned us the videos. He'd certainly loaned us enough musical inspiration in our formative years. We sat in our hovel of a front room on Chetwynd Street in Liverpool, pressed play, and that was it: a lifelong obsession borne.
In that horrible room, amongst the roaches and the festering washing up and the boozed up, half-naked medical student on the settee, my best mate Dan and I got enthralled – for eternity – by The Prisoner.
I still don't know whether it was intellectually rigorous and of genuine philosophical value, or a deliberately opaque, serendipitously cryptic bunch of nonsense. But to our (naturally) lysergic, teenage minds it was a day glo grail of import, non-conformity and fascination. Many Happy Returns is still my favourite piece of television ever. Truly truly.
Fifty-nine percent of the allure was because of Portmeirion. On the TV it has a whimsical menace. It's clear, from the very moment that No. 6 opens his curtains and gazes out on the piazza, that this is a place that has been conceived to delight curious minds.
One of the happiest days of my life was the first time I visited Portmeirion when I was 17 years old. My girlfriend Charlotte's mum and dad knew it would bewitch me. They weren't wrong.
So a festival in my Mecca had better tread carefully. These beautifully tended borders contain more than rhododendrons and lilies.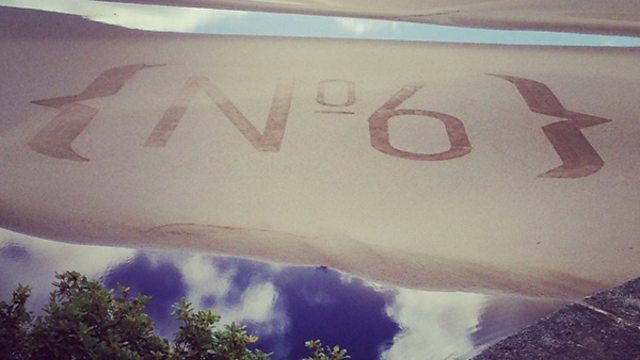 Festival branding in the Portmeirion sand (photo: Clare Wilson)
When the first Festival No. 6 was announced last year I thought it was verging on treasonous that they'd appropriated imagery and nomenclature from a TV series that railed against (amongst other things) brainwashing and commercialisation.
It felt like a hamfisted and oxymoronic dereliction of McGoohan's legacy. Many of my friends went and had a marvellous time. I grumped in a darkened room, watching Many Happy Returns over and over again.
So I arrived this year feeing a little embarrassed and a lot hungover. I'd DJed until three the night before. A band called Heymoonshaker had kept me up by being interesting. It would have been rude to have gone home any earlier. Especially when I learnt that they were off to Festival No. 6 the next day too.
We arranged for them to do a session on my show the next night. I don't think producer Ed was as elated to receive this news at 4.30am as I was to text it to him.
The first thing I notice on Arrival (I'm winking at you, fellow members of Six Of One) is that there are a lot of people here. And there are also stalls selling scallops and champagne.
My annual pilgrimage to Portmeirion is undertaken in January when it's ghostly quiet and heart-stoppingly beautiful. I'm not sure I like all these ironic hat-wearing folk, with painfully well-groomed beards tramping round my favourite place with bottles of Belgian beers in their hands, quite clearly having fun.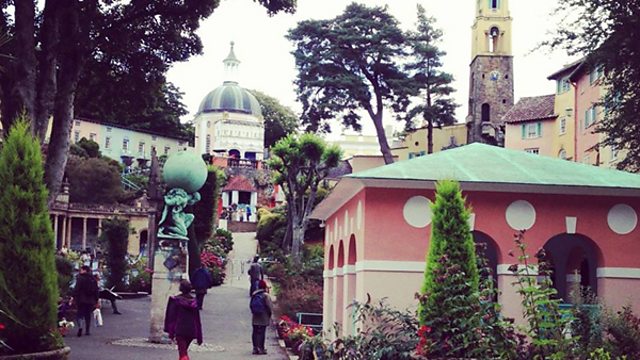 The village of Portmeirion (photo: Clare Wilson)
I'm also slightly confused by the scallops and the champagne and the canned beer for £4.30 as if it had been brewed in Claudia Schiffer's own bladder.
This is the boutiquiest of boutique festivals. Which is fine. I'm not anti the gentrification of festivals. I much prefer this to the pint glasses filled with urine that were flying around Reading last year. I say 'much'...
Oh, here's link2wales' Neil Crud! A normal music-loving human being. It's saying something when Crud's appearance reminds you of normality. He doesn't look like he has a mansionette in Alderley Edge, is what I mean. He's having a great time but the one thing I remember from our conversation is this:
"The cans of beer are FOUR POUNDS THIRTY EACH!"
I'm here to work; no beer will pass my lips. Well not until 1am. Still, it seems a bit pricey.
I spend the next four hours trying to see as much of the festival as I can so that I can reflect it accurately on my live radio show later. I watch Sweet Baboo entrance and charm an audience in a tent (where the sound is excellent, definitely above par for a festival). Steve and band go into something of an impromptu dance routine during their set closer 12 Carrots of Love. It's a moment to lift the heart. Yes, even mine.
I make a mental note that H. Hawkline is here (playing bass for Sweet Baboo's encore). He's one of my favourite human beings on the planet but one has to have a special Huw-sensitive radar operating when he is about. Strange things can happen. It's generally better to view them from the periphery than the epicentre.
Next stop is The Brythoniaid Male Voice Choir. At least, that is the plan. Getting to the piazza where they are playing is a slightly frustrating experience. The narrow pathways in the village itself are choked with hundreds upon hundreds of people.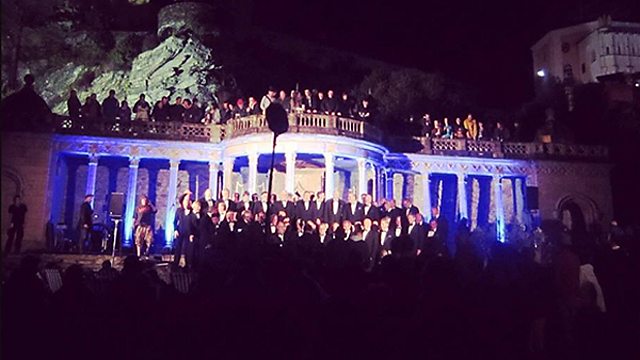 Brythoniaid Male Voice Choir (photo: Clare Wilson)
This, however, is the mark of a successful festival. If the charming pathways were all deserted it might be more appealing to my proprietorial love of Portmeirion but it'd be terrible news for the organisers and the artists.
I can't get very close to the choir. I stand at the edge of the piazza and get boggled by the fact that, even when they're 3/4 of the way into their version of Chic's Good Times, I can still hear Caitlin Rose more loudly and she's playing 100 yards away. Those that can hear the Brythoniaid Male Voice Choir are clearly loving it.
I give up the fight and squeeze my way down to the Estuary Stage and Caitlin Rose, who's as charming and musically eloquent live as she wasn't in an interview I heard on the radio earlier.
Her songs sweeten Bobby Gentry and galvanise Patsy Cline into the 21st century. There's some fingerpicking that'd hypnotise watchmakers and - taking a breath and a sip of coffee - I realise quite what a wonderful sensation it is to be witnessing this under the stars, with the full grandeur of Snowdonia silhouetted above the Dwyryd estuary behind me.
The hike and scramble through the crowds back to the Radio Wales gazebo is embellished by the sight of many friends, from all of the different walks of my life (all two of them – Radio Wales DJ & multi-thumbed, old vinyl turntablist). And I see women in Downton Abbey dresses with lampshades on their heads.
Portmeirion overwhelms the senses anyway. On occasion at Festival No.6, I felt that letting the natural beauty of Portmeirion breathe a little might better suit the atmosphere than pinning people's eyes open and forcing one hallucinatory vision on them after another.
Ironically there's a scene from The Prisoner that I'm very much reminded of as that thought barges its way across my over stimulated brain.
Radio Wales have a gazebo. The gazebo is right next to a very big tent. Inside the very big tent are My Bloody Valentine. They're playing and making a noise that is the only noise – other than a nuclear skyburst – that warrants the description 'apocalyptic'.
Quite how we're going to do a live radio show with the sound of the world falling apart, sweetened by the occasional harmony, right next to us is a challenge I will leave to our phenomenal sound engineer Mark Harrison.
"It's all in the EQ," he says. I think.
My Bloody Valentine are causing carnage in the big tent. The crowd is thinning rapidly as they reach their atonal, never-ending crescendo. Some people are that discombobulated they're collapsing on the floor outside the tent. I don't think My Bloody Valentine were to blame.
Perhaps it was the scallops?
My show goes pretty well, considering. Sweet Baboo and Islet talk to me – but can't hear a word I'm saying because of bloody My Bloody Valentine. I interview the aforementioned Neil Crud and some very, very excited – loved up may be more chemically accurate – Belgian girls. When the MBV onslaught has died down, TG Elias and Heymoonshaker come and play live for us. Cate Le Bon walks past and says 'hello'.
"I had to stop Huw from rugby-tackling you when you were doing that last interview," she says.
Huw lurches in the background. Part Syd Barrett, a lot Tasmanian Devil. And my radar didn't even go off once.
Before I know it, I'm playing my last song over an empty and very cold field.
We march to a real ale bar and raise a plastic glass to tomorrow. There is a storm coming, apparently. You wouldn't believe it looking at the glittered sky. But the sound of staff with sledgehammers fixing down the mainstage is an ominous tattoo as we queue for our taxi.
Tomorrow promises Manic Street Preachers. I've never been fussed by them, really. As I close my eyes in our very well-appointed bed and breakfast, the volte face and revelation that was about to come the following night would have seemed too outlandish - even - for a dream.