I'm staying in Llanwrtryd Wells about 15 miles from the Showground and so far I've had no problems with the traffic or parking...
I love the drive through the countryside passing through Beulah, Llanafan Fawr and Newbridge on Wye. The scenery is beautiful, the rolling hills and fields lush and green after all the rain we've had recently.
Yesterday was dry so everyone was in a good mood and in between my forecasts on radio and TV, I had a chance to go walkabout - bumping into all sorts of people from around Wales.
I met the Jamieson family from Aberbargoed and even had my photo taken with an Owl called Baloo from the Black Mountains Falconry Centre.
Baloo, the eagle owl: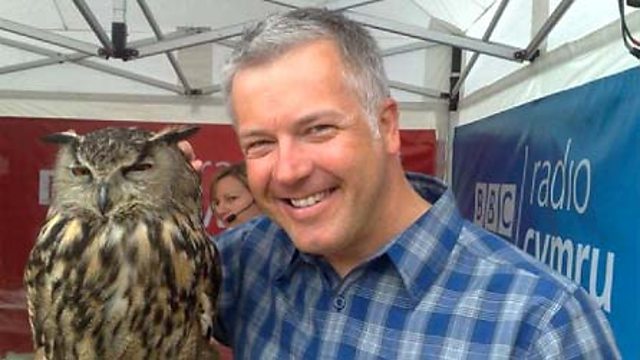 I also met bee keeper - Eifion Williams from Wrexham. He told me his bees can forecast the weather so I might be out of a job soon ;)
When a storm is coming the bees go back inside the hive and at the end of the summer the female worker bees throw the males out, to preserve the food for winter.
No doubt a few women in Wales would like to treat their men the same way!
The Jamieson family from Aberbargoed:

Anyway, the bees won't be collecting much pollen today because the weather is looking wet although it should dry and brighten up this evening.
Wednesday and Thursday will bring a mixture of sunshine and showers so if you're coming to the show - bring a brolly but I can promise some sunny intervals.
Keep smiling
Derek