Neil Kinnock on Coming Home: "I came from hard workers and fighters"
Former Labour leader Neil Kinnock once famously declared he was the first in his family for "a thousand generations" to attend university and is proud of his modest beginnings.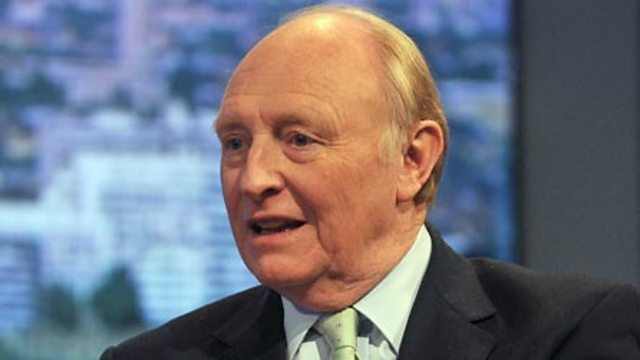 Neil Kinnock was born in 1942 in the coal mining town of Tredegar and later gained a degree in industrial relations and history at Cardiff.
Lord Kinnock made the remarks about his background at a Welsh Labour party conference just before the 1987 general election, saying it was not the lack of talent or strength which held people back, but opportunity.
But now, in a new series of the family history programme Coming Home that begins tonight on BBC One Wales, Lord Kinnock learned that a great-uncle of his had a very privileged start to life, as he attended an exclusive public school in Surrey.
In the programme, Lord Kinnock defends his political statement, in light of the discovery, and said: "Going to this school doesn't naturally convey the fact he had a good education."
Tracing a family history can reveal startling and occasionally uncomfortable long-forgotten facts about a family history. Lord Kinnock spoke to BBC Cymru Wales about his reasons for agreeing to take part in the programme. He said:
""Everyone is interested in their own background but very few have ever researched the details of who and where they came from.

"I've always been intrigued by the bits of my family history that I knew so I was glad to accept the invitation from Coming Home. I knew that Mike Churchill-Jones and the rest of the BBC Wales team of experts would do some real digging.

"The experience of Coming Home was fascinating. We tore around south and west Wales from Tredegar to Kidwelly and Brecon and then dashed over to Bristol before getting back to Cardiff.

"Some of what I saw and heard was familiar because, obviously, I've always been close to the valleys and to my family. I knew, of course, that I came from hard workers and fighters who surmounted great adversity and poverty. But there were several revelations about my grandparents and their forebears that were completely new to me.

"Since the story of the Howells and Griffiths and Herberts and Kinnocks that were my people is very similar to that of countless others of my generation and background I think that many might share my sense of discovery.

"I'm grateful to Coming Home - not least because the family tree that they gave me has deeply intrigued my grandchildren. After all, it's their story too!"
Read more about Neil Kinnock's experience on Coming Home on BBC Wales News.
If Coming Home has inspired you to take start tracing your family history, take a look at Cat Whiteaway's tips on the BBC Wales History blog.