Summer Tour - Biking & fishing
It's one of the toughest courses in Britain with over 150 bikers taking part over 7 days cycling 50 miles a day. There is even a night stage as well!
I've done a bit of mountain biking myself in the past in the Brecon Beacons, Snowdonia and in the Brechfa Forest but this is something else.
You have to be really fit to do it as the terrain is tough and attracts riders from all over world.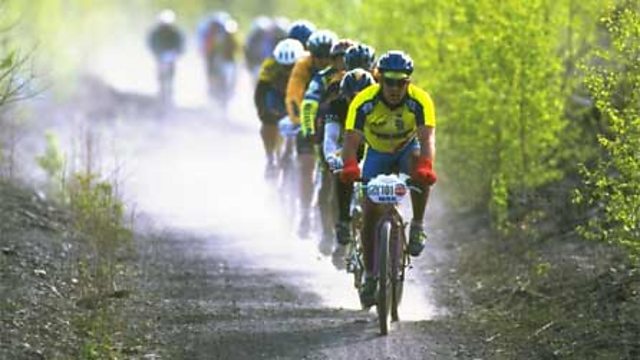 Our next stop on Thursday was the River Towy for a spot of fishing near Nantgaredig in Carmarthenshire but before that we had to spend the night in a hostel in the middle of nowhere!
To be honest, Claire and I weren't too keen on the idea. After a long, hard day working on location, the thing you look forward to most is a bath and a comfortable bed. But our producer thought it would be a good experience and convinced us to give it a go.
The Dolgoch Bunkhouse is very remote located a few miles north of Abergwesyn. Its very basic, there is no electricity or hot water and to get there we had to drive over the hills along a twisty and narrow road, crossing streams and bridges.
The terrain reminded me of Iceland. It was a bit eerie driving in the dark and drizzle and Claire shrieked everytime she saw a field mouse scurrying across the road ;)
Staying at the hostel really was like stepping back in time but that's all part of its charm.It has gas lights, bunk beds and a warm welcome from the volunteer warden.
None of the team slept particularly well and the next morning we woke up feeling tired. Claire blamed me and said my snoring kept waking her up. She should have worn ear plugs like me!
It was a memorable experience, though, and its a great place to get away from it all and to escape from the pressures of modern life. There are some great walks in the area too with the Llyn Brianne reservoir close by.
Weatherman Walking in Snowdonia