Green Man festival review
A week of checking weather forecasts in the build up to the Green Man was rather heartbreaking. Yes, nothing but rain till Monday. Check again: same result. Check the following day: same picture. Dark clouds, heavy showers, and lots of wetness. Thursday night comes, and in the torrent of rain I end up stuck on the side of the road with the AA, rather than enjoying a lovely barbecue at the Green Man campsite.
Friday. I'm up with the dawn to head off again, and despite the weather and the wetness, everyone is still smiling at the site. I walk in past Plank, at the Far Out stage, who are a reminder of what's to come this weekend: some heavy psychedelic wig-out, hand-in-hand with the twee, folky, delicate and downright strange.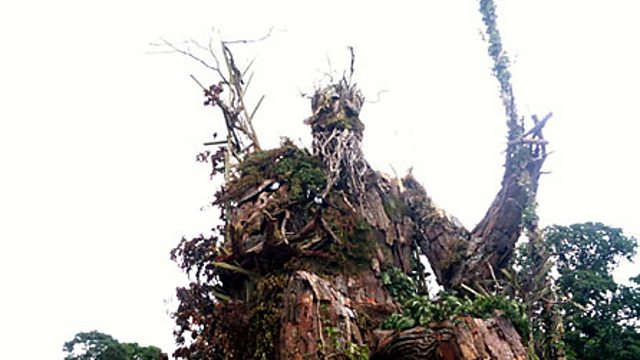 The real Green Man
To get a sense of the lay of the land, on a quick wander round the festival I catch Cardiff band Hail! The Planes on the Pub Stage again wigging out on their last song, while over on the main stage Spencer McGarry Season are taking to the stage in bow ties, white suits and a grand piano!
Back at the nice and dry Far Out tent, the amazing The Hundred And The Hands are on stage with an ethereal quality to their new breed of magical shoegaze. The rest of Friday is a fun mixture of meeting friends, eating nice fish curries, and watching the utterly brilliant John Grant on the main stage, with an a capella version of Chicken Bones which had me weak at the knees. The other highlight on Friday is Sleepy Sun, with a scream of guitars and a holler of female vocals.
Saturday is all about a lot of running about with radio interviews and sessions, and being slightly taken aback by the sun coming out; not particularly a good thing when I'm wearing plastic trousers! I do a live show from the Green Man FM temporary studio, and broadcast all across Wales on BBC Radio Wales - listen here until the weekend.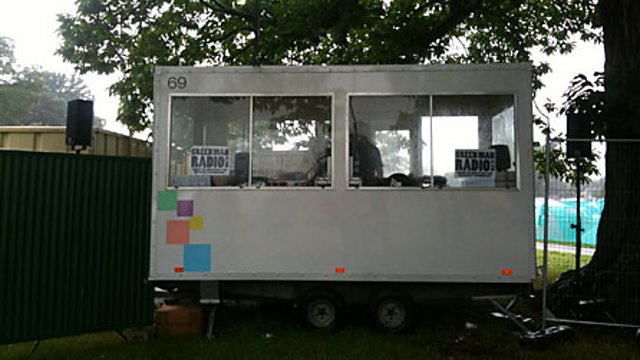 The Green Man FM studio
On the show at we speak to the festival's co-founder Jo Bartlett, Meilir from Race Horses, Paul Noble from Green Man Radio, and Sophie Windsor Clive from the 'human fox hunt' - yes, you heard me. Next Saturday there will be more highlights from the Green Man with interviews gathered through the weekend with First Aid Kit, Johnny Flynn, Caitlin Rose, El Goodo, Wayne Coyne, and Laura Marling.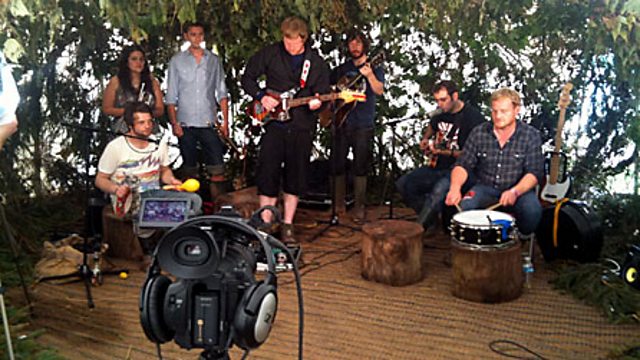 El Goodo in session
Saturday night, after short and pleasant stint at the Comedy tent with Trevor Lock, the evening speeds ahead with three incredible bands in quick succession: First Aid Kit, Wild Beasts, and the incredible Flaming Lips.
First Aid Kit, Swedish sisters from Stockholm, have written an album that keeps reducing me to an emotional wreck while Wild Beasts' Two Dancers is Mercury-nominated this year. They really announce their place as headliners of the second stage... then the biggie. Flaming Lips are considered by now one of the bands you should see before you die, and now I can go to my resting place a happier person.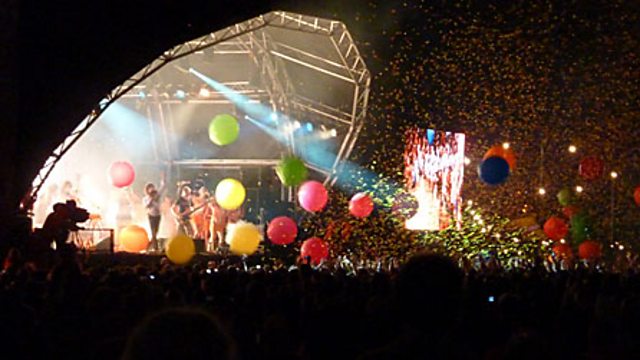 The Flaming Lips
Flaming Lips are a miracle of live music: an extravaganza and celebration of all things happy and positive. I love Wayne Coyne's Southern Preacher style of urgency and passion about everything, even the moon. The vibes are in full force on Saturday. They also throw everything at you in the first song, balloons, streamers, lasers, human zorbing ball, lights - it's dazzling, and the energy is sustained for the entire set.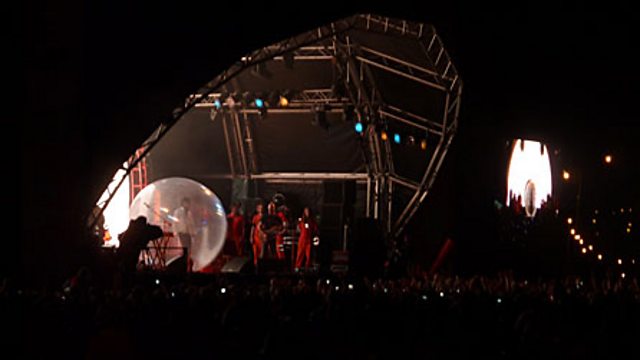 The Flaming Lips' Wayne Coyne
Sunday and my tired and welly-weary legs carry me around seeing more wonders, eating more lovely food, laughing at even more sunshine, and the stunning sounds of Laura Marling, Field Music, Bear In Heaven, Efterklang, and Girls.
I co-host a totally crazy and chaotic radio show for Green Man FM with Jen Long (who works on BBC Introducing with me), which is thrown together, and great fun - it's nice sometimes doing a radio show without any preparation, no rules, but lots of silliness - and that's exactly what my last two hours of the festival become!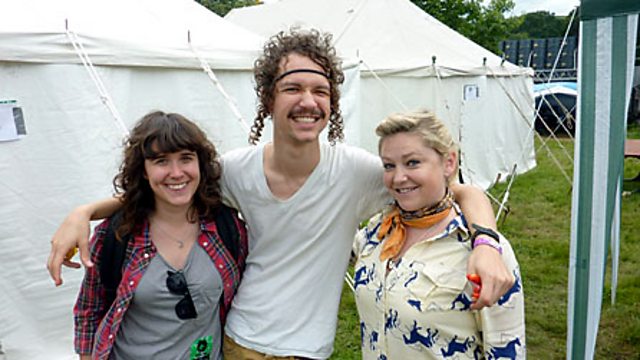 Jen Long, Darwin Deez and me
Goodbye Green Man for another year, but most people are agreed, it has been a vintage year this year, with a fantastic, eclectic, energetic and stunning line up. The music and the community really does make it something totally different on the festival circuit! Tell us what you enjoyed if you were there, or if not, you know what to put in the diary for next year!
Some more photos from the festival: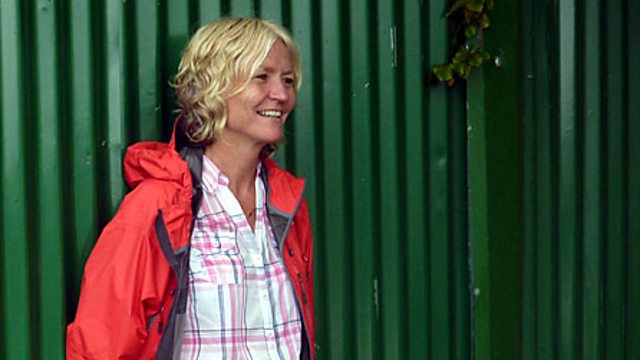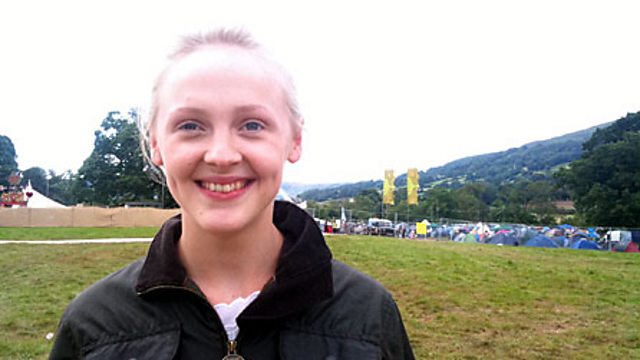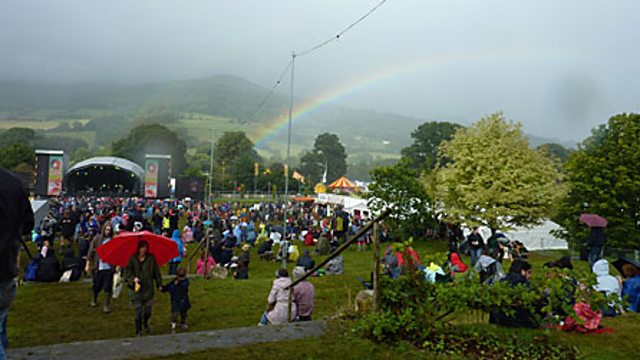 Rainbow over the festival site
Feel free to comment! If you want to have your say, on this or any other BBC blog, you will need to sign in to your BBC iD account. If you don't have a BBC iD account, you can register here - it'll allow you to contribute to a range of BBC sites and services using a single login.
Need some assistance? Read about BBC iD, or get some help with registering.