A Welshman's World Cup final
Mervyn Griffiths arguably has, or at least should have, a similar place in German football fan's hearts that Tofik Bakhramov has in England fan's hearts. It was Griffith's last minute decision as linesman in the 1954 World Cup Final that contributed to a vital turning point in Germany's post-war history known as "Das Wunder von Bern" - The Miracle of Berne.
Griffiths hailed from Abertillery, Blaenau Gwent and relocated to Devon, working as a teacher before moving back to Newport in Gwent. By the mid-1930s the married, church-going pillar of society started to referee in local football leagues.
"His refereeing would have been very much secondary to his school life. Monies for referees were not much to write home about in those days," said Ceri Stennett, resident historian and Match Press Officer for the Football Association of Wales (FAW). "He soon became a high-profile figure, due to his high standards of refereeing and after serving on the Welsh League, graduated to the Football League."
Following the subsequent suspension of football in Britain during the Second World War, Griffiths resumed his role as the man in black, appearing as both linesman and referee, and was soon to be at the centre of some illustrious fixtures.
"He was nominated by the FAW to become an international referee and he was appointed to the FIFA list," added Ceri. "His first major international was England v Scotland at Wembley in 1949. However, it would have been back to school on the Monday morning!"
By being named as referee for this fixture in April 1949, Griffiths became the first Welshman to referee an international at Wembley. The following year Griffiths was involved in the 1950 World Cup hosted in Brazil.
In 1953 he became the first man from Wales to referee an FA Cup final, the famous "Matthews Final" no less, where the legendary Stanley Matthews led his Blackpool side to a 4-3 victory over Bolton Wanderers at Wembley.
"The 1953 FA Cup Final appointment was a great honour for Wales in Coronation year," said Ceri, "though it was no great surprise. He was a contender for the honour for most of the early 1950s and his 1950 World Cup appearances were all positive and so he was a natural for the 1954 finals in Switzerland."
On 4 July 1954, Griffiths became the only Welshman ever to appear in a World Cup final. The events of that day are among of the most remarkable in the history of sport. Hungary, dubbed "The Mighty Magyars", led by the gifted Ferenc Puskas and fortified by a ruthless, attacking formation faced West Germany.
Today, Germany have three World Cups to their name. In 1954, less than ten years after the defeat and devastation of the war, they rose phoenix like, led by manager Sepp Herberger to reach the final. West Germany had been barred from the previous World Cup in 1950 and the 1954 team were not fancied despite making it to the final on the sodden turf at the Wankdorf Stadium in front of over 60,000 fans.
Few people would have predicted that, on that rainy day in Berne, a school teacher from Abertillery would have a hand in one of the most startling upsets in modern sporting history.
"He officiated in various other matches in the 1954 World Cup Finals," continued Ceri, "and was in the running to actually referee the final, but in the end he was one of the two linesmen. Naturally, for the final, all officials needed to be neutral, so a Welsh official was quite handy."
The final started predictably enough. The West Germans in their customary White shirts were quickly two goals behind the red-shirted Magyars with goals from the legendary Puskas and the classy winger Zoltan Czibor. The Hungarians had steamrollered West Germany in the earlier stages of the competition, winning 8-3. A repeat drubbing seemed on the cards.
By the 20-minute mark, however, the West German amateurs had regrouped and scored two goals. One from the legendary Max Morlock and an equalizer from the man who would prove to be the hero in Berne, Helmet Rahn. With the match tied and the pitch becoming increasingly soaked, the attack minded Hungarians pushed forward, but were foiled again and again by West German goalkeeper Toni Turek and a resiliant defence.
With just over five minutes left, Rahn, known as "The Boss" smashed in a left foot drive for his second and West Germany's third.
A couple of minutes later a Welshman would have his say in the result.
With one minute remaining it seemed Puskas had equalised for the "inevitable favourites", only for Griffiths, clad in black, soaked to the skin and with the Welsh Football Association crest on his breast to flag the barrel-chested striker offside. English referee William Ling agreed and ruled out the goal. As the Hungraian players prematurely rejoiced, Griffith's raised flag denied the favourites their equaliser. A controversial decision that is debated to this day.
"It is fair to say that he was a little out of practice as a linesman, as he was always the referee in UK matches. That probably went against him with the fateful decision in the final when he flagged for offside on Puskas," stated Ceri. "The Hungarians were, and are in no doubt, that it changed the course of the game and probably Hungarian football history. In the same way, it was a turning point for the Germans too... they have done pretty well since then."
A few minutes after Griffith's pivotal decision on that rainy day in 1954 the whole of Germany rejoiced and the "Miracle of Berne" was born. German historians such as Arthur Heinrich and Joachim Fest see the victory as a turning point in Germany's post-war fortunes. With the country's status as post-war pariahas diminishing, their ascendency into one of the greatest footballing nations was underway.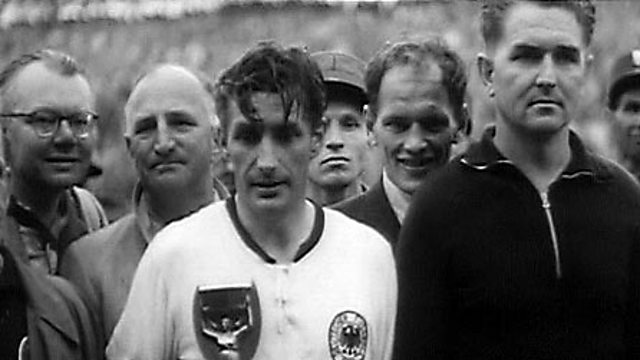 German Captain Fritz Walter pictured with the Jules Rimet trophy after the 1954 World Cup final. Photo provided by British Pathé
After the 1954 World Cup, Griffiths went onto be a referee's assessor for FIFA in the 1958 competition, where his countrymen reached the quarter finals before being defeated by Brazil.
"In the context of Welsh Sporting History," continued Ceri, "he is a little bit of an odd-one. Not a player, but a participant. Not someone who many people would remember now, but he was a great inspiration to a whole generation of young referees because of his modern approach to the game. His skills spread far and wide and he was constantly asked to referee on the continent and in South America, though his teaching duties meant he was not able to take-up all the offers.
"Griffiths had a very positive outlook on life and sport and was rewarded by being flown around Europe and the World to show-off his 'British style' of refereeing - and according to him - the continentals could not get enough of it. In Wales, he never refused the chance to officiate at charity matches as well as doing five consecutive Welsh Cup Finals. His most famous being the 1956 Cup Final between Cardiff and Swansea. He died in 1974 aged 65."
A statue to Helmut Rahn, the man that scored the winning goal for West Germany now stands in the striker's hometown of Essen. During this year's World Cup in South Africa, those wishing for a German victory could do worse than to toast the man from Abertillery who helped them on their way to global success.
Related links:
British Pathé footage of the 1954 final
Feel free to comment! If you want to have your say, on this or any other BBC blog, you will need to sign in to your BBC iD account. If you don't have a BBC iD account, you can register here - it'll allow you to contribute to a range of BBC sites and services using a single login.
Need some assistance? Read about BBC iD, or get some help with registering.