Arctic winds bring a taste of winter
Cold winds from the Arctic have brought a drop in temperature, frost and wintry showers with hail and the first snow of the season to some parts of the country.
As expected, most of the snow has fallen on higher ground, the hills and mountains. In the heavier showers sleet and a little snow has been reported lower down, for example in Swansea, although it didn't settle.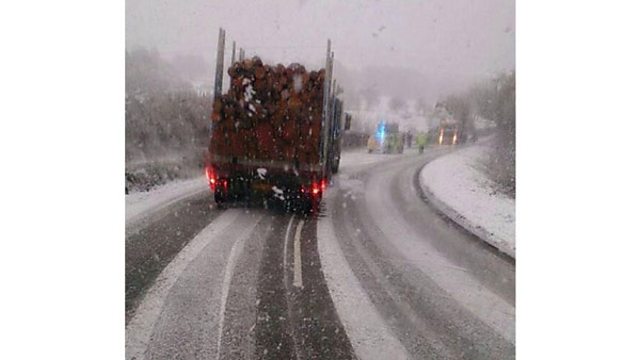 Conditions in Bala this morning. Photo: Gareth Lloyd Roberts
The reason Wales saw a lot of showers is because of the wind direction, which is crucial. As the cold Arctic air moves over the relatively warm waters of the Irish Sea it becomes very unstable. The air rose sharply producing towering Cumulonimbus clouds and heavy showers. 
The wind is from the north or northwest today, so the shower clouds over the Irish Sea have been blown inland affecting most parts of Wales especially the north and west, Ceredigion and west Powys.
Many other parts of the UK have been clear and sunny today.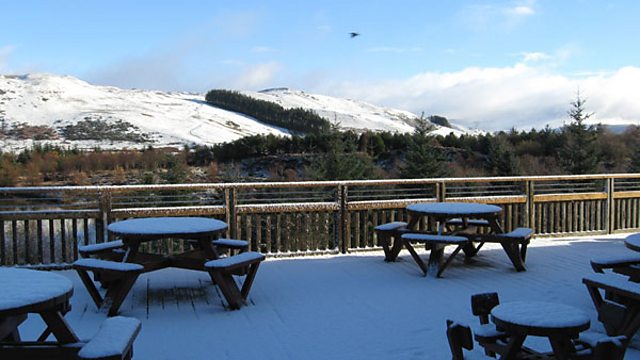 A wintry scene at Bwlch Nant yr Arian visitor centre. Photo: Gareth Owen
Tomorrow low pressure will move south over the North Sea. This will bring a spell of rain with snow on the mountains. The wind will also increase, becoming strong to gale force wind and will make it feel cold.
The rain will clear to sunshine and scattered showers by the afternoon, the showers will be wintry on high ground.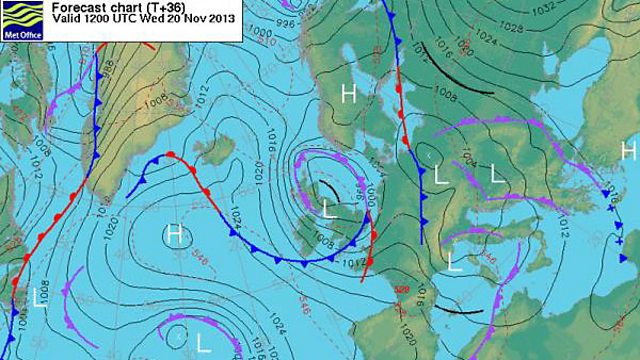 A weather chart valid until midday on 20 November
A word of warning if you are planning on walking in the mountains on Wednesday; sleet/snow, gales and a significant wind-chill is likely, so go prepared for wintry weather or better still cancel and go on another day.
Thursday will be drier and brighter and less windy but feeling cold with a chilly north to north-easterly breeze.
Friday and the weekend will be mainly dry with variable cloud, some sunshine and frost. By Sunday, high pressure will be right on top of us and with little wind there is a risk of freezing fog patches forming.
So a taste of winter this week but there's no sign yet of any widespread, heavy snow heading our way.
Keep warm!
Derek