New exhibitions open at Mostyn, Llandudno
It's all go at the Mostyn art gallery in Llandudno, with no less than three new exhibitions opening this weekend, plus a new video installation as part of their ongoing Love Film video series.
Alex Katz
The work of renowned American artist Alex Katz will go on show at Mostyn this Saturday as part of ARTIST ROOMS, a new national collection of modern and contemporary art established by Anthony d'Offay, and jointly owned by the Tate and National Galleries of Scotland.
In this first exhibition from ARTIST ROOMS to be shown in north Wales, 20 small paintings by Katz that span his career - as well as a free standing work, Green Table, 1996 - will be on display in this rare opportunity to see examples of the artist's work in Wales.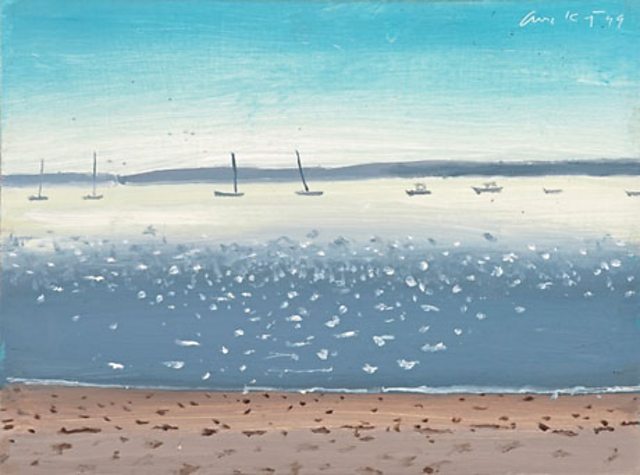 Penobscot © Alex Katz, DACS, London/VAGA, New York 2010. ARTIST ROOMS, Tate and National Galleries of Scotland. Acquired jointly through the d'Offay Donation with assistance from the National Heritage Memorial Fund and the Art Fund, 2008
Cairo Stencils: Chant Avedissian
Chant Avedissian is a Cairo-born artist whose colourful stencilled images provide a visual tour of recent Egyptian popular culture.
Portraits feature famous celebrities and politicians, especially figures from the 1950s and 60s, with Avedissian having captured on canvas singers such as Om Kulthoum and Asmahan, actors Shadia and Hind Rostom and statesmen including Gamal Abdel Nasser.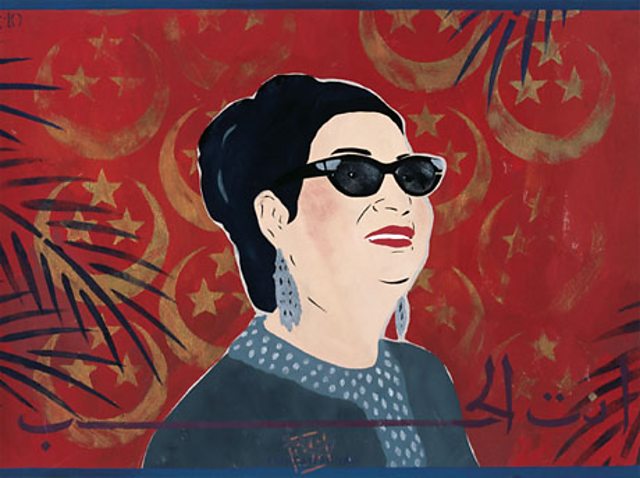 Image from Chant Avedissian's Cairo Stencils
Ground Level: The Hayward Curatorial Open II
Ground Level explores how contemporary art practice, mapping and cartography collide, bringing together international artists who perform their own cartography. It has been curated by Kit Hammonds, winner of the 2010 Hayward Curatorial Open, a platform for innovative curatorship in the UK.
Artists' work that features in the exhibition include: Maria Thereza Alves; The Atlas Group; Ricardo Basbaum; Heath Bunting and Kayle Brandon; Center for Land Use Interpretation; Simon Evans; Yolande Harris; Christian Philipp Müller; Eyal Weizman and Stephen Willats.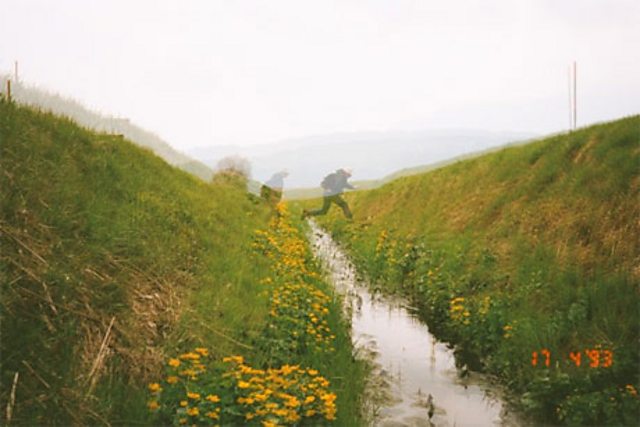 Christian Philipp Müller, 2562km 1993/2005 - part of the Ground Level exhibition
NoMad: Eva Koch
As part of the ongoing Love Video series at Mostyn, Danish artist Eva Koch's NoMad (1998) begins screening at the gallery on Saturday.
In NoMad, Koch filmed people walking back and forth on a narrow pier jutting out into the sea to a mosque outside Mumbai. She filmed only part of the scene, showing neither the mosque nor the place where the pier meets the shore. All the viewer sees is the space in between the starting point and the final destination, and people walking towards an unseen goal.
The artist herself will give a talk at Mostyn at 2pm on Saturday afternoon.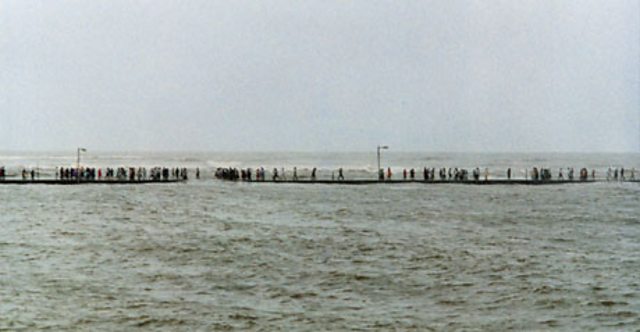 Still taken from Eva Koch's NoMad
For more information on any of the exhibitions, and to prevent any wasted journeys to the gallery, please visit the Mostyn website.