Arthur Machen, the first modern horror writer
The fantasy and horror writer Arthur Machen was born on 3 March 1863 in the tiny but historically important town of Caerleon.
His birth, 150 years ago this year, is now an almost forgotten anniversary, the date - rather like the man himself - being neatly consigned to history. These days few people know his name, fewer still have read his books, unless, like Stephen King, Mick Jagger and Rowan Williams they are fans.
However, for a brief period at the end of the 19th and beginning of the 20th centuries, Arthur Machen was one of the most significant writers in the country.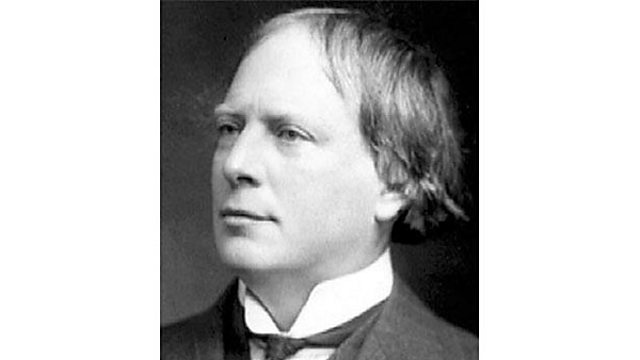 Arthur Machen
Born just seven years before the death of Charles Dickens, Machen came into the world at the house of his grandmother, just opposite the Olde Bull Inn and close to the Roman ampitheatre in Caerleon. He was the son of the Rev. John Edward Jones who in 1858 had become rector of Llanddewi Fach and Llandegveth.
Jones had married Janet Machen, taking her surname in order to claim an inheritance, adding Machen to his name and becoming the Rev. John Edward Jones Machen. His son would, however, conveniently drop the Jones for all of his published work.
Most of Machen's childhood and adolescent days were spent at the Rectory in Llanddewi Fach, a few miles to the north of Caerleon. He quickly became fascinated by the beauty and the enchanting sense of mystery in the land that surrounded his childhood home. As he wrote, in his lyrical autobiography Far Off Things:
"the older I grow the more firmly am I convinced that anything which I may have accomplished in literature is due to the fact that when my eyes were first opened in earliest childhood they had before them the vision of an enchanted land."
The area around the Rectory, with its rolling pastures and silent streams, combined with the looming mass of Wentwood and other mountain ridges - not to mention the historical past of Caerleon itself - gave him a literary landscape that would stay with Machen all his life. Their influence was so strong that he could, quite literally, tap into them for inspiration and atmosphere whenever he chose.
Arthur Machen was educated at Hereford Cathedral School but family finances were parlous and there was never any possibility of him going on to university. He left school in 1880, already fascinated by writing and determined to make himself a career in literature.
He self-published a book, Eleusina - a common enough occurrence in those days - and moved to London where, in 1884, he produced The Anatomy Of Tobacco. Two years later he was commissioned to translate The Hepthameron, a collection of stories by Margaret of Navarre, from the original French.
Over the next few years Machen's reputation grew steadily, although finances remained something of a problem. The Great God Pan appeared in 1894, and The Three Imposters the following year. These macabre and chilling books were hugely influential, and remain so. Stephen King declared that The Great God Pan was probably the best horror story in the English language. But at the time of publication it caused something of an outcry, many people denouncing it because of its sexual and horrific content.
During the final years of the 19th century Machen met and grew friendly with many of London's literary elite, men such as Oscar Wilde, and made his living from a wide range of journalism and story writing.
He married in 1887 but in 1899 his wife Amy died of cancer. It plunged Machen into the depths of despair and like Dickens before him he took to making long and rambling walks through the city at any hour of the day or night.
During these walks he would stare at buildings and streets, conscious that there were hidden lives and meanings lurking behind what were seemingly ordinary places and façades. Looking beyond the ordinary was a practice that informed many of his stories, in many ways the beginnings of psycho-geography as a concept in writing.
In 1903 Machen remarried, this time to Dorothie Purefoy Hudleston. It was a long and happy union. A few years earlier he had taken to the stage, becoming an actor with the company of Frank Benson. He travelled all over the country, acting but also picking up snippets of fact and fantasy to turn into stories. His acting career came to an end in 1909 and his series of autobiographical writings began with what was probably his masterpiece, Far Off Things, in the final years of the Great War.
If Machen is remembered at all, these days, it is probably as the originator of the Angels of Mons myth. In a story called The Bowmen he wrote of ranks of ghostly English archers - really Welsh would have been a better description - who come to the aid of the retreating British forces at the Battle of Mons. The Angels of Mons came out of this piece of journalism or fantasy writing and many people believed the story implicitly, even those in power using it as a piece of war propoganda.
After 1919 Arthur Machen's career began to run down. He continued to write, to produce a whole range of books, but public tastes had changed and Machen was unable to change with them. He died at his home in Amersham on 15 December 1947.
For those who know about his work, particularly his writing in the horror genre, Machen remains hugely influential. Film director Guillermo del Toro, poet laureate John Betjeman and horror writer Stephen King are just some of the artists who acknowledged his influence on their lives and careers. They are, however, in the minority and most people would readily acknowledge that they know next to nothing about this unique Welshman.
In 2013 a whole range of activities and events has been organised to mark the 150th anniversary of his birth - and perhaps bring him to public notice once more. These include lectures and readings in London and Caerleon, walks over the Gwent landscape that was so significant to him and a reprint of Far Off Things.
Arthur Machen was probably the first truly modern horror writer. Others have taken the genre forward but in the quality of his prose and writing style Machen remains unequalled. Not a bad accolade for a clergyman's son from Caerleon.