Theatr Colwyn: a century of cinema
On 15 October 2011, a famous face made an appearance in Colwyn Bay.
Terry Jones, acclaimed director, writer, documentary maker and Python, was in his hometown to reopen a small theatre, nestled just shy of the north Wales coast, following a refurbishment which has restored the venue to its former glory.
Although Jones' appearance was greeted with excitement, in truth showbusiness' most famous faces have been appearing in the small town of Colwyn Bay for over 100 years. It's all thanks to the presence of Theatr Colwyn, recently named the oldest operating cinema in the UK and the oldest operating theatre in Wales.
Now a popular and affordable community attraction, in its heyday it boasted an impressive audience, with a seating capacity estimated between 500-800 strong at the time its cinema opened in 1909. Harry Reynolds, a well known face on the West End stage, had taken over The Public Hall - as the venue had been known since the 1880s - revamping the auditorium and installing electric light. It was one of the earliest purpose-built cinemas in the country.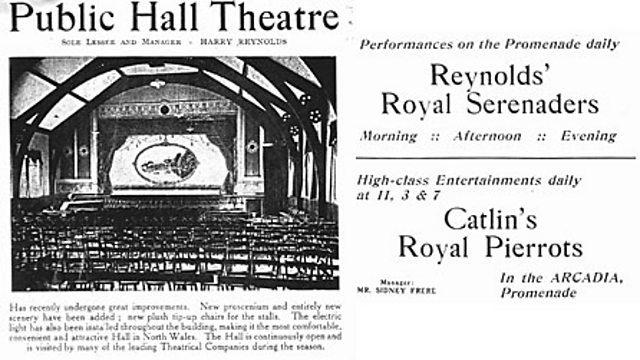 Newspaper advert showing Theatr Colwyn's revamped auditorium with cinema and programme information, dated 1909
The first screening was on 25 January 1909: short animated pictures including Hunting Crocodiles On The Nile and The Naughty Little Princess. The Pioneer newspaper, in its review of the cinema's opening night, praised a warm-up performance by singer Revill Hall, and Morris Davies, an "accomplished pianist [who] performed a suitable programme of music" to accompany the films.
The sheer number of screenings suggests cinema quickly proved to be a popular past time with Conway residents. "There were several showings every day of the week," says marketing officer Joann Rae, "often more if it was raining!"
However, although popular, ticket prices indicate the theatre attracted an affluent visitor, with admission ranging from one shilling to three or six pence. Colwyn Bay and its attractions were a magnet for wealthy residents and visitors, in particular, Joann Rae explains, "industrialists and mill owners from north Wales."
The early 20th century cinema-goer's experience differed to a contemporary viewer's in some respects - for example, the film's score was performed live in order to bring the silent pictures to life - though it was more familiar in others, with sweets and chocolates sold before performances and public fascination with the biggest and brightest stars of the period dictating the cinema programme.
In the 1920s, the period which saw the flourishing of Hollywood's golden age of silent cinema, audiences flocked to the Theatr Colwyn to see the movie icons of the day. Joann reveals the cinema still holds posters from that era advertising films starring Charlie Chaplin and Harold Lloyd: "massive stars, so we know that they were popular with audiences here in the '20s."
As the century wore on, Theatr Colwyn continued to play host to popular stage and film performers. Several notable acts started their careers at the theatre, including Charles Dance and original Coronation Street cast members Jack Howarth and Betty Alberge. Pauline Jamieson was a member of the rep company during the 1930s before becoming a leading light of the West End, with Vivien Leigh serving as maid of honour at her wedding.
In 2006, Terry Jones was invited to become the theatre's patron, in large part due to his personal connections with the venue. Not only did his mother perform in amateur productions, in 1936 his grandfather William Newnes conducted an orchestra on the night the theatre reopened following repairs after a fire.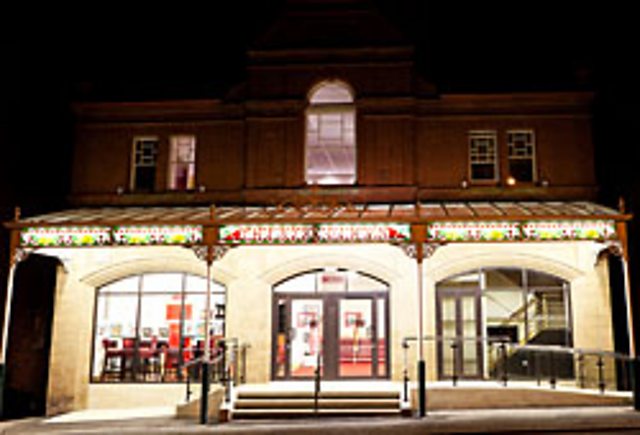 Exterior of newly refurbished Theatr Colwyn in 2011. Photographer: Paul Sampson
Now owned by Conwy County Borough Council and run as an independent cinema, Theatr Colwyn underwent a £750,000 refurbishment in 2011. It remains an active and vibrant part of the community's cultural landscape while retaining a sense of the venue's historical importance.
Phil Batty, theatre manager, explains: "We started up the cinema again in 2000, after receiving grants from our town council and county council which covered the cost of the projector and screen. Our audience likes to come and watch a film in a traditional setting and they also appreciate the fact that our tickets are so affordable."
With a century's worth of entertainment history to its name, Theatr Colwyn intends on bringing a small slice of Hollywood to the residents of Colwyn Bay for another hundred years to come.