Today, millions of people around the world will be taking part in activities to mark World Wetlands Day
Since 1997 World Wetlands Day has been used to raise public awareness to the values and benefits of wetland habitats.
The Convention on Wetlands of International Importance called the Ramsar Convention was established in 1971, in the Iranian city of Ramsar on the shores of the Caspian Sea and is the only global environmental treaty that deals with a particular ecosystem.
This year's theme is Wetlands and Tourism which has benefits both locally and nationally for people and widlife. At least 35% of Ramsar sites around the world now have a toursim activity associated with them.
It is difficult to place a monetary value on a unique type of habitat but in Britain it has been estimated to be worth somewhere in the region of £6.5 billion.
This figure can be broken down into a number of different resources - from flood prevention and storm defences to water purification and storage, not to mention the abundance of wildlife species found in wetland areas and the vital role wetland habitat plays in reducing carbon emissions.
According to Ramsar, wetlands are among the ecosystems most vulnerable to climate change and some including coral reefs, mangroves, and those found in tropical forests, sub-arctic forests, prairies and arctic/alpine zones are especially at risk.
Wetland areas such as peatlands, salt marshes and mangroves play a crucial role in reducing greenhouse gas emissions as they act as natural carbon 'sinks' locking in significant amounts of carbon while drainage and peat extraction releases it into the atmosphere.
A recent study found that 'damage to peatlands has been responsible for annual emissions of greenhouse gases (GHGs) equivalent to 10% of emissions from worldwide use of fossil fuels.
It's worth noting however that different wetlands store and release carbon in different ways and at varying levels.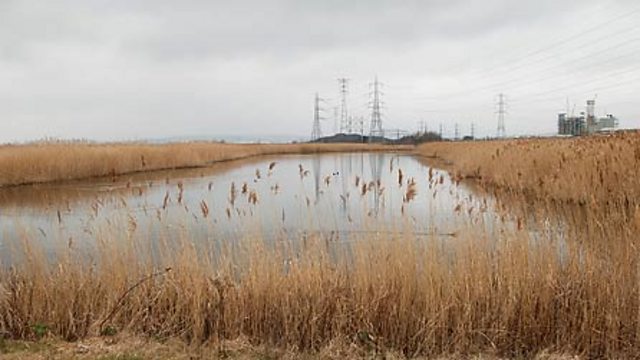 Newport wetlands centre
Wales has its fair share of internationally important wetland habitats which have fully embraced the concept of wildlife tourism in partnership with other wildlife organisations such as the Countryside Council for Wales (CCW) and RSPB and the Wildfowl and Wetlands Trust.
Tourist traps
Nowadays you don't even need to get your feet wet to visit a wetland reserve as the majority have embraced tourism and cater for people of all ages and abilities with state of the art visitor centres, plush wooden boardwalks, comfortable well positioned bird hides and wildlife guides on hand.
They are also attracting large numbers of schools too with a range of activities designed to teach schoolchildren about the local wildlife and the environment - including pond dipping, bird watching, bush-craft skills and bark rubbing.
Newport Wetlands National Nature Reserve in south Wales has had over 16,500 school children through its doors since it opened in 2005.
CCW Reserve Manager Kevin Dupé said: "It's a great time of year for people to get out and see the over-wintering birds. Tufted ducks, pochard and gadwall are commonly seen on the reserve's reedbeds. Keep a look out and you may be lucky enough to see a golden-eye duck, short-eared owl or marsh harrier, which are a rare sight."
Reserves in Wales
Wetland reserves in Wales were given a boost in 2011 when the RSPB reserve at Ynys Hir in Ceredigion became the new home for BBC Springwatch.
The 700 hectare reserve is set in a stunning location at the top of the Dyfi Estuary, flanked by the Cambrian Mountains with a huge variety of different habitats including Welsh oak woodland, wet grassland, saltmarsh, reedbeds, heathland, rivers and ponds.
The nearby Dyfi Reserve, managed by the CCW comprises of the Dyfi Estuary, Ynyslas Dunes and Cors Fochno (Borth bog) is one of the largest and finest examples of a raised peat bog in the UK.
The Dyfi estuary is one of only 11 sites in Britain which has been registered as an international Biosphere Reserve and is a vital feeding ground for large numbers of wildfowl.
In winter large numbers of waders and wildfowl use the estuary including important numbers of wigeon and the estuary also supports the only regular wintering population of Greenland white-fronted geese in Wales and England.
The Ynyslas dunes are home to many rare species of fungi and orchid and also a nocturnal hunting spider Agroeca dentigera which is unknown elsewhere in Britain.
Cors Fochno is home to a large number of sphagnum bog mosses including three which are nationally scarce and provide a rich habitat for bog invertebrate rarities such as the rosy marsh moth, the large heath butterfly, bog bush cricket, small red damselfly, and the jumping spider, Heliophanus dampfi.
In 2011, osprey successfully bred at Cors Dyfi near Machynlleth for the first time and thanks to GPS tracking, Reserve Warden Emyr Evan has been monitoring the birds as they made their winter migration south to Gambia and Senegal.
Wetland habitat can also be re-created and thrive near large populations such as the man-made Wildfowl and Wetlands Trust centre in Llanelli which opened in 1991.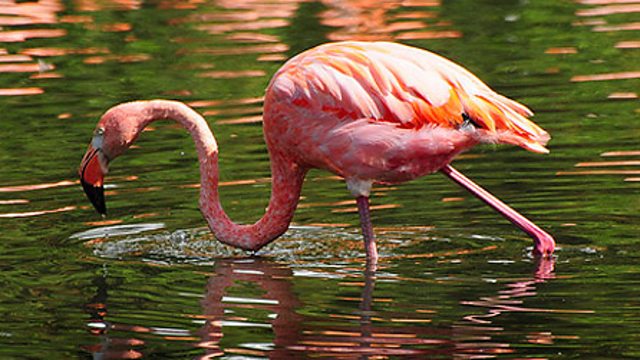 American / Caribbean Flamingo, WWT Llanelli in August 2011. Image by Steve Greaves.
Besides the thousands of wintering waders that visit the 450 acre site, the centre has also attracted more exotic species such as little egret and flamingo and in July 2011 hit the headlines when a lesser flamingo chick hatched - only the second ever born in captivity in Britain.
Wetland Facts
Wetlands are used for fishing, farming, transport, tourism, recreation and sport.
Communities around the world use reeds to make rafts, boats, housing materials and thatching as well as peat for fuel.
Many countries still rely on waterways as their principle method of travel and transportation.
Man-made wetlands such as paddy fields provide rice to over half of the world's population.
The world's largest continental wetland is the Pantanal in South America covering an area larger than England.
Other wetlands to visit in Wales:
Wildfowl and Wetlands Trust, Llanelli