Catching up with Spencer McGarry
Besides achieving and album of incredibly catchy songs already, Episode 2, is just another step in Spencer McGarry's overall masterplan.

With the recording process already underway, Spencer's new album may just be a huge treat in store for 2010, and a tour of theatres as a platform for the music, may be just the kind of imaginative act that may finally get him the attention and renown he deserves.

Last week in a packed London club, The Social, I witnessed the nine piece band take to the stage. Here's how they looked, with Spencer on keyboards and Sophie Cochrane and Bec Wood on vocals.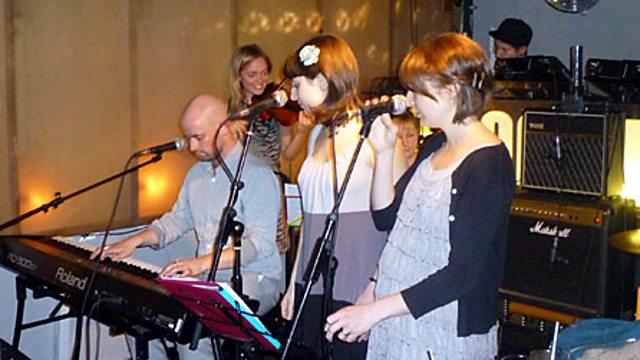 ...and here's a ropey film from the gig recorded on a mobile phone. Please don't expect high fidelity!


I caught up with Spencer to find out more about the project.
So the new album is written and recorded?
It's almost finished actually. It's what I've spent all year doing it just needs a few more days of singing and I imagine some time to actually mix/produce (although hopefully these days that involves pressing one button) and we're all done.
Tell me about it. What the songs are about? Is there a concept?
It's a 17-track revue in the style of my favourite musicals and classic song writers- I mean the giants of the song world like Rogers and Hammerstein, Irving Berlin, George and Ira Gershwin, Paul McCartney
et al
, people who really know how to put together a melody and how to arrange a number.
It's got influences from modern classicists like Steve Reich and Phillip Glass and has huge faux opera moments, jazz passages, avant campness, out and out noise; and ends in a 20-minute medley. Overall it's a mix of traditional song writing and utter dissonance.
It's not a concept album, but it has motifs that keep cropping up and melodies from the last album that repeat and is part of the overall concept for the band/project which is in itself a concept group.
It's got seriously out of hand, though, and I'm trying to keep it under an hour and failing. Luckily I'll run out of money soon and I'll have to leave it as it is.
It's being produced by Charlie Francis who's simply the only man for the job after his outstanding work with the High Lamas. I needed a man (or woman) used to recording a diversity of instruments and keeping things under control as well as someone who's game for anything and understands how different genres work. He's been invaluable in showing me albums similar to what I'm doing, showing me simultaneously that I'm not mad and what I'm doing is nothing new.
Why the change of musical style from Episode 1?
It's all part of the Spencer McGarry Season project - I have a lot of songs that are of no fixed style. I wondered what to do with them and decided to group them loosely into six albums. This is the second part of my hexological journey, although I did have to look up the word for a group of six films/books/albums.
I thought if Sufjan Stevens could do 50-odd albums, six would be easy. However, last week I learned that he's admitted it was probably a PR stunt and stopped. Now I'm left alone, looking stupid. But I can't stop now until I've completed all six.
Will you stick with this musical theatre style of song, or is this just Episode 2 in the masterplan?
Yes that's right, it's onwards to an all new style after this one. Although it's been a headache, I've enjoyed Episode 2 immensely its been good fun expanding from a very basic three piece playing rock to a 15 piece mini orchestra, learning about different instruments and what they can and can't do, playing with simply too many people to fit on a stage and attempting to get us all in the same room to rehearse - it still hasn't happened.
We're going to keep playing it for at least the next year, so there's lots more fun left and hopefully we'll get to take the show to a few festivals and play some interesting venues. I'll be starting on the other one in the meantime though.
In the face of album's loosing any sort of hold or power over people, does that dampen the spirit in which you've created this project?
I've never been musically fashionable and I find it amusing that in the face of worldwide dwindling sales and label death, lowering concentration levels and research that no one has the constitution to sit through more than a single at a time anymore, I've embarked on almost a double album's worth of deeply unfashionable music presented in a possibly redundant format. Nothing changes with me.
I certainly enjoy albums and I put aside time to sit through a whole piece of work and appreciate its cohesion. When we started myself and Charlie sat down and talked of the grand albums in pop history and had a tiny moan at the lack of ambition and reliance on the structure of rock amongst writers today. We decided we should go too far; I feel we can go further though...
Making money from recorded music is a relatively new concept. Maybe it'll just be seen as a blip in the history of music as the whole. There are few examples of definitive versions of classical, opera and traditional forms of music - they are open to interpretation and reworking as society changes and culture shifts, but they are still played and enjoyed.
Music is still there but the way we consume it always changes. I'm excited for the future. This may be the last physical album I release, so unfortunately I'll never collect my recordings in a lavish box set with linear notes by David Leaf.
Ideally, where are you planning to tour the album?
I've learned pretty quickly that playing rock venues is a little difficult. To put it dramatically, I need a bigger stage and sense of occasion. I'm looking to play galleries and art spaces, we're planning something pretty special in chapter next year and hopefully we can take it around similar venues.
I can see us playing boutique festivals like Greenman too. Thus far, I've just been recording and taking the odd gig when asked, but soon I will have to think about bringing my little monster to the people of Britain.
Official band website:
myspace.com/spencermcgarry
See
more videos of songs
including a wrestling vid on NME.com.
Spencer McGarry Season
on BBC Music.
What
Kruger Magazine
said about Spencer McGarry:
"Spencer has been known for some years now for his hook-laden take on indie-pop music but very recently the guitar based set-up of the Spencer McGarry Season has been expanded into what can only be described as a mini-orchestra. Into our studio this afternoon Spencer brings a violin, a cello, percussion, guitars, horns and a flute. The sound of the new band is something very exciting, taking Spencer's ear for a great melody and creating indie music filled out with a pop-baroque orchestration reminiscing of a 1950s Disney film. And it works, very well."