Weekend weather (17 July 2010)
It goes without saying we've seen a big change in the weather recently. In fact it's been more like autumn than summer with strong to severe gale force winds last night.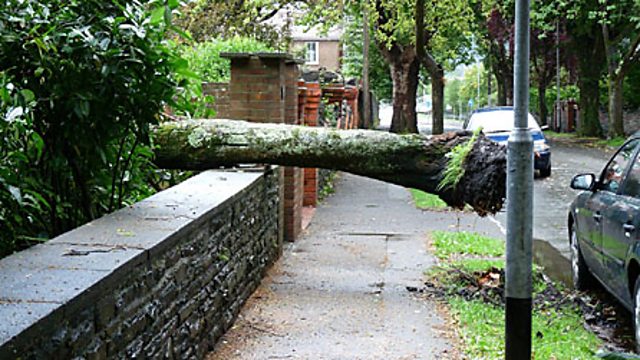 Here's a picture by Mike Davies of a fallen tree in Cadoxton
The wind reached storm force 10 in northwest Wales with a gust of 84 mph recorded at Aberdaron on the Lleyn Peninsula and 53 mph at Mumbles Head. Strong enough to cause damage and bring down a few trees.
Thankfully, the worst is now over. The deep low pressure system is moving away so the wind is easing with a few showers. Tomorrow will bring a mixture of sunshine and scattered showers. Most of the showers in North Wales in the morning.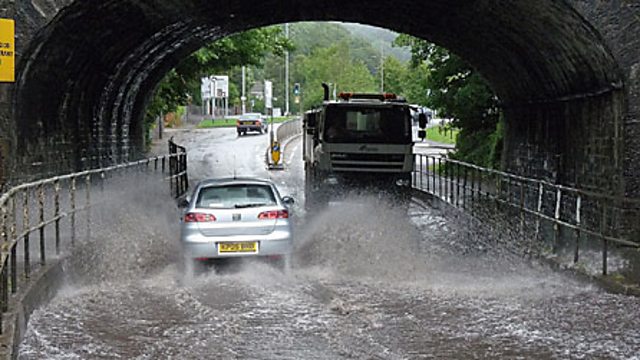 Mike Davies sent us another picture of recent flooding in Cadoxton
However, it will become generally dry during the afternoon with more in the way of sunshine. Top temperatures 16 to 19 Celsius with a moderate south-westerly breeze. Tomorrow evening will be dry if you're planning a BBQ but more cloud, rain and drizzle will spread in from the Atlantic after midnight. So on Sunday, it's all change again.
Cloudy with outbreaks of rain and drizzle. Most of the rain in the north and west with hill fog. East and southeast Wales drier. Breezy with highs between 17 and 20 Celsius, 22 Celsius in Wrexham and Flintshire. The wind south to south-westerly, moderate to fresh. Next week is the Royal Welsh Show in Llanelwedd. At the moment, the weather is looking mixed with some days better than others.
Most of Monday should be dry and warm with a southerly breeze.
On Tuesday some rain is expected for a time. Wednesday brighter with sunny spells and a few showers. Thursday dry and in the sunshine feeling pleasantly warm with temperatures rising into the low 20's Celsius. So St. Swithin's Day, 15 July, brought some very unseasonal weather but I don't think we should write the rest of the summer off.
It will turn unsettled at times but high pressure from the Azores should pay us a visit late July and in August bringing spells of fine and warmer weather. So don't put the bucket and spade away just yet!