Off the rails: August's topsy-turvy weather
It's fair to say the weather's gone off the rails this month since the arrival of ex-hurricane Bertha last weekend.
Yesterday RAF Valley on Anglesey enjoyed 11 hours of sunshine but mid and south Wales were hit by torrential downpours and a few thunderstorms.
Swyddfynnon in Ceredigion was the wettest place in the UK yesterday with 47mm, nearly two inches of rain. There was flash flooding in Cardiff, hail in places and even one or two funnel clouds!
Hail and flooding in Radyr, Cardiff by Rhiannon Michael
As is always the case, it's the position of the jet stream, high in the atmosphere around 30,000 feet, that is responsible for the weather we experience at ground level.
During June and July it was often north of the UK with areas of high pressure bringing us spells of fine, warm and sunny weather. However, the jet stream has changed position recently and is now further south, allowing low pressure to bring us spells of wind and rain, heavy showers and thunderstorms. It has also turned cooler and fresher as well. 
Figures from the Met Office show that up until 13 August, Wales has already had 83.2mm of rain, over three quarters of the 107.4mm that would normally be expected for the whole month. Cardiff has been particularly wet, with more rainfall in a fortnight than for the whole of August, 126mm compared to the monthly average total of 93.4mm.
Sunshine has been close to average, while temperatures have been slightly above so far - although this is likely to change next week. Low pressure over the North Sea on Sunday means strong north-westerly winds for the UK and these will bring chilly air down from the Arctic!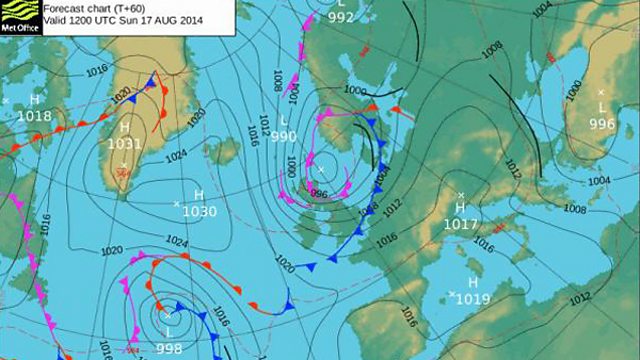 Forecast chart for Sunday 17 August 2014
So it looks like a cardigan and an umbrella will come in handy next week, you may find you have to turn the heating on as well as it will feel distinctly cool with some chilly nights on the way.