Dr Rhys Jones at Royal Welsh Show 2012 - Day four
Dr Rhys Jones, co-presenter of Royal Welsh Show highlights on BBC Two Wales, blogs specially for BBC Wales Nature this week.
Well that's it for another year! We just got the nod to say filming for the Royal Welsh Show 2012 is complete. Sara and I are catching a taxi as I type!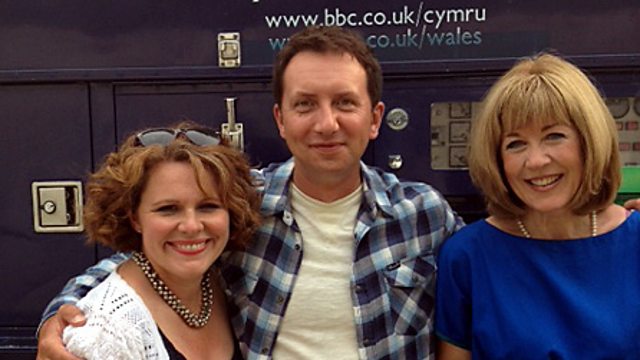 Rachael Garside, Rhys Jones and Sara Edwards
We've had a marvellous time but happy to be on the way for dinner as once again we didn't have time to stop for lunch! Many thanks for tuning on and don't forget the highlights programme on Monday night. It's goodbye for another year from Sara, Rachael and me.
Looking back over the week it's hard to pinpoint single highlights as the whole show has been the most amazing experience. For me the kindness of the Davies family allowing me to help prepare their champion dairy cows during an incredibly stressful time must top my highlight of my show.
I am just about to record the end link with Sara and Rachel, and we will then be ready to step down from presenter duty for the Royal Welsh show 2012. We have all had an amazing time and I hope you have enjoyed watching.