As usual, we had a good mixture of sunshine and showers at the lake today and as usual, the moment I drove across the bridge, I got the showery part.
I arrived at the location and gave the camera assistant, Ed Charles, a hand lugging some of the gear over to where wildlife cameraman John Aitchison was filming.
By now everything was soaking wet (including the cameraman) after the recent downpour, so the rocks were all very slippery and at one point we had both cameraman and assistant lying on the deck, sliding around as one tried to help the other up out of the river!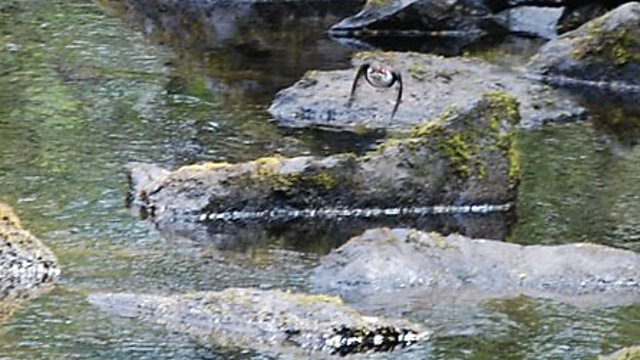 The team wanted to put up a little 'dog cam' on the wrought iron grill in front of the nest, using a plastic camera grip and some gaffer tape and as you can see from the video, it was no easy task!
The 'dog cams' are frequently used on Springwatch to deliver those magical 'bird's eye view' shots with wide angles and close ups - perfect for filming birds on the nest and feeding behaviour.
The dippers were completely at ease with our presence there, and flew in and out with food at regular intervals.
I was suprised to find that they stayed away for far longer than other birds I've watched - at times taking up to 15-20 minutes to return with food. At other times they would hunt nearer the nest and deliver a quick feed before disappearing away for longer again.
The dippers were also swimming, duckdiving at warp speed, underneath the surface to feed on small fish and insect larvae. One even swam past our underwater cam so there might just be some great footage of a dipper swimming.
The 'dog-cam' gave us instant success as a parent bird returned within 10 minutes of us setting it up and as you can see there are at least four hungry mouths to feed, popping out of the nest.
It won't be too long before they fledge so keep an eye out for the footage on Springwatch soon.
Gull