Merthyr Tydfil to host Family and Local History Fair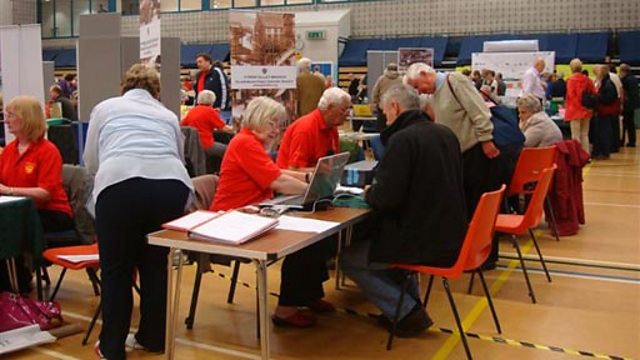 Previous Family and Local History Fair
Last year more than 600 people visited the fair, and this year's event is even bigger with over 60 exhibitors taking part. There will also be a series of talks by guest speakers who will provide helpful hints and tips to help you with your family history research.
Some of the exhibitors taking part in the fair include:
Glamorgan Family History Society
Glamorgan FHS Bookstall
Help and Advice Desk – Gwyn & Kathleen Rhys
Bridgend Branch
Cardiff Branch
Cynon Valley Branch
Merthyr Tydfil Branch
Pontypridd & Rhondda Branch
Swansea Branch
Archives, Libraries & Museums
Cyfartha Castle Museum
Glamorgan Archives
MerthyrTydfil Library
Merthyr Tydfil Register Office
National Library of Wales
Rhondda Cynon Taff Libraries
Royal Commission for Ancient Monuments
Books and Postcards
Audrey Griffiths
David Salter Postcards
Family History Partnership
Glamorgan FHS Bookstall
Jeff Evans
Llyfrau Gwynedd Williams – Old Books
Family History
Anglo Italian FHS
Association of FHS Wales
Brecon Local & FHS
Bristol & Avon FHS
Cardiganshire FHS
Dyfed FHS
Family & Community Historical Society
Gloucestershire FHS
Guild of One Name Studies (GOONS)
Gwent FHS
Hereford FHS
International Society of Genetics
Powys FHS
Somerset & Dorset FHS
Weston-Super-Mare FHS
Wiltshire FHS
Genealogical Services
CAB Search
Find My Past
Genealogy Printers
Heraldic Names
Irish Ancestors 4U
L & J Research
Maxbal Genealogy
Newtown Design Services
Nostalgia Online
Pembrokeshire Research Solutions
Reflective Images
S & N Genealogy Supplies
The Genealogist
WDYTYA Magazine
Local History
Caerphilly LHS
Cynon Valley History Society
Dic Penderyn Society
Friends of Saron (Troedyrhiw)
Gelligaer Historical Society
Gelligaer Local History Appreciation Society
Merthyr Tydfil Historical Society
Soar Centre, Merthyr Tydfil
Wyvern Midland Railway Index
Military
Angela Hughes – WWI Rhondda Servicemen
Fred Cutter – WWI Glamorgan soldiers
Michael Donovan – Military
Western Front
Miscellaneous
Family Silver
Joshua Horgan Print & Design
S J Jewellery
Tourism
Merthyr Tydfil Tourist Information Centre
Valleys Regional Tourism
Visit West Wales
Details of how to get to the leisure centre by various forms of transport are available on the Glamorgan Family History Society website. For satnav purposes the postcode is CF48 1UT.