Derek opens new weather station
Last Friday I visited Gavin & Stacey land - Barry Island.
But there was no sign of Nessa or Uncle Bryn when I popped in to Barry Island Primary School. I'd been invited along, to officially open their new hi-tech weather station.
The staff, pupils and parents have worked really hard to raise over £1,000 to have the weather station installed.
Derek with pupils holding up weather symbols. Image courtesy of Barry and District News: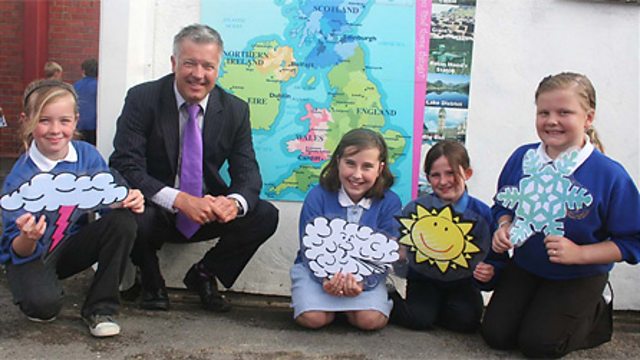 The weather station is connected to a computer and real time readings of temperature, pressure, humidity, wind speed and direction can be accessed free on the internet.
There are now plans to install a webcam so you can check on local conditions before heading to the beach.
Barry Island Primary School was awarded Wales' 'Eco Primary School of the Year in 2009' for it's environmental and energy saving initiatives.
The school has a wonderful outdoor garden where the children can learn, play and grow vegetables whilst enjoying the fresh air.
When I started recording the weather in Barry back in the late 1970's, all I had was a thermometer which I used to hang up in the back garden, so this weather station is a fantastic idea.
Hopefully it will encourage children to learn more about the weather and environment. And you never know, a few pupils may grow up to be meteorologists and take over from me at BBC Wales, when I hang up my seaweed and retire!
Find out more about Barry Island on BBC Local South East.
Derek