Even Britten had travel woes
I hate flying on my own with my viola - I find it stressful. If you're fortunate enough to get as far as security with your instrument still firmly in your possession, many things can still go wrong. I have, several times, had that horrible sinking feeling when I have been asked to open my viola case, and remember I've forgotten to take my extra strings out.
Instrument strings are looked upon as a security hazard (apparently you could strangle someone with them) though security have obviously never had to fork out for a set. They are far too expensive to even consider garroting a pilot/crew member/passenger with them! I did try this argument once. It did not work.
However, this week, I learnt that I am in good company. Benjamin Britten also suffered trauma at the airport!
Britten had intended to compose a clarinet concerto for the legendary Benny Goodman, and indeed had almost finished sketching the work. In 1941, as he and his partner, Peter Pears, were returning to England from the States, US Immigration impounded the 26 pages of sketches, just in case they contained some sort of secret code containing sensitive information relevant to the war.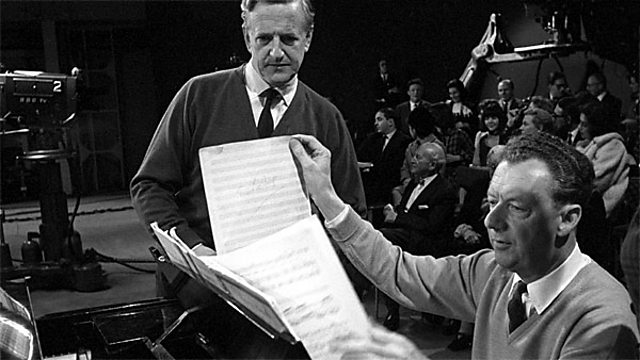 Peter Pears and Benjamin Britten, 1964
The sketches were finally returned to Britten in 1943, but by then he had lost interest in completing it. To be fair, he'd probably become a little distracted by the writing of Peter Grimes by the time he got the sketches back, so we can't blame him for not quite getting round to it.
The work has been brought to glorious completion by Colin Matthews, and what a gem it is! We performed the work recently at BBC Hoddinott Hall, under the baton of associate guest conductor François-Xavier Roth, with our own principal clarinet, Rob Plane, as soloist.
Colin Matthews was on hand to tell us a little bit about the concerto (he is credited as orchestrating the work), and it was interesting to hear how he set about transforming 26 pages of sketches into a complete concerto.
The first movement was, more or less, complete, but the rest of the work was a little sparse. Mr Matthews lifted material from a number of other works by Britten, contemporary with the conception of the Clarinet Concerto (including a work for two pianos, and a sonata for string orchestra), in order to give flesh to the bones of the other movements.
This is a delicious work to play. Although full of all the quirks you would expect Britten's music to have, you can also hear the influence of the man for whom the work was originally intended. This is a jazzy, foot tapping, truly make you smile work, and I hope we see it in another programme soon.
For more information about the BBC National Orchestra of Wales' concerts at BBC Hoddinott Hall, visit the orchestra's website and explore their concert diary.