Carrie Smith, shooting director for Police 24/7, talks about what it was like to follow the busy South Wales Police force.
Having worked on many of the 24/7 series (Vets, Hospital, Tenby) we always knew that the same filming principles could be applied to the police.
When access was given to let the cameras in I couldn't wait to get on with the research. It wasn't easy though, with thousands of police staff it was difficult to know where to start.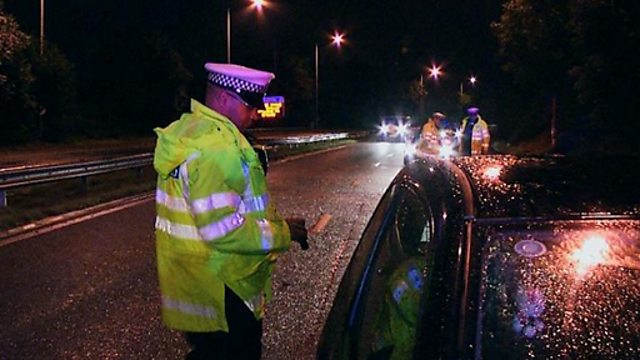 Roads Policing Officer Peter Hoole at the scene of an accident in Cardiff.
Roath/Cathays in Cardiff has the busiest response area in the South Wales force so for me this seemed like the obvious place.
I was paired up with PC Stephen Doherty (or Doc as he's known) and after a few hours together it was obvious that we shared a similar sense of humour and a love of cake. Very important things for a good working relationship!
PC Doc initially started in the Met and had been working on response for almost 15 years. Four years away from retirement age he felt like it was time to slow down the pace and had decided to take on a new role assisting his fellow officers in the emergency call centre. I felt very privileged to be there on his last but one response shift.
It was very interesting seeing how response officers work, especially in a busy area like Doc's. No sooner had they responded to one call it was quickly onto the next, most of them blues and twos, leaving little time to respond to the 'less urgent' calls.
They have no idea what they are going to deal with next. During just one shift Doc and acting police sergeant Chad Bushell dealt with 10 calls ranging from an assault to taking a lady who'd fallen to Accident and Emergency. I was amazed at how quickly response officers can adapt from one thing to the next.
Ever since watching the film Hot Fuzz I have wondered what a genuine police force's property storage looks like. I wasn't disappointed when I first saw South Wales Police's version. It's housed in a secret location and has around 8,000 items which are the subject of enquiry.
There's everything there from a rhino horn, hundreds of thousands of pounds worth of drugs, boxes of wine, guns, antiques, swords - basically anything you can imagine is probably there or has been at some point. It's catalogued and cared for by property officers Becky Morris and Sue Fox.
We filmed Becky as she was getting ready for a 'gun run': every other month they try to get rid of weapons where the cases have been closed so that they can be destroyed. There are strict protocols and procedures for booking property in and they have gained reputations for being 'picky', but as Becky explains it's for the officers own good and so that a case doesn't collapse in court due to the evidence.
The way they run the stores is admirable and revealed to me how important these less visible roles are within the police. Hopefully this will give the viewers an insight into this area which probably hasn't been covered by many police programmes in the past.  
Police 24/7 is a new series and starts on Wednesday 16 January at 8:30pm on BBC One Wales.