A Christmas date with X-Ray
I don't have a very strong stomach. Even the mere thought of curdled milk can leave me feeling queasy. So during the interview with Alastair Low of Cardiff Scientific Services, I could immediately feel my tummy starting to churn.
Insects. Their excrement. Their larvae. Found in dates and figs on sale in Cardiff. Excuse me one moment...
We'll let you know what you should do if you are unlucky enough to happen across a fig surprise this yuletide.
Talking of Christmas surprises – the cost of hampers. You won't believe the difference in the cost of the contents of a hamper if they're bought separately, compared to when you buy them all wrapped up in a basket with a bow.
We've been counting the cost of the hampers of some the big high street names. It could make you think twice before you splash out this Christmas, though the stores say the extra cost reflects the care that goes into the choosing and packing, and that hampers remain very popular with their customers.
So as you can tell, we're in festive mood, even squeezing in a trip to a Christmas tree farm in the Vale of Glamorgan for one film. It was magical.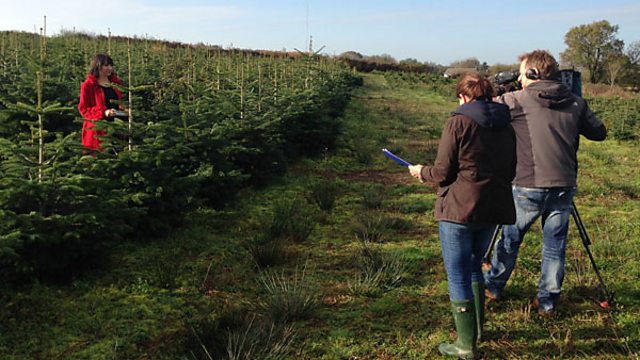 Lucy Owen during filming at a Christmas tree farm for X-Ray
A bright, sunny morning, the light catching the dewy branches of the firs, making them sparkle as if they had already been decorated.
Of course what you won't see on camera is the boggy ground underfoot or the soggy coat after 10 takes strolling through wet trees. Worth it though, if it helps leave us all with a bit of extra cash in our pockets this Christmas for some extra treats. Fig anyone?
Watch X-Ray tonight on BBC One Wales from 7.30pm, and on BBC iPlayer for the seven days after transmission.