Black Eyed Peas confirmed for Michael Forever
Black Eyed Peas have confirmed their participation in Michael Forever, the tribute concert for Michael Jackson due to be held on 8 October at the Millennium Stadium, Cardiff.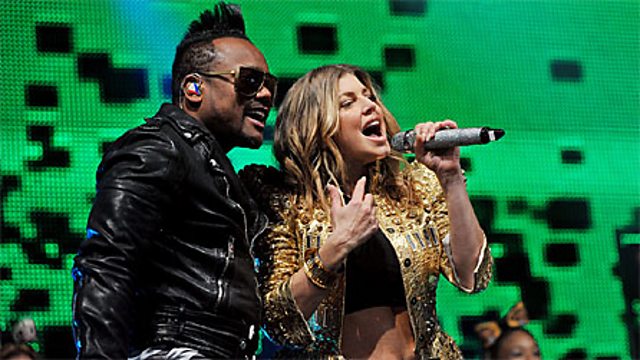 Blck Eyed Peas
The Los Angeles band have paid tribute to Jackson at all their live performances since his death. Will.i.am of the band said: "This show is going to be an incredibly personal and moving evening for me.
"Remember that Michael's music, his great, great songs, have been an inspiration to my whole life and certainly formed the soundtrack to my childhood. When I was a little kid of six or seven growing up in Los Angeles, there was Michael recording Thriller, and all his early hits, just a few miles away across town - obviously I didn't know him at that time, but I loved him as a fan.
"Then one day about four years ago, with The Black Eyed Peas well established, I got a call from him I will never forget. I then had the great privilege of working with him and getting to know him and his beautiful family.
"That's why The Black Eyed Peas wouldn't miss being at the Millennium Stadium for this gig on 8 October; we all owe Michael such a lot.
"It seems plain to me that the real star of this tribute to Michael is going to be the MUSIC itself. And that's the only way it should be."
Michael's brother Marlon Jackson said: "We're all really delighted and touched that the Black Eyed Peas are able to come and take part. My brother rated Will.i.am and the original things he does in music very highly. I guess you could say it was a case of mutual respect."
The line-up so far: Black Eyed Peas, Jennifer Hudson, Christina Aguilera, Cee Lo Green, Gladys Knight, Smokey Robinson, Leona Lewis, Alexandra Burke, JLS, Diversity, Ne-Yo, Pixie Lott, Alien Ant Farm, Jamie Foxx, 3T and Craig David.
Feel free to comment! If you want to have your say, on this or any other BBC blog, you will need to sign in to your BBC iD account. If you don't have a BBC iD account, you can register here - it'll allow you to contribute to a range of BBC sites and services using a single login.
Need some assistance? Read about BBC iD, or get some help with registering.