Producing Passing On - BBC Radio Wales' new sitcom
Pyle Industrial Estate is an industrial estate par excellence. Distinguished in the world of industrial estates, it is known the world over as a white-hot forge of small-to-medium sized enterprises, where the toil that greases the gears of 21st century capitalism coats every surface.
It boasts more speed bumps per square mile than anywhere else on earth, and curiously, on the right when you drive in is a genuine Spitfire.
Imagine then my great pleasure in finding myself at the industrial estate for a week back in June. Had I finally got the job of a lifetime at an air-conditioning distribution warehouse? Had I got lost in the estate's labyrinth of very slow roads and decided to cut my losses and live out the rest of my days among the corrugated iron cathedrals of commerce?
No. It turns out that among the vast sofa barns and burger vans, the industrial estate plays host to a recording studio, a studio I hired to record BBC Radio Wales' most recent sitcom, Passing On by Gareth Gwynn. 
Passing On: Behind the Scenes of our new comedy series
Passing On is a sitcom about two very different brothers, forced to spend time together by a clause in their mother's will. Unless they meet once a month, passing her ashes back and forth between each other, all of her money will be burned in a bin. Unbelievably, this is based on an idea that Gareth's mother actually had, although we're unsure as to whether she's going to follow through on it. Either way, we've got a bin ready. 
As the producer, it was my job to hire the studio. While south Wales' other offerings all had their redeeming features, very few of them were within 500 metres of a fighter jet that saved Britain from fascist domination, which has long been my top criterion.
Once the studio is booked, a radio sitcom producer's job mainly involves working on the script with the writer, making sure they don't go insane or drink too many fizzy drinks, auditioning and casting actors, being bossy, buying apples and making sure everyone is having a nice time. It's like being a party host but at the end of the party you have to have produced a sitcom.
Highlights of the week included lunching at the local garden centre, simulating the acoustics of a car by building a cardboard fort in the studio, and one of the actors telling us about when he was in EastEnders and a magazine offered him money to photograph his wedding as long as Wolf from Gladiators was his best man.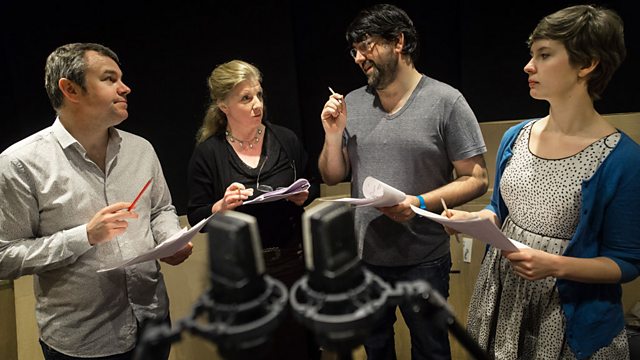 The Passing On cast in rehearsal
It was a week spent messing around, laughing, working hard with talented people and going fast over the speed bumps in my car. In Wales'premier industrial park. It was embarrassing how much I enjoyed myself. When the week came to an end I drove home with a heavy heart and wrecked suspension. 
Since then I've been editing the recordings and creating the final episodes. It's a solitary task and sometimes when I've had enough, I get in my car, drive up the M4, indicate, turn off at junction 37, trundle past the Spitfire, clatter over the speed bumps and sit in the glow of the estate. I'm home.
Passing On begins at 6.30pm on 25 July, on Radio Wales. It is repeated on 26 July at 1pm.
Browse a behind-the-scenes gallery of photos from the recordings.