Henry Widdicombe on the 2012 Machynlleth Comedy Festival
The Machynlleth Comedy Festival may only be in its third year but its popularity among comedians and visitors alike is already well established.
Henry Widdicombe at the 2011 festival
Described recently on Twitter as a "boutique comedy weekend", the Mach festival has attracted some of the most high-profile performers over the last couple of years. Perhaps surprisingly, given the size of the small but perfectly formed mid-Wales town.
I spoke to one of the festival directors, Henry Widdicombe, about this year's festival which begins tomorrow.
Half past four on a dreary afternoon was, I grant you, not an ideal time for an interview chat but Widdicombe's enthusiasm for the festival, and for Machynlleth in particular, shone through.
"We've achieved something quite special, I think," he said. "The main thing for us is that we've achieved what we wanted - to create somewhere where comics actually want to play, to come and spend time.
"When you're at the festival you see the performers arriving on the Friday and some of them are still around when we're doing our wrap-up meeting with all the volunteers on the Monday!"
Many faces on the 2012 line-up will be familiar to previous audiences, with the likes of Elis James, Josie Long, Isy Suttie and Jon Richardson all having performed before at the festival.
Widdicombe said: "We do have a lot of returning people, with new shows, but I think we represent what we feel is exciting right now on the live comedy circuit and it would be a shame not to bring them back."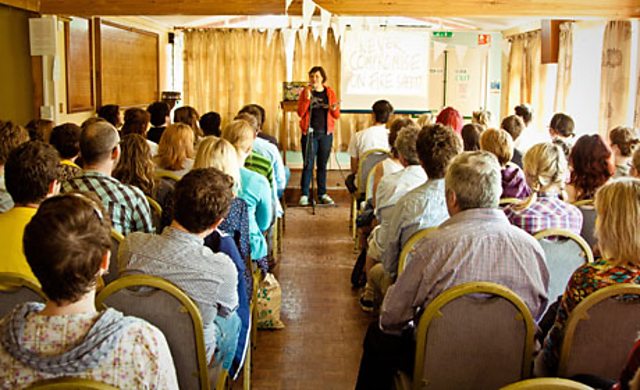 Josie Long, who returns to Machynlleth this weekend, performing at the 2011 festival. Photo: Ed Moore, Edshots
The Machynlleth Comedy Festival was born out of a desire to give comedy in Wales a wider base outside of the major cities of Cardiff, Swansea and Newport.
"We started running gigs in Brecon, Hay-on-Wye, Abergavenny in around 2008," said Widdicombe. "We wanted to do things outside of the cities, in rural areas, and I've been in love with Machynlleth for a long time; I love the mix of population in the community there. I'd always be there looking at the venue spaces they have in this tiny town, and I felt that something was waiting to happen there as it's such a glorious place.
"We looked at festivals we liked such as Green Man, Hay, Brecon Jazz - all of the small Welsh market towns. We got a small grant from Powys County Council in 2010, which meant that we had to pick a town in Powys but I would have picked it anyway! The plan was always for Machynlleth."
The festival enjoys a good relationship with the local businesses in the town, which Widdicombe calls 'a hidden gem' countless times during our chat.
As people buy individual tickets to the shows there's no accurate way of working out the official visiting figures, but he estimates that about 500 people turned up for the first event, 1,000 attended last year's festival and they're expecting 2,000 visitors this year. To put that into perspective, that's near enough the resident population of the town.
"Our stats do show that 50% have come from over 100 miles away, whereas a quarter have come from within 10 miles, so it's a nice mix of us bringing people into the area while also having the locals come to the show."
With its growing popularity you could easily envisage the festival losing the 'boutique' element and community feel, should the organisers choose to cash in with hiked ticket prices and more events crammed into the days. However, this doesn't register anywhere near Widdicombe's radar.
"What we've tried to do from the beginning is disassociate the process from the money. It's far more important for us to create something that's special, that people go to and feel that they've stumbled across something really amazing.
"I don't think we'll go beyond a certain number; we've no intention as a festival to keep putting tents in field and growing it to a massive scale, it's more about maintaining what is so good about it."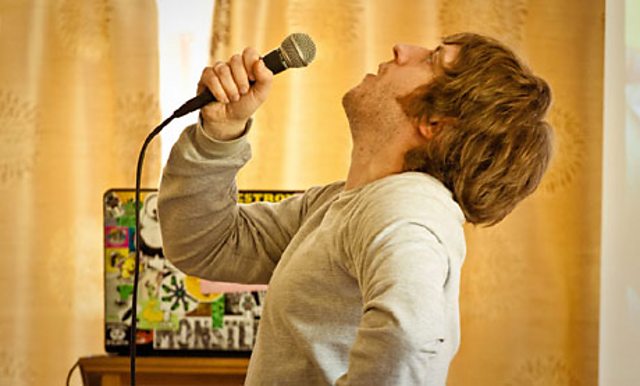 Elis James in 2011. Photo: Ed Moore, Edshots
Festival organisers are keen to start developing the family and children's events at the festival. This year they include a clown called George Orange with his show Man On The Moon plus James Acaster Babysits, a "festival highlight" according to Widdicombe.
I asked him for more for his festival highlights: "I look at the Saturday night line-up and you've got Isy Suttie, Jon Richardson, Jarred Christmas - you could go to any of those and have a wonderful time. But for me it's always about the really exciting acts that are breaking through that you might not have heard of yet. They're always the ones worth seeing.
"There's a sketch show called Sheeps who are incredible, James Acaster's new material has just blown me away and then there's people like David Trent and Nathaniel Metcalfe that are exciting emerging acts who are going to Edinburgh for their first year.
"I think it's far more exciting going away from a festival having found someone that you can get on board with early and watch their careers flourish."
The 2012 Machynlleth Comedy Festival runs this weekend, from Friday 4 May to Sunday 6 May. Visit machcomedyfest.co.uk for more details and for the latest ticket availability.
BBC Radio will be broadcasting from the event, with Radio Wales' Jamie and Louise live from the festival on Friday 4 May and Radio 4 Extra's Comedy Club also broadcasting from the festival.