That's what the sign above a low door in my old local pub used to say...
But I'm happy to report that we're definitely talking 'grouse' today and lekking to be precise.
N.B. This is not to be confused with licking. I'm sure grouse taste nice but it's probably illegal.
Lekking is the term used to describe the courtship dance which male grouse perform to the females in order to attract a mate.
From 14 March - 9 May you'll be able to see the elusive black grouse and watch these rare birds perform their dramatic dance off but you'll have to be up early as they start at 5.15am.
So... a perfect gift for any insomniacs out there and 'Mother's Day' is just around the corner ;)
To make things simple the RSPB have built a purpose built hide in
Coed Llandegla Forest
in Denbighshire.
Black Grouse lek by Chris Gomersal - RSPB images: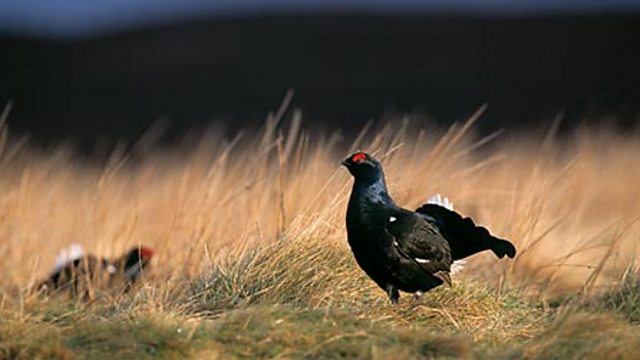 The 'date with nature' scheme is aimed at bringing people closer to nature and will allow people to see male black grouse gather at dawn on the edges of the forest to strut their stuff, flash their tail feathers and impress the girls.
The results of an
RSPB Cymru
survey of displaying black grouse in 2009, showed mixed fortunes for these charismatic birds.
The lek seen from Coed Llandegla Forest holds up to nine lekking black grouse males, the species is red-listed in Wales, which means it is of the highest conservation concern.
This walk and others throughout the season costs £5.75 per person, and an experienced guide is on hand to take you on the paths that weave through the forest to the viewing hide.
Booking for all walks is essential as places are limited to 15 per walk. To reserve your place, please telephone RSPB Cymru on 02920 353008 or e-mail
vera.mccarthy@rspb.org.uk
Useful links:
Learn more about grouse
on BBC Wales Nature & Outdoors.
Find out more about the forest
on BBC Local North East Wales
You can watch
black grouse lekking videos
on the RSPB website.
Gull