Artists in residence open studios to the public
In 2009 the Aberystwyth Arts Centre opened an award-winning complex of 18 creative studios with three set aside as space for a rolling programme of artists in residence.
The idea was to give artists the supported space and time to be freely creative and bring them to a place where an exchange of ideas was possible.
It also hoped to raise the international profile and status of the arts centre, by inviting in artists from further afield.
Next week sees the three current artists in residence, Alan Goulbourne, Mathew Weir and Jill O'Sullivan, reveal the fruits of their three month labour to the public.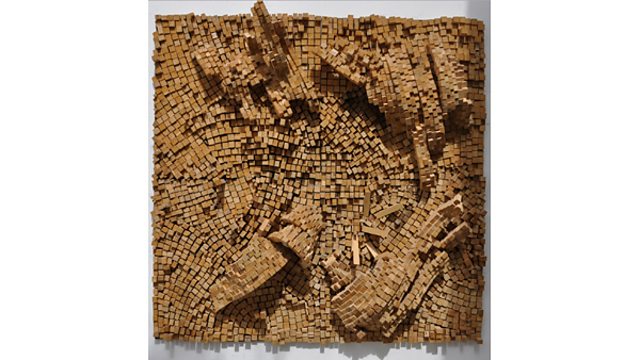 Alan Goulbourne, Skin no 2.
Cardiff-based Alan Goulbourne creates installations featuring sculptures which use sawn off-cuts of wood.  Jill O'Sullivan from Queensland, Australia, engages with chorography or the mapping of place and space via collage and printmaking.
Mathew Weir from London uses fragments of pre-existing imagery to make his oil paintings. He draws on a specific tradition of 18th and 19th century decorative art like the ceramic figurine as well as more culturally loaded objects. By researching places, collecting postcards and making copies, his current work in progress explores Devil's Bridge.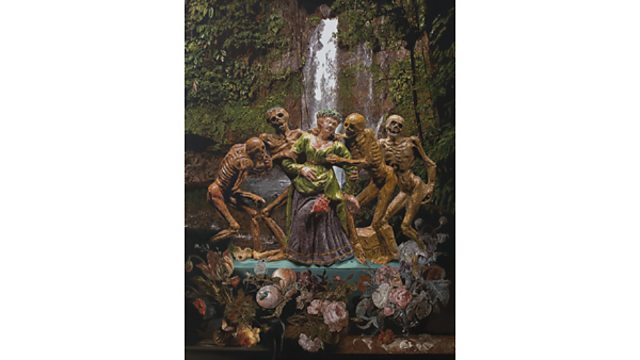 Mathew Weir, Death and the Maiden.
Alan told me that the residency had been a 'wake-up call' and had enabled him to experiment with new ideas.
He said: "At the moment my work is focused on responding to observations and perspectives in a visual way using sculpture.
"What I tend to do is to amass a sequence made up of simple components and then swarm them together to create something that appears complex.
"I'm mainly influenced by relationships that emerge visually between science and nature and I've been slowly aiming to shift the direction on to observations of the human condition, but I imagine this transition will take some time. In short the practice is in a general shift and the residency has given me some much needed down-time to consider this."

While his work remains still very much in progress, the residency has afforded him the time to experiment with new ideas and also investigate previous themes from last year's work, while reflecting a on the role of his practice and its weaknesses and strengths.

Matthew said the residency gave him an interesting opportunity to reflect on his practice in a new environment, marking a refreshing departure from the London studio and urban environs where he has worked for the past nine years.
He said: "The landscapes and waterfalls particularly drew me to Wales and the residency.
"I have enjoyed mixing time painting in the studio, with days spent exploring the landscape. I have also learnt a range of new printing techniques from one of my fellow residents. Precisely how I have benefited will show over time, I imagine."
He has been busy working on a very labour intensive painting as well as some prints and taking lots of photographs.
"Before coming to Aberystwyth I collected old postcards and got copies of old prints from The National Library of Wales of The Devil's Bridge. It is a place I have visited a number of times while here and ideas will formulate new work."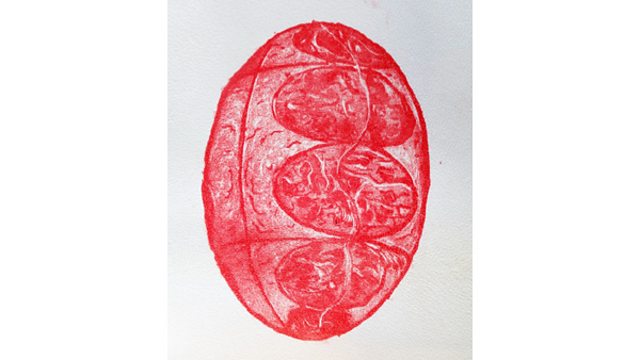 Jill O'Sullivan, Plato's Cosmic Receptacle.
For printmaker Jill O'Sullivan from Australia the residency has provided a much-needed break from her busy schedule and a chance to reflect and experiment with different techniques away from the usual time pressures.
Describing what she has been working on, she said: "I have experimented with collages built up from old local ordinance maps and worked in producing grisaille vignettes towards producing a visual journal of my travels here.
"I've also created some large charcoal drawings, wood engravings and some digital experimentation.
"The works range across interpretations of the land, architecture and human activity within various settings.
"Most of my work is a direct and conceptual response to my Aberystwyth experience, recording local land, sea forms and historical architecture."
On Thursday 20 February, the three artists open their studios at the Aberystwyth Arts Centre to the public, and will discuss how the history, culture and landscape of Wales have influenced their work.
You can also read Jill's blog about her time as an artist in residence at Aberystwyth Arts Centre.