Philip Larkin poem inspires exhibition at Chapter Arts Centre, Cardiff
A line from a 1954 Philip Larkin poem is the inspiration behind an exhibition running at Chapter Arts Centre in Cardiff until 2 September.
Nothing Like Something Happens Anywhere features thought-provoking works by Stan Denniston, George Shaw, Maaike Schoorel, Ugo Rondinone, Ben Rivers, Francis Alÿs and Andy Holden.
The theme of the collaboration is how meaningful such events and signposts in our past lives can possibly be and how this transects with the simple fact of living life.
In his poem I Remember I Remember, Larkin cites an adult reflecting on his childhood as he catches a train through the station of his former hometown.
The speaker appears reluctant to share memories of that time with a friend on the train, and at times seems intent on denying the significance of childhood events which clearly have left their mark.
The whole meaning of the poem hangs on its final line "Nothing, like something, happens anywhere" - an impression that all those historic milestones can be reduced to "nothing" by a cynical adult looking back on his past. And yet with that line he creates confusion about memory itself and leaves the reader in doubt as to whether any of the events mentioned - from the loss of virginity on bracken and its "burning mist", to the farm "where I could be 'really myself'" ever existed.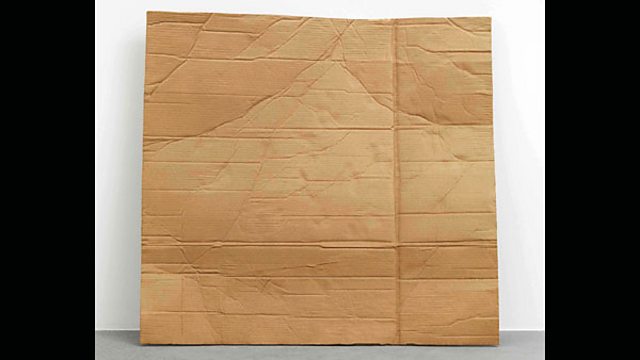 Ugo Rondinone, still.life. (cardboard leaning on the wall), bronze cast, lead and paint. Courtesy of the artist and Sadie Coles HQ, London
An introduction to the event reads: "Investigating the 'slow history' that lies beneath the surface of culture, the works delve beneath the rapid succession of events on a human scale, to find the slower currents typical of the history of people — relating to their environment, relationships and the structures that shape societies."
Featured is the short 1997 film by the Belgian artist Francis Alÿs, entitled Paradox of Praxis I (Sometimes Doing Something Leads to Nothing).
In the piece, Alÿs pushes a big block of ice along the streets of Mexico City and is shown in his endeavour from different vantage points. As he shoves the ice along it gradually melts, decreasing in size and leaving a wet trail of slush on the pavement. By the end he is kicking the block like a football.
Also being shown is Los Sonadores (The Dreamers), a piece created in 2010 by the Canadian Stan Denniston who is fascinated by the themes of travel, memory and representation.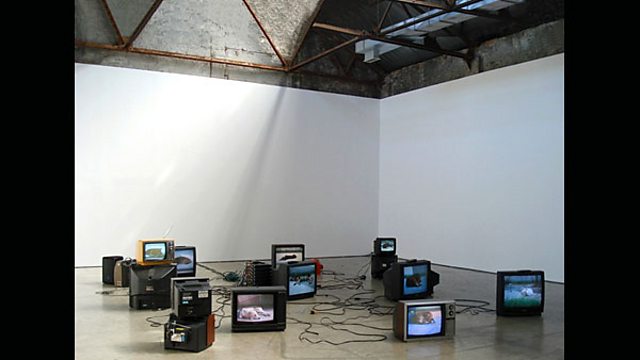 Stan Denniston's Los Sonadores, 2010. Courtesy of the artist and Olga Korper Gallery
The installation is projected across nine channels on different analogue TV sets which feature street dogs snoozing in Havana, Cuba. At a sudden point all the dogs wake up with a focus on their movement and raising questions as to who woke them and why?
Ben Rivers' film The Coming Race, which was shot on a wind-up Bolex camera, features a swarm of people scrambling across perilous mountainous crags.
Other media featured in the exhibition are a series of six knitted sculptures by Andy Holden, under the title The Cookham Erratics which represent stones and pebbles he collected while on a walk through a churchyard in Cookham.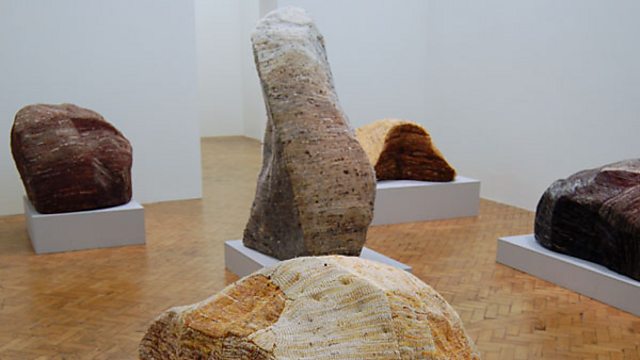 The installation by Andy Holden
Accompanied by an audio narrative, the installation blends family stories to present what Holden calls a "personal archaeology".
New York-based artist Ugo Rondinone has contributed a bronze cast cardboard with lead core meant to "reinforce the notion of heaviness, of time slowed down, by pulling it towards the ground to emphasise ideas of impact, isolation and passivity".
Shared memory is the predominant theme of Dutch artist Maaike Schoorel, whose work includes portraits of friends and family. But the personal is blended with the public as she also uses images that jar with a collective conscious.
British artist George Shaw's landscape portraits reference photographs of his own childhood arena, around the Tile Hill Estate in Coventry. But what could seem comfortable and familiar is upset via an intriguing method that sees him using the enamel paint favoured by model makers.
Work by George Shaw
All in all, a thought-provoking offering that will provide welcome distraction from one of the soggiest summers since records began!
Nothing Like Something Happens Anywhere runs until Sunday 2 September at Chapter Arts Centre, Canton, Cardiff.