Wettest January in Wales for 40 years
According to the Met Office this January is the wettest in Wales for 40 years! 247mm (9.72 inches) of rain have fallen so far. This figure is an average for the whole of Wales.
In Llanarmon Dyffryn Ceiriog near Llangollen over 260mm of rain has fallen, making it the wettest January since 1956.
In Newgale, Pembrokeshire, Roy Watkins has recorded 165mm so far, his wettest January since 2009 (183mm).
It's also the fourth wettest January since records began in 1910. The wettest January on record was in 1948 with 301.4mm (11.86 inches).
The average rainfall for January in Wales is 157.2mm based on data from 1981 to 2000.
It has also been duller than normal this month with only 37.9 hours of sunshine. The 30 year average is 48.5 hours.
As well as being wet, January has been mild with a mean temperature of 5.5°C. This is 1.4 degrees above the 30 year average, 4.1°C.
Unfortunately there's more wet and windy weather to come on Friday, with low pressure bringing another 10 to 25mm of rain. There is a Met Office yellow warning in force for heavy rain with a risk of localised flooding and poor travelling conditions. The heavy rain will be accompanied by strong to gale force south to south-easterly winds.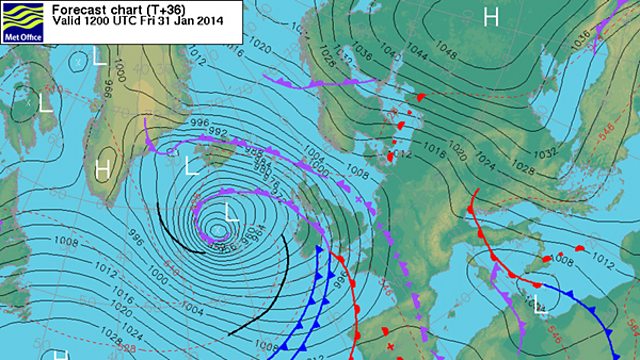 Met Office weather chart for Friday 31 January 2014.
Today was the coldest day of the winter so far with the temperature in Tredegar just above freezing.
However, on Friday, temperatures will rise reaching 6°C in Wrexham and 9°C in Haverfordwest.
During Friday evening the heavy rain will clear but showers will follow. The wind will ease for a time but on Saturday it will increase again, with gales possibly severe on exposed coasts and hills in the south, west and northwest. Strong gusts over 50 to 70mph are likely.
Further rain and wintry showers are expected on Saturday with hail and thunder in places. Some sleet and snow is likely too - most of the snow will be on high ground but also at lower levels during the heavier showers.
A coastal storm surge is likely. Although not expected to be as severe as at the beginning of January, the high tides will be slighter higher so there is also a high risk of overtopping and flooding on parts of the south and west coast. This is due to the combination of strong to gale force onshore winds and big waves, especially on the Bristol Channel coast.
You can check tide times at the National Tidal and Sea Level Facility website.
Natural Resources Wales strongly advises people to stay clear of promenades and sea fronts as they could be swept away by large waves or hit by debris.
Sunday should be a better day - less windy, drier with a little sunshine and a few showers in the south and west. Top temperatures will be 5 to 8°C with a brisk south-westerly wind.
So after the wettest January in Wales for 40 years there is more heavy rain and heavy showers on the way. No sign yet of several days of dry weather, which we desperately need.