Dan Jones, composer, author and friend of Dylan Thomas
Daniel Jenkyn Jones was probably one of the most important and significant of all Welsh composers. But these days he is rarely remembered.
In fact he is far more likely to be remembered for his friendship with Dylan Thomas than for his own unique talent – which is something of a shame because the man was undoubtedly a genius and, in the eyes of many, far more notable as an artist than his Swansea compatriot and more famous poet friend.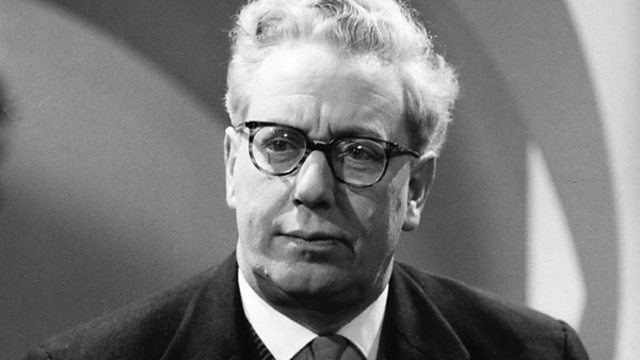 Daniel Jones in the early 1960s appearing on BBC Wales
Dan Jones was born in the west Wales town of Pembroke on 7 December 1912. He was born into a house of music as his father was a composer and his mother a renowned singer. So it was perhaps not that unusual for the precocious young boy to try his hand at composing, and by the age of seven he had already produced several piano sonatas.
The family moved to Swansea while Jones was still young and, in due course, he began to attend Bishop Gore School. This was where he met the future poet Dylan Thomas.
Dan Jones was two years older than Dylan but, in their unique and mutually beneficial friendship, the age discrepancy hardly mattered. Dylan wrote an account of their first meeting in his story The Fight, published in his collection A Portrait of the Artist as a Young Dog. It is a highly fictionalised re-telling of that first encounter:
"a strange boy, whom I had not heard approach, pushed me down the bank. I threw a stone at his face. He took off his spectacles, put them in his coat pocket, took off his coat, hung it neatly on the railings, and attacked."
Quite how much of that meeting – or, at least, Dylan's account of it – is true remains unclear. What is well-recorded is the intimate friendship that soon grew up between the two boys.
Dylan's house was a difficult one, his father cold and unapproachable (except where literature was concerned) and his mother far too cloying for his taste. Dan's home at Warmley, just down the road from Cwmdonkin Drive, was warm, arty and accepting and the two boys quickly and easily developed a lasting friendship. More importantly, they bounced ideas off each other and began to develop their talents and artistic skills.
Dan Jones wrote poetry and stories and while Dylan had little understanding of music, they both took part in creating their own radio station in the house. They wrote scripts, presented programmes and ran wires from room to room so that their broadcasts could be heard in every room in the house. It was great training for their future careers.
When the time came to leave school, Dan went to Swansea University to study English literature, and Dylan took up a post on the local newspaper. Each Saturday the two friends, along with other artists like the painters Fred Janes and Mervyn Levy, met in the Kardomah Cafe in Castle Street where they would discuss the arts and lay grandiose plans for their future.
At this stage Dan Jones had already acquired something of a local reputation for himself. He was talented and was a young man who was 'going somewhere'. Thomas, on the other hand, was considered a scrounger or slacker, someone who had lasted barely 18 months in his job with the local paper. Unlike Jones, he was clearly going nowhere.
In the summer of 1935 Jones left Swansea and went to study at the Royal Academy of Music in London. He won the Mendelssohn Prize and this enabled him to travel in Europe. He studied in Paris, Czechoslovakia and Germany, developing not just his musical ability but also an amazing facility with languages.
During World War Two Jones was commissioned into the Intelligence Corps and worked at Bletchley Park, the famous decoding centre where the Enigma code was finally broken. His ability in languages enabled him to decode German and Russian texts, as well as some in Japanese.
Interestingly, another Swansea artist, the poet Vernon Watkins – another, if occasional, member of the late-lamented Kardomah Gang – was also serving at Bletchley Park during the war years. Dan was an officer, Vernon an NCO, but in the informal atmosphere of Bletchley they probably encountered and talked with each other many times.
Although Dan Jones began to compose his first orchestral works during the final years of the 1930s – pieces such as Symphonic Prologue – it was in the post-war period that he really began to make his name. In all he wrote 13 symphonies, eight string quartets and became renowned for his use of serial and tonal techniques.
In the words of The Encyclopedia of Wales: "His system of complex metres reflects his lifelong concern with pattern, and his largely tonal output is notable for its intellectual vigour."
By the 1950s, with artistic success assured, Dan Jones produced many commissioned works for organisations and events such as the Festival of Britain, the National Eisteddfod and the BBC. He never lost touch with his friend Dylan Thomas and his Fourth Symphony was dedicated to the memory of the poet who had died in November 1953. He also set Dylan's Under Milk Wood to music.
Jones went on to edit collections of Thomas' poetry and prose and, in 1977, gave his own account of their friendship in his book My Friend Dylan Thomas. Married twice, Jones was awarded an OBE in 1968 and died in his native Swansea on 23 April 1993.
An innovative and intriguing composer, Dan Jones will always be remembered as the boyhood friend of Dylan Thomas. He and Dylan undoubtedly needed each other to achieve excellence in their chosen fields, two boys who grew to adulthood in Swansea at a time of amazing artistic flowering in the city. That is how they should be remembered.