CSM Fred Barter of Cardiff wins the Victoria Cross
Company Sergeant Major Fred Barter, Cardiff's first Victoria Cross winner in World War One, was a hero. Such a hero, in fact, that when he returned to the city for a brief period of rest and recuperation (and, of course, for a quick boost for army recruitment) on 5 July 1915 only a few weeks after winning the award, he was met at the station by a crowd of several thousand eager spectators and new friends.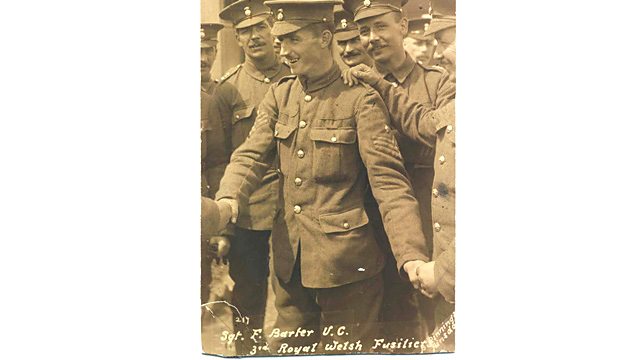 CSM Frederick Barter VC. Image courtesy of the Royal Welch Fusiliers Regimental Museum
The crowd cheered and waved. They sang patriotic songs and they all pushed and shoved to get a glimpse of the man who, just a few months before, could have passed unnoticed among them. Not now. Now he was a celebrity.
It did not stop there – the Germans could not wound him but one over enthusiastic young lady threw a box of chocolates in his direction and hit him in the face. Sgt Barter was bruised, his nose skimmed and his eye blackened. He apparently took it all in good humour.
Frederick Barter was born at 60 Daniel Street in the Cathays area of Cardiff on 17 January 1891. Educated at Crwys Road Board School, he joined the Royal Welch Fusiliers on 4 December 1908. By the time war was declared in August 1914 he had served his time with the Regulars and was then doing his obligatory stint with the Special Reserve.
After leaving the army Barter worked in the Cardiff area as a collier and as a porter with the Great Western Railway. He was recalled to the Colours in August 1914 with the rank of Sergeant Major and was soon in France with the 1st Battalion of the Regiment.
During a "push" against enemy positions on 16 May 1915 Fred Barter gathered together a party of eight volunteers and attacked the German lines with bombs and hand grenades. He managed this so effectively that three officers and 102 men of the enemy force promptly surrendered.
By his efforts, Barter had captured 500 yards of enemy trenches and also managed to cut the wires on 11 German mines that could have caused undue havoc for advancing British soldiers.
For his bravery, Fred Barter was awarded the Victoria Cross, the award being presented to him by the King at Buckingham Palace on 12 July.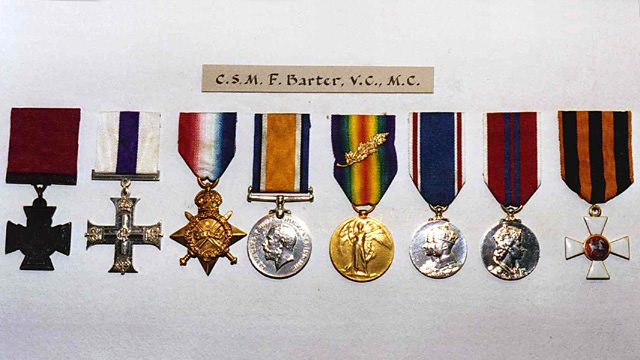 CSM Fred Barter's medals. Image courtesy of the Royal Welch Fusiliers Regimental Museum
Soon after his return visit to Cardiff, Fred Barter was commissioned as 2nd Lieutenant and, after another brief period in France, was seconded to the Indian Army where he served with the 4th Battalion 3rd Queen Alexandria's Own Gurkha Rifles. He was promoted Lieutenant in 1917 and went on to serve in both India and Palestine.
Barter was also awarded the Military Cross and the Cross of St George, a Russian decoration. In an interesting footnote to his story, on 10 April 1918 he was involved in another award of the Victoria Cross – this time, however, not to him.
In an action at El Kefir in Palestine, Rifleman Karanbahadur Rana of his Regiment was awarded the VC – for saving Barter's life.
A few weeks later Fred Barter was admitted, full time, to the Indian Army. Unfortunately a serious bout of fever saw him invalided home in 1919 and although promoted Captain in 1920, he retired from the army on 5 November 1922.
Married in 1925, Barter settled in the Home Counties where, during the Second World War, he acted as Major in charge of a Company in the Middlesex Home Guard. After being widowed, he died in a nursing home at Poole on 15 May 1952. His Victoria Cross is now kept at the Museum of the Royal Welch Fusiliers in Caernarfon Castle.
Fred Barter was a modest and unassuming man who little thought when he was recalled to the Colours in the summer of 1914 that the highest decoration in the land would soon be his. He remains one of Cardiff's great heroes.
See also: