As fellow BBC Wales blogger Owen Williams put it on the weekend, the Commonwealth Games has taught us that we're a nation of dancers and fighters. Having spent the weekend brushing up on my rhythmic gymnastics knowledge - and watching the Rugby Sevens with my head in my hands - I'll take that.
Of course, the downside of all that is having Wynne Evans claiming credit for Wales' golden success. Last year he took a day to "coach" ribbon to Frankie Jones, and in the last month has "allowed" Natalie Powell to limber up by throwing him around the judo mat.
Well, if he is the reason, it bodes well for Aled Sion Davies, who he "let" beat him in a paper toss challenge, and Jazz Carlin, who he "taught to swim". Aled's going for gold in the discus this morning; Jazz in the 800 metres freestyle at 7.15pm. Follow their progress live on BBC Radio Wales.
The Commonwealth Games dominates proceedings again this week. Ollie Hides is in Glasgow for the week on Good Morning Wales, Steffan Garrero is there Wednesday morning and Ian Hunt and the Radio Wales Sport team are on from 7pm until whenever the Welsh interest in that day's events are over. Expect some later-than-usual starts for Chris Needs this week.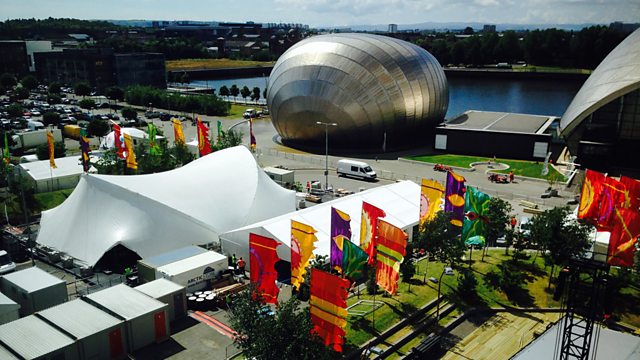 BBC at the Quay site
Friday's Radio Wales Sport will be a combination of Commonwealth Games and cricket, with Glamorgan looking to beat Lancashire to get into the semi-finals of the T20 Blast. And while Glammy's modern day fortunes are in the balance, on Saturday at 1.30pm Peter Jackson will be telling the story of Glamorgan's 1964 triumph over Australia at St Helen's, in a new series of Jacko's Sporting Almanac.
The rather brilliant Kutosis are the Radio Wales Artist of the Week this week. The new single Crystal Beach will get lots of plays across the schedule. Plus, they'll be with Eleri Siôn on Wednesday. Joining Kutosis on the brand new Radio Wales playlist are La Roux, Magic!, Ben Watt, Ella Henderson, Nile Rodgers and Paloma Faith, as well as Welsh acts The Earth, Grant Nicholas and No Devotion.
Sunday sees us start our coverage of the centenary of World War One next week. All Things Considered explores how The Great War touched faith communities in Wales and across the world; Roy Noble speaks to historian Dr John Alban about how the war started.
The Sunday evening schedule returns to normal after our special Commonwealth Games concerts – Beverley Humphreys is back at 9pm, Alan Thompson at 11pm. And talking of getting back to normal, Radio Wales Sport returns to a Saturday afternoon this week, so a big thank you to Chris Corcoran, Clueless and Gareth Gwynn for keeping the seat warm. Also a big thanks to Steffan, who is on his last week in charge of the morning sequence. Jason Mohammad returns next Monday.