Ray Milland, Welsh Oscar winner
It comes as something of a surprise to realise that Welsh acting greats such as Richard Burton and Stanley Baker never managed to win an Oscar in what were, otherwise, truly remarkable cinematic careers.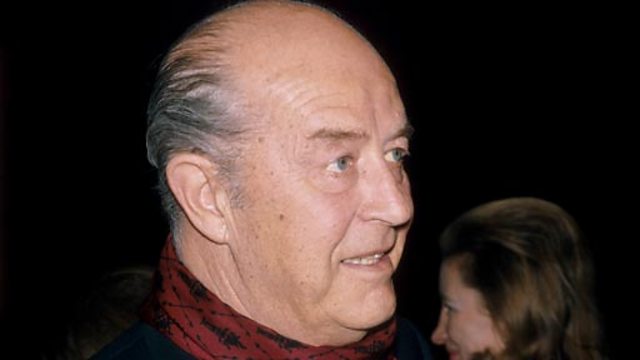 Ray Milland in 1971
Five Welsh actors have actually won Academy Awards, both for leading and for supporting roles. These include Anthony Hopkins, Christian Bale, Catherine Zeta Jones and Hugh Griffith.
By far the greatest performance by any Welsh actor, however, has to be Ray Milland's in the powerful, disturbing and dramatic story of alcoholism and addiction, The Lost Weekend.
Milland was born Alfred Reginald Jones in Neath on 3 January 1907. He was the son of Alfred Jones, a quiet, retiring man who had been a regular soldier and was present at the relief of Mafeking during the Boer War.
Following his father's footsteps and enlisting in the Household Cavalry, the young Milland (as he was soon to be known) left Wales and, under the guidance of the army, became an excellent shot. He competed at Bisley but, having met actors and dancers during a posting in the London area, he became increasingly convinced that his future lay in acting.
Consequently, in 1928 he bought himself out of the army and set about forging a career for himself in the burgeoning British film industry. He appeared in films such as The Informer and The Flying Scotsman and even spent time playing in rep in an effort to hone his acting skills. It was about this time that he changed his name to Ray Milland, the name apparently owing its origins to the mills around his home town of Neath.
At the end of the 1920s, MGM offered him a nine month contract in Hollywood and the young actor never looked back. Despite a near-fatal accident when he was thrown from his horse during the filming of Hotel Imperial, Milland continued to be offered a wide range of excellent parts.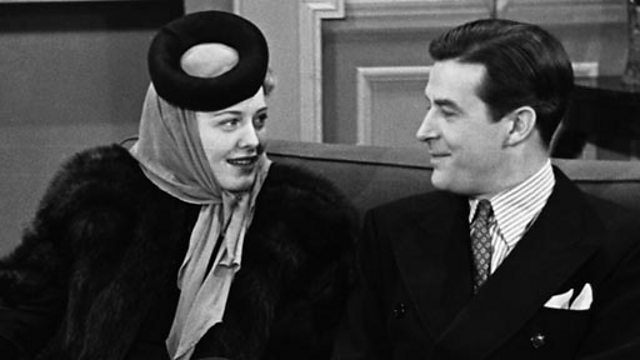 Ellen Drew and Ray Milland in Picture Page (1939)
When America entered World War Two at the end of 1941, Ray Milland immediately tried to enlist in the US Air Force. He was rejected because of a damaged left hand and had to content himself with working as a civilian flight instructor with the army.
He managed to combine this war work with his acting career. Thanks to his urbane good looks and impeccable manners, Milland's film roles were numerous. Beginning with lightweight parts such as Bulldog Drummond in Bulldog Drummond Escapes, he soon moved on to more substantial roles.
His performance as a man with memory loss in the 1942 Fritz Lang spy film Ministry Of Fear was nothing short of mesmerising. All his professional life he continued to make movies that were spooky and disturbing for the viewer, his classically handsome features easily lulling people into value judgements that were, eventually, proved totally wrong.
Milland came to Wales to film on only one occasion. In 1951 he returned to his homeland to make a rather insubstantial thriller called Circle Of Danger. His performance was as masterly as usual but the film was not a success.
Ray Milland will always be remembered for two films in particular. In the Alfred Hitchcock masterpiece Dial M For Murder, released in 1954, his performance as the vicious husband plotting to kill his wife was possibly his greatest ever screen role. Thanks to Milland's portrayal of contained and premeditated evil the film echoes with atmosphere, even now, nearly 60 years after it was made.
However, in the opinion of many, it was in the 1945 classic The Lost Weekend that Ray Milland really came of age, acting his heart out as a writer whose life and career are ravaged by alcohol. He was shortlisted for an Oscar and duly won the coveted award, the first Welshman ever to do so.
Inevitably, as the good looks that made him so popular with movie goers and producers began to fade, Ray Milland turned to directing. His story of the nuclear menace so feared in the 1960s – a film called Panic In The Year Zero! - received considerable critical acclaim. He continued to make the occasional film right to the end, usually making cameo appearances.
Ray Milland died from lung cancer in California, which had become his home, on 10 March 1986. His performances in films such as Dial M For Murder and The Lost Weekend will be long remembered. But his real claim to fame has to lie in the simple accolade – the first Welshman to win an Oscar.