Auditioning owls for Llareggub Revisited
John McGrath is artistic director for National Theatre Wales. He describes the unusual way their latest production - Raw Material: Llareggub Revisited (part of the Dylan Thomas season for BBC Cymru Wales) - is being staged.
'I need to go and audition the owls!' – the first words I hear from Marc Rees as I arrive in Laugharne just a week and a bit before Raw Material: Llareggub Revisited is due to open.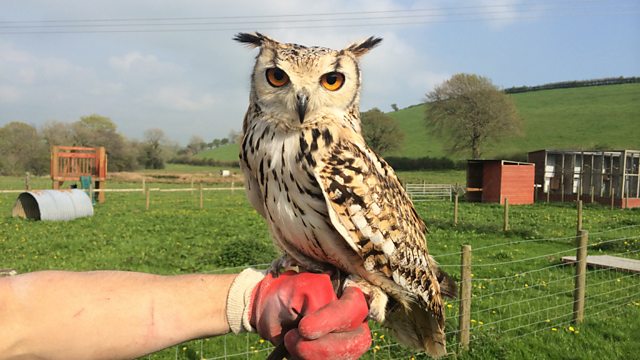 Eve, an owl used in National Theatre Wales' production of Raw Material: Llareggub Revisited.
Unlike many theatre productions, rather than a group of actors gathering together for a few weeks to rehearse the show, Raw Material involves a very unusual range of collaborators working in many different ways. 
Marc himself has been in Laugharne on and off for many months – researching the life of the town and how it all relates to Dylan Thomas's famous play Under Milk Wood, which is said to be based on Laugharne and its residents. His collaborator Jon Tregenna actually works in Laugharne - as well as being a professional writer and director he is manager of Brown's Hotel, where Dylan used to drink. 
Between them they have developed a great relationship with the people of the town and its owls!  Our production – exploring Laugharne today as well as through Under Milk Wood – incorporates everything from a guest appearance by the local school pupils to a display of bras, gathered from Laugharne residents as part of the first ever 'Bramnesty' (think police knife amnesty but for bras…).
There are a lot of professional actors involved in the show too. When I arrive in Laugharne I see Russell Gomer wandering up the high street with a script muttering to himself.  Russel plays 'Voyce' a character who guides the audience into the underbelly of Laugharne (he's a kind of cross between First Voice in Under Milk Wood and James Joyce's stream of consciousness characters). Many of Russell's lines involve interacting directly with the audience – who, of course, won't arrive until the show opens – hence him wandering up and down the street muttering!  Charles Drake plays the other main character – Roy – a tour guide who is trying to keep the whole event on the straight and narrow.
Of course, Raw Material will also feature a lot of other very well known actors – the stars of the BBC's new version of Under Milk Wood, to be broadcast on BBC Wales.  NTW has been working with the BBC on this project since day one, with the idea that these actors, each presenting their reading of one of the Under Milk Wood characters from a long way away, will, during the performances be transported back to Laugharne.  A unique short edit of the footage features at the heart of Raw Material. 
And then there's the Laugharne Players.  One of the main reasons I'm in Laugharne is to meet the intrepid troupe of local actors who usually get together annually to perform their version of Under Milk Wood, but this year are part of Raw Material.  At a rehearsal in an abandoned bus garage, I meet everyone and get a sneak preview of some of the elements they will bring to our production.  One of the extraordinary things about the Players is that many of them have very intriguing links to the characters in Under Milk Wood. For example, Butcher Beynon is played by a police forensic scientist whose family owns the shop where the Laugharne butchers used to be!  If you are at Raw Material (or watch it online) you will see how a lot of these connections play out.
Anyway, the meeting with the Laugharne players was great – they will certainly bring an authenticity and local flavour to our production.  Let's just hope they don't get upstaged by the owls!
You can watch Under Milk Wood on BBC One Wales, 5 May at 7pm.
To discover more about the life, work and legacy of Welsh poet and broadcaster Dylan Thomas go to bbc.co.uk/dylanthomas.