So when the Post Office/general stores reopened after a recent makeover, thanks to a grant from the Welsh Government, the local male voice choir turned out to help celebrate the occasion in style.
As well as the singing, there were speeches, a buffet and a glass of bubbly to mark the event, with a big crowd to wish the new owners well in their venture.
On a national scale, this may seem like a small event but when you think of how many rural shops and post offices have closed in recent years, it makes Bancyfelin's story all the more significant and heart-warming.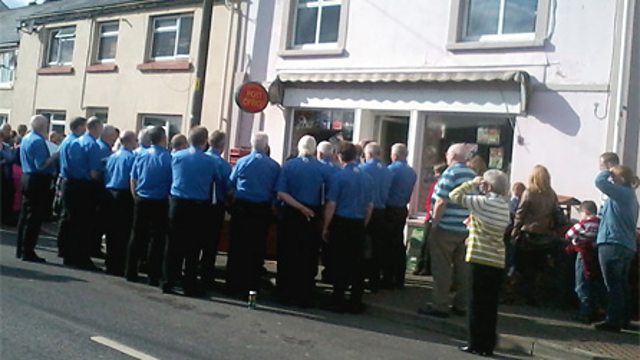 The local male voice choir helped celebrate the reopening of their local shop.
So many villages which once boasted a shop, a school a pub and a post office have gradually lost their local services and don't get me started on the issue of rural transport.
I've tried to think of other villages around the area where I live (Carmarthenshire) and am struggling to come up with names of those that still have a shop.
We can't deny that competition from the supermarkets has put pressure on local stores, but we, as customers must surely take some of the blame too.
We've embraced the convenience of doing our entire weekly shop in one go, driving past smaller shops on our way to the big retailers.
We can't then be surprised when local businesses shut up shop and as the saying goes, use it or lose it.
According to figures from the Rural Shops Alliance, rural shops are closing at a rate of around 33 per month across the UK, with around 12% of independent shops closing last year alone.
Rural pubs are also struggling in these economically challenging times but it's also worth noting that farm shops seem to be bucking the trend, revealing that there can be an alternative to the supermarket giants.
And here again, we have a Welsh success story. The Cwm Cerrig Farm Shop at Cross Hands near Llanelli has just been awarded Best New Farm Shop in the UK by FARMA (the National Farmers' Retail and Markets Association).
So maybe it's worth thinking about the plight of our local shops and celebrating good news when we hear it.