Tim Davies to represent Wales at 2011 Venice Biennale
Artist Tim Davies has been selected to represent Wales at the 2011 Venice Biennale - the world's pre-eminent showcase for international art.
Davies is the head of fine art at Swansea Metropolitan University, and already has an international reputation as an artist. He won the Fine Art Gold Medal at the National Eisteddfod in 2003 and was selected for Artes Mundi 1 in 2004. In 2008 he received a Major Creative Wales Award from the Arts Council of Wales.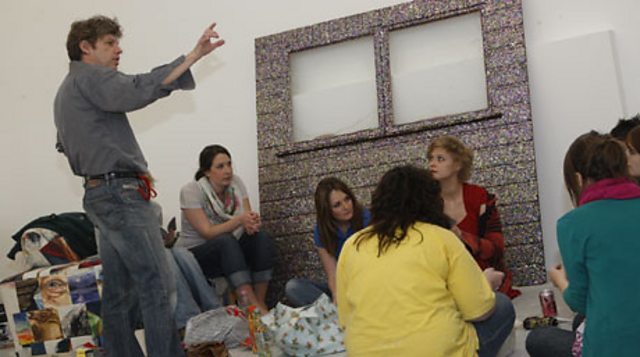 Tim Davies (standing) with Swansea Met fine art students
Tom Rowland will curate the exhibition. He has previously collaborated with Davies and has featured the artist's work in London gallery showings in recent years.
Rowland said: "Tim Davies' work makes a huge visual impact, and is admired for its ability to distil conceptual concerns with formal cohesion, in whichever medium he chooses for his pieces. He is a unique and committed artist who stands alone with his consistently robust installations, films and works on paper.
"Tim proposes to produce a unique exhibition for the Welsh Pavilion. He is able to react collaboratively with a given space and together we aim to design a show both visually stirring and professionally constructed."
The Glynn Vivian Art Gallery in Swansea curated an exhibition of Davies' work in 2009, and he is currently exhibiting at the newly re-furbished Mostyn in Llandudno - until 6 November.
Dai Smith, Chair of the Arts Council, commented: "This will only be the 5th exhibition from Wales in this foremost international arena for the visual arts. Each one has had impact and demonstrated both distinctiveness and an ability to engage at the highest level in the now globalised visual art world.
"In a devolved Wales and even one facing enormous constraints, it will continue to be vital that the country's creativity continues to register on the world stage."
The 54th International Art Exhibition of the Venice Biennale will take place between June and November 2011. In 2009, Wales was represented by former Velvet Underground musician John Cale, and other previous artists include Richard Deacon, Merlin James, and Heather and Ivan Morison (2007); Peter Finnemore (2005); Bethan Huws and Cerith Wynn Evans (2003).
For more information on Wales at the Venice Biennale visit the Arts Council of Wales website.