John Cale at 70: Cale and Squeeze
In 1977 John Cale, who celebrates his 70th birthday on Friday 9 March, produced the first EP by a London new wave/pop group called Squeeze. Packet Of Three was well received and they went on to record their first album the next year with Cale.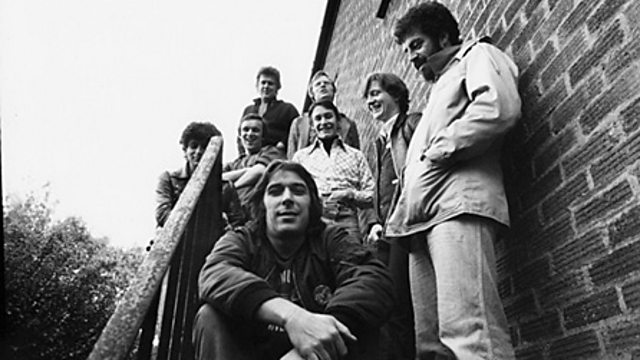 John Cale with Squeeze. Photo: Jill Furmanovsky/Rockarchive.com
I talked to the band's main songwriting duo, Chris Difford and Glenn Tilbrook, about their time with the Welsh maestro.
What were the circumstances of bringing John on board to produce Packet Of Three?
Chris Difford: "Our manager Miles Copeland represented John in the UK together with his brother Ian, his live agent. Miles came up with the idea... I was scared!"
Glenn Tilbrook: "Miles had got John to do a job lot of production for him, including The Police [featuring Miles Copeland's brother Stewart on drums], Squeeze and The Cortinas. When we went in to do Packet Of Three John was fantastic to work with. Truly, to an 18-year-old he was a bizarre, imposing but humorous figure."
What did John bring to the recording?
GT: "He made the band tougher than we were and we liked that. When it came to doing the LP he was the natural choice."
CD: John was dangerous! He took us from being young boys nervous about recording to young lads even more nervous about recording. His ability to try things was just what we needed and often we found ourselves experimenting with arrangements, like kids in a science class. At the time I scratched my head in fear, but looking back I'm so pleased he made us do things that were way out of our depth."
GT: "I remember he threw out all the songs we had and insisted we wrote new ones! He gave us titles and things to write about. He suggested that the LP title be Gay Guys and told Chris to write a song about a muscle man. The album we made was more a reflection of John than us to be fair.
"But the memory I have from that time was that John was an absolute genius when he got his teeth into something. He would come up with ideas and be very inspired and inspiring.
"He did have us, one day, all day, playing Amazing Grace over and over again. Why? He very rarely gave reasons for anything. I think he saw what Squeeze were - a musicianly pop band - and thought we were capable of something different."
How did you find him personally?
CD: "John was warm and funny, often dry-wited and distant. Inspiring and totally engaging. Fear is a man's best friend, it seems."
GT: "I remember he was obsessed with the news. He'd always read the newspaper, front to back. every day. And he struck me as being slightly paranoid; a conspiracy theorist. Subsequently he was proved right!
"He certainly had a great, but very dry, sense of humour."
Listening back the first album, what can you pick out that is discernably 'John'?
CD: "Most of the album reminds me of John. It was a wonderful time; I just wish I could remember more. I'm sure he would say the same thing. He is the dark horse I learned later to become myself."
GT: "For me, at the beginning of the song The Call, there's a bell ringing. The engineer John Wood, who'd worked with John for years, was shouting out 'Bring out yer dead!' at John's request. That's John Cale in a nutshell."
Were there any funny or unusual things which happened during the recording? GT: "There's only one story that really sticks out. One of the times he first saw us, he came to a rehearsal. He fell asleep when we were playing; he may have had a bit to drink. We drew on his face while he was a asleep. We drew an, erm, 'lady place'. We were young!
"Anyway, we woke him up and actually arranged to travel in a cab with him to his hotel. We watched while he went to the hotel reception, still with drawing on his face."
CD: "There were many things that made me laugh, and unusual things were everyday events. I'm afraid I can't reveal any of it as it would infringe on the memory and the possible friendship we might have in the future. I love his music and have all of the solo work. I think I knew his humour before I met him, before I left school; it was terrifying."