Paws for thought on the Welsh Dog Spa
I first walked into Mucky Pups dog boutique and spa in Cardiff about a year and a half ago. I remember being met by its bubbly owner Leanne Couch and about thirty 'parents' who had brought in their 'fur-babies' to the spa for a photo shoot.
Immediately I could see the potential in Leanne and her customers for a great series. In a world where owners treat their dogs to Furcials, Pawdicures and Technicolour Dog Coats it's easy to think it's all a bit OTT. After all, who really paints their dog's nails or spends more on their mutt than themselves? But as the pooches posed for photos in their best outfits I got chatting to the 'fur-baby parents' and quickly realised that for each owner, their dog fulfilled a different and often very important role in their lives, be it as a baby substitute, trusted friend or even lifesaver. All had their own reasons for loving and spoiling their pooches.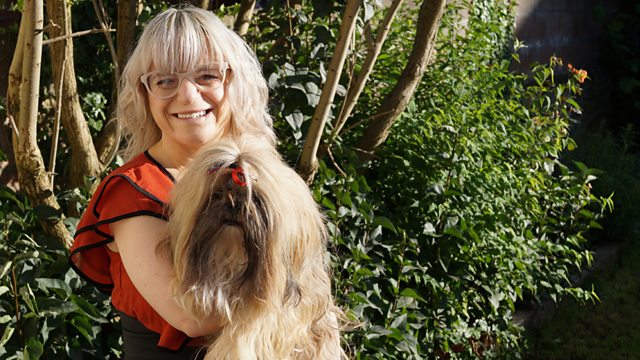 Lisa and Dora the Shih-Tzu
When we started filming back in January we set out to make a series that would also tell the owners' stories and give an insight into why they treat their dogs the way they do. I will never forget Lisa telling me how her beloved shih-tzu Dora helped her get her life back on track, or Louella revealing that her miniature poodle Tyra was the baby she'd never had after she lost contact with her daughter when she was a toddler. I'd like to thank all the owners who let our cameras into their lives.
As for our goddess of grooming Leanne Couch, well, Leanne is a force of nature. Five kids and owner of two 'Mucky Pups' dog spas, all before turning thirty. It's hard to see how Leanne has any time to sleep or eat, but it's great to see a young businesswoman with so much drive and guts. All the Couch clan; mum, brother, sister and Leanne live in the same street and all support each other.
By Leanne's side through thick and thin is her hubby Lee. How he copes with Leanne's crazy world is beyond me. Just before we started filming Leanne fell pregnant with baby number five and decided she wanted the entire house done up and decorated, plus the Cardiff store adapted. So - despite recovering from recent surgery - Lee got to work while trying to run his own business at the same time.
I guess one moment that sums up making this series for me is standing on the dance floor in the groom room during Leanne's doggy speed dating event. As the owners strutted their stuff with each other and their pooches, three Bichons took to the floor and stated doing a doggy conga! Barking Mad? Yes the world of dog spas can be pretty weird, but at the end of the day if the fur-babies and their parents are happy I say each to their own and good on them for doing what they like.
Episode 1 of Barking Mad: The Welsh Dog Spa is on BBC One Wales & BBC Wales HD, Monday 7 September at 7.30pm