Wilf Wooller: centenary of a Welsh sporting great
No-one compiling a list of the greatest Welsh sportsmen and women could afford to leave out the name of Wilf Wooller.
Born 100 years ago this month in Rhos on Sea, Denbighshire, Wooller won his first Welsh rugby cap while still a sixth former at Rydal School in Colwyn Bay and played his last game of county cricket for Glamorgan in his 50th year.
In between he found time to turn out for Cardiff City FC as a goal scoring centre forward, represent his country at squash and serve as an England cricket test selector for seven years.
Wooller's achievements on the field of play in four separate decades were all the more remarkable considering the years he spent as a prisoner of war of the Japanese at the Changi camp in Singapore.
By turns steely and outspoken, genial and gentle, Wooller's contribution to sport was only half over when he hung up his boots in 1962.
He spent 36 years as first secretary and then president of Glamorgan County Cricket Club, reported on rugby and cricket for a London broadsheet newspaper and in the 1960s presented the BBC's Welsh Sports Parade programme.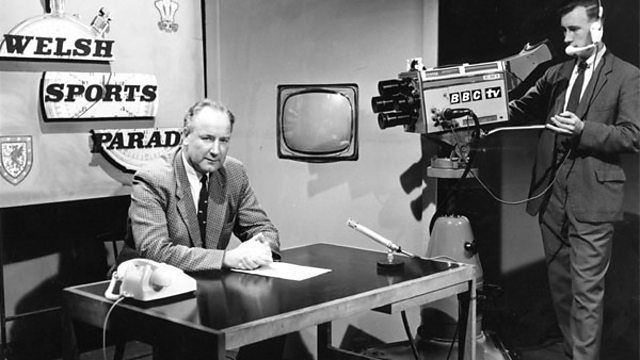 Wilf Wooller introduces BBC programme Welsh Sports Parade in 1963
"Wilf is an iconic figure in the history of Welsh sport," says his biographer, the cricket archivist Dr Andrew Hignell.
"He was remarkable for two Welsh sporting firsts – playing in Wales' first ever rugby win over England at Twickenham in 1933 and captaining Glamorgan to its first County Championship in 1948.
"Those were two of the great landmarks in Welsh sport."
Throw in Wooller's decisive contribution to one of only three Welsh wins over the All Blacks, in December 1935, and you have a rare triple crown of individual sporting accomplishment.
Wooller's wartime experience as a lieutenant with the 77th Heavy Anti-Aircraft Regiment was pivotal in his life, says Dr Hignell.
After his capture by the Japanese after the fall of Java in 1942 he was taken to Changi and remained there until the end of the war.
He needed all his physical and mental toughness to survive it.
"There's no doubt that the grim days of Changi affected him," says Dr Hignell.
"He lost a lot of weight and was very lucky to survive. It must have been absolutely horrendous. He got through by keeping his mind active, by playing chess.
"Before the war he was a happy-go-lucky amateur. He came back as a much more steely character."
On his return from Changi it was clear that his body would no longer withstand the rigours of the rugby field, but he picked up where he had left off at Glamorgan.
"He always said that as a youngster rugby was his first love, but he enjoyed cricket and was looking for a fresh start in life," says Dr Hignell.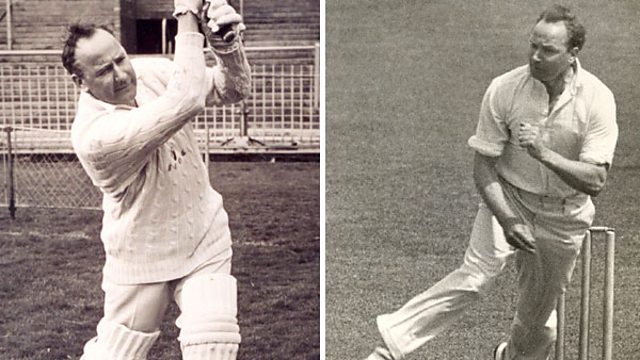 Wilf Wooller in action, photos courtesy of Glamorgan Cricket Archives
A right arm medium fast bowler, Wooller was awarded the captaincy of the county in 1947 and steered the Welsh county to the first of three championship titles the following year.
He later developed into an all-rounder, achieving the coveted "double" of 100 wickets and 1,000 runs in a season in 1954 at the age of 41.
"Wilf was spikey on the field but a very affable and genial man off the field," says Dr Hignell. "He saw cricket as a battle of the mind as much as a battle of skill.
"He was a man's man, a hard man. He was often the first to buy his opponent a drink after the match, but on the field he would not give an inch.
"He led by example and was greatly loved by the majority of his team."
Wooller's influence as a driving force on Glamorgan was, it seems, as strong when he moved behind the scenes.
"He had very forthright views and he was not afraid to speak his mind on things," says Dr Hignell.
He was club secretary at Glamorgan when his protégé Tony Lewis guided the county to its second championship in 1969.
He was also, says Dr Hignell, an originator of the plan to move the club from Cardiff Arms Park to its current home at Sophia Gardens in 1967, and as long ago as the 1950s he foresaw Test cricket being played in Cardiff, something which finally happened in 2009.
Wilf Wooller died in 1997 at the age of 84 and his name has since been given to a set of gates at the Swalec Stadium in Sophia Gardens and a road in Pontcanna, Cardiff.
Dr Andrew Hignell will give a lecture entitled Glamorgan Legends: Wilf Wooller at the CC4 Museum of Welsh Cricket at the Swalec Stadium, Cardiff on Tuesday 4 December at 7.30pm.