Radio Wales Arts Show: Gwilym Prichard
This week's Radio Wales Arts Show takes a special look at one of Wales' most successful landscape artists, Gwilym Prichard, who celebrates his 80th birthday this year.
Prichard was born in Llanystumdwy, near Criccieth, in 1931. He trained Birmingham College of Art and taught in Anglesey until 1972, after which he painted full time. Prichard and his wife, fellow artist Claudia Williams, lived for many years in France but have now settled in Pembrokeshire, near Tenby.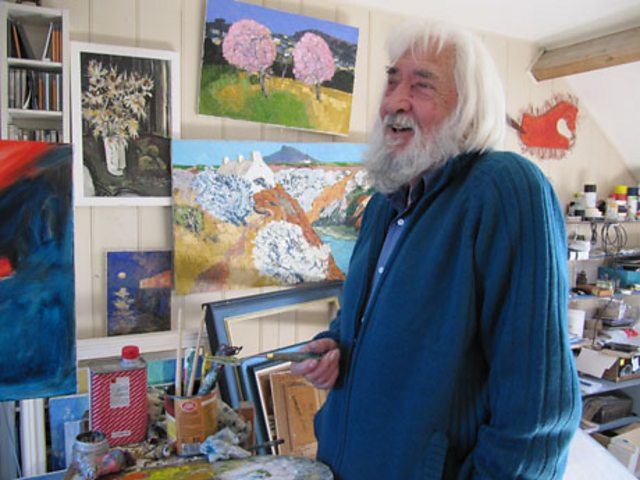 Artist Gwilym Prichard in his studio
In this week's Arts Show, presenter Nicola Heywood Thomas speaks to the artist and his wife at their home and studio.
During the interview Prichard and Williams talk about their nomadic travel over the years, their different artistic styles and how they met, and how his meeting with his future wife and seeing her art inspired him.
Prichard also speaks of the benefits of living with another artist, living in Pembrokeshire and painting Welsh landscapes, and he tells Nicola about some of his favourite landscapes to paint, including Caldey Island and Tenby harbour, areas around St David's, Aberystwyth, Dolgellau, Machynlleth and Snowdonia.
He also shows Nicola around his studio, talks about some of his works in progress and his artistic processes.
An exhibition of Prichard's work celebrating his 80th year was recently held at the Martin Tinney Gallery in Cardiff, and another will be held at Oriel Tegfryn, Anglesey throughout September later this year, dates to be confirmed.
Listen to the interview on the Radio Wales Arts Show on Wednesday 27 April at 7pm on BBC Radio Wales, and on BBC iPlayer for the subsequent seven days.
Plus, following the success of The Passion over the Easter weekend, there's an extra chance to listen to Nicola's interview with its creative director, Michael Sheen - available on iPlayer for the next five days.
Additional links