Welcome to Wales: Katherine Jenkins, Lostprophets, Shirley Bassey - Millenium Stadium Cardiff
Wednesday night saw the glittering and glamorous Welcome To Wales concert for the Ryder Cup celebration at the Millennium Stadium.
This was a concert/TV show, so it was slightly unusual in many ways. There was lots of talking, lots of clapping, lots of speeches, lots of golf celebrities (ahem!), and some music.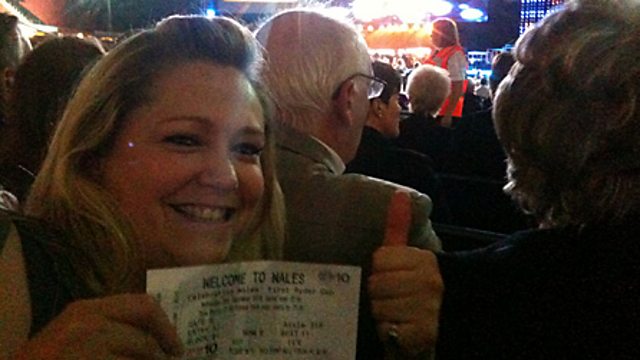 Me and my ticket
I sadly had to shoot off before seeing the grand finale of the whole ensemble piling on the stage to sing the national anthem, to try and get out of Cardiff to the BBC for my Radio One show before the traffic hit gridlock, as is usual after an event like this.
Only an hour and half long, this was a taster of a concert, a smorgasbord of musical styles, tastes, from pop, rock, musical, and opera - and a great celebration of Welsh talent. After Catherine Zeta Jones in a fabulous red silk gown opened the stage for the evening, welcoming the Welsh and any Ryder Cup visitors alike to Wales, it was host Steve Jones who had the unenviable task of holding the night together and interviewing the team captains about their players, their chances and so forth.
The warmth, pride and high celebrity calibre of Zeta Jones, the Prince of Wales and others on screen, and genuine excitement in the crowd at the event made for quite an emotional night and an open-mindedness towards the performers to come.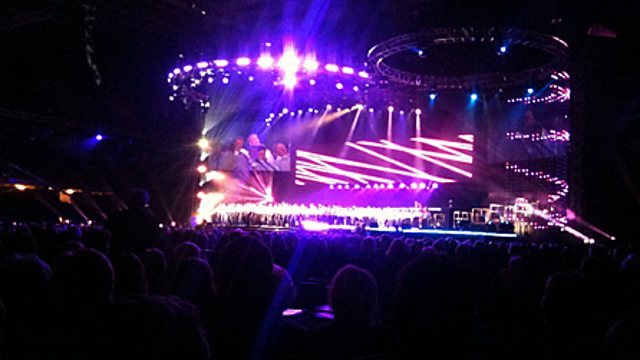 Inside the Millennium Stadium
Katherine Jenkins opened the concert with modern repertoire of populist classical songs, including one from the Godfather. My apologies for forgetting to make a note of exactly what she sang, but I was rather distracted by the on stage antics.
The first song was a Gothic dance routine, where her dark clothing was ripped off to reveal only a scant flowing white gown, elegantly draped in a fairly revealing manner, surrounded by giant illuminated pink butterfly wings.
The third and final song from Katherine began with happy writhing around barefoot on a bed, leading to her being raised high in the air by a muscle-bound gymnast/trapeze artist, hoisting our heroine aloft and spinning delicately around the stage.
Spectacular and daring, it was a wonderful start to the concert, but I was rather concerned how anyone could possibly match this.
Lostprophets were next, and despite obviously miming, their back-to-basics rock anthems were a refreshing change. Although the audience was slightly older than their normal crowds, the band was tolerated in the context of the evening. One side of the stadium gave an enthused response as if indeed at a rock concert, but the majority of the crowd sat nonplussed.
That is the only trouble with these events for a young, credible band. Despite numerous chart hits and international recognition, the home crowd are still a little unaware of Lostprophets' existence. They are, because of the musical style, a long way from being household musical stars. Still this is why I was here, and stood for my appreciation, much to the annoyance of all around me. They were waiting for Only Men Aloud. Cripes!
Next up was Shaheen Jafargholi & The Mark Jermin Stage School, followed by Only Men Aloud, and Glanaethwy School. The song, dance, and modern hip choir style made for a lively, punchy, and eye-popping performance. There was a flood of energy and colour on stage, and the singing was harmonious and exuberant, a joy to behold.
Sadly, as I mentioned, I had to sneak out around this point, but all the way down the streets of Riverside, the barrage of song could be heard for some distance.