Manic Street Preachers' Generation Terrorists: Dave Eringa, session musician
As we celebrate the 20th anniversary of the release of Manic Street Preachers' Generation Terrorists, we ask session musician Dave Eringa about his role on the album and his friendship with the band.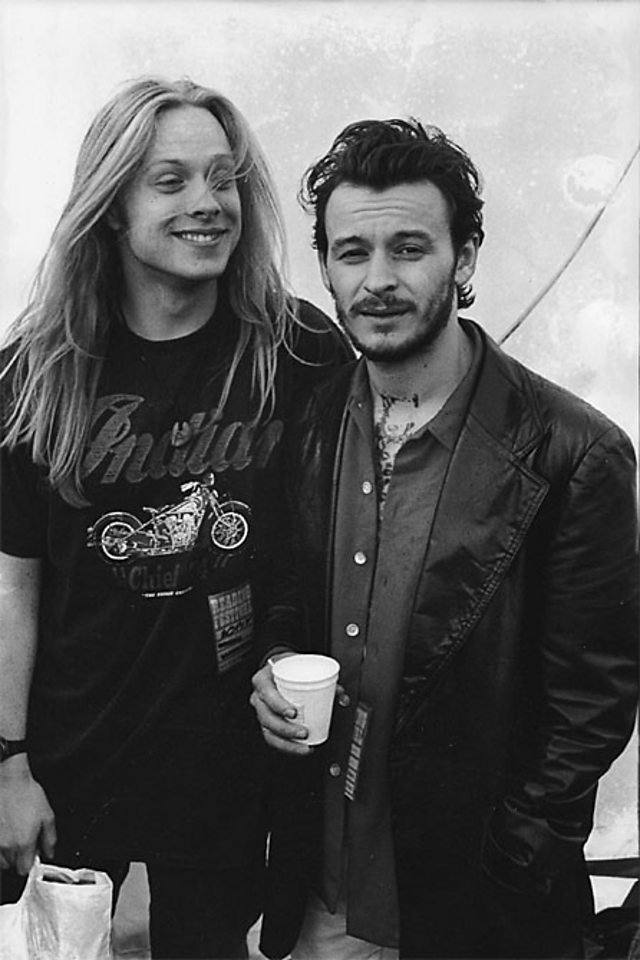 Dave Eringa with James Dean Bradfield, backstage at Reading Festival, 1992
"I was the assistant engineer on the first couple of Heavenly singles and played a bit of Hammond organ. The band were kind enough to ask me to play on the album too, so I was just an extra musician back then - I didn't start engineering for them until I produced and engineered [second album] Gold Against The Soul.
"It's hard to remember exactly what got used! I know I'm on You Love Us and Spectators Of Suicide and I definitely tried Motorcycle and Little Baby Nothing but wasn't good enough for the piano parts. It's all a bit of a blur because when I went on tour with them in 93-94 I would play organ on a lot of Generation Terrorists songs that didn't have it on the album so it's all a bit hazy.
"The band had this romantic idea that, like the famous Rolling Stones session musicians, I'd be their Ian Stewart and that someone else would be their Nick Hopkins. The truth which they discovered was that when I said I was a bit crap on the keyboards I wasn't being self deprecating, I was being truthful! Luckily they tried me out producing and engineering and the rest was history.
I was the tea boy on Motown Junk and You Love Us and we really hit it off over a shared love of Guns N' Roses. They were so kind to me, sending me postcards from tour and things like that, so I was already a massive fan and a friend by the time they got their deal with Sony. I had never met a band like them - so intelligent but so visceral too - they were a brilliant antidote to a lot of the sessions I was doing at the time and I was hooked.
"The band are always in control of their direction - the manifesto sonically, politically and lyrically has always come from them. The producer Steve Brown obviously had a very big impact too though with his radio sensibilities.
"I'm not normally a fan of double albums but I can't imagine any other way for this band to announce their arrival - what an amazingly over-ambitious statement it is.
"Sonically I guess some of the drum sounds haven't aged so well, but it's a great record anyway and given the choice would I really change any of it? Probably not! Bands these days don't get a chance to develop in the way the Manics did. I like the fact it's imperfect in some ways; it's more romantic that way.
Is it true that only James and Sean actually recorded material that was used on the record? Not at all - Nicky played all the bass. Richey was much more of a lyricist than a guitar player and James is such an astounding musician I guess there seemed no point in Richey playing.
"Two years later I insisted that Richey play one part on Gold Against The Soul, so he did the power chords behind the chorus of La Tristesse Durera and as far as I know I was the only guy to ever get to record him. I'm proud of that.
"It's definitely a classic in that it announced the arrival of a truly important band. Lyrically it's a classic, but I think it wasn't until The Holy Bible and Everything Must Go that you could call them classic albums in all the usual ways.
"I remember Steve Brown writing 'Jon Lord Woz 'Ere' on a bit of masking tape stuck to the Hammond that I did You love Us on. James had tipped him off that John was my favourite keyboard player - I thought it was such a nice thing to do to put me at my ease and make me feel like they wanted me there.
"I always remembered the way he made me feel when I came down to the sessions and have always tried to make musicians that come and play on my sessions feel the same way. Steve Brown is a dude!
"When I heard Motorcycle Emptiness I knew they had a stone cold classic that would prove to people that there was classic song-writing and amazing musicianship behind all the punk proclamations. It wasn't until people heard that song that they got taken seriously as musicians - there was even a ridiculous rumour that went round at the time that Jeff Beck played all the guitar on the album because people couldn't believe that these make up smeared Welsh punks could play so good!
"I didn't know how long they'd last as a band though - they were promising to break up after one album after all.
"My work with the band has continued ever since. What's not to love? They are the most fiercely intelligent band of the last 30 years, they are outrageously inventive musicians and amazing songwriters who have a very specific vision for their music. They are a gift to any producer and it has been an amazing privilege to work with them for so long."
Feel free to comment! If you want to have your say, on this or any other BBC blog, you will need to sign in to your BBC iD account. If you don't have a BBC iD account, you can register here - it'll allow you to contribute to a range of BBC sites and services using a single login.
Need some assistance? Read about BBC iD, or get some help with registering.