Summer blockbuster brings monsters to life
Entertaining youngsters over the summer holidays can often seem a real challenge, both in terms of expense and finding fresh inspiration for something to do.
But for those keen to keep the kids enthused this summer, the Cardiff-based children's theatre company Theatr Iolo is promising a true family treat - a blockbuster film style production featuring monsters.
Here Be Monsters is written by Mark Williams, who also sees his first novel Sleepless Knights launched next month, and will tour various venues in Wales for three weeks from 26 July when it opens at the Park and Dare theatre in Treorchy.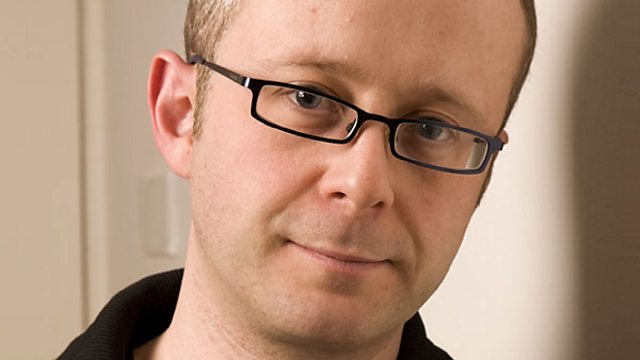 Mark Williams. Photo: Simon Gough
Mark told me that he and Theatr Iolo's artistic director, Kevin Lewis, were keen to create a piece that offered a totally immersive experience for the family while they were in the theatre, yet encouraged them to use their imaginations long after the show was over.
Mark said: "We wanted the families who see the show to enjoy it as they would a big family film or a Saturday night teatime show like Doctor Who or Merlin.
"In theatre those sorts of shows tend to be TV productions that have been adapted for the stage but we wanted this to be created specifically for the stage.
"The show is fantastical and has a strong story like many films but really utilises the imaginative freedom of theatre."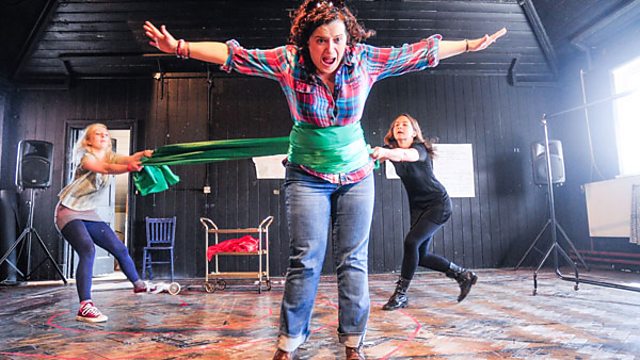 Ceri Elen, Llinos Mai and Jenny Livsey in rehearsal. Photo: Kirsten McTernan
Here Be Monsters is aimed at ages eight plus and centres on Ed and Elfi, two children who have each suddenly found themselves with an unwanted new sibling due to their parents' new relationship.
Neither of the children is too keen on the arrangement, but when they realise their town is besieged by monsters they set aside their differences and team up to vanquish the beasts.
Mark added: "I love stories that use fantasy to transform the everyday world, from writers like Philip Pullman, JK Rowling and Susan Cooper to the enduring enchantment of Doctor Who.
"I wanted to write a play that combined a scary, exciting and fun adventure with humour and heart - characters who go on a personal journey that's just as much of a challenge as their magical quest.
"And I also wanted to tell a big story in a small town setting - to explore what new forms mythical monsters might take, should they turn up on our doorstep."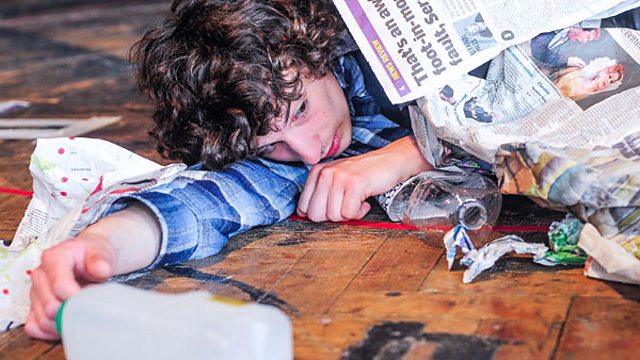 Adam Scales lies under a pile of rubbish in rehearsal. Photo: Kirsten McTernan
As the production team did not have any special effects tricks or green screen experts at their disposal, the play's monsters are those that can be found anywhere and everywhere, even in the most mundane settings.
Mark said: "As we were developing the idea I was amazed how much we could create simply through storytelling and simple theatrical techniques."
Kevin said: "We're delighted to be producing Here Be Monsters – it's a big, big show for us, a real 'summer blockbuster' as we're calling it.
"Mark's script is just fantastic – engaging, funny and just the right amount of scary.
"While the script itself is quite filmic with lots of different locations, characters and of course the monsters, my challenge as director has been to translate all of that into a theatrical production.
"We want our young and not so young audiences to have an experience that asks them to use their imaginations and that really shows off what live theatre can do that other mediums can't.
"We've also been running workshops with schools before the summer holidays to really build up the experience and to take the imagination and theatricality out into the real world."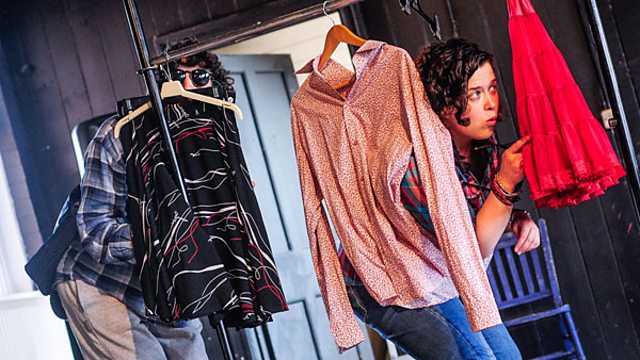 Adam Scales and Llinos Mai in rehearsal for Here Be Monsters. Photo: Kirsten McTernan
The company was recently awarded Winner of Best Play for Children and Young People by the Theatre Critics of Wales Awards 2013 for Grimm Tales and Kevin was one of three nominees in the Arts and Culture category in the Inspire Wales Awards 2013.
Mark's novel Sleepless Knights is published by Atomic Fez and will be launched next month. It focuses on a character in the old Arthurian stories called Lucas who also appears in work by Sir Thomas Mallory and was a butler figure to King Arthur and the Knights of the Round Table.
Mark said: "I find it fascinating that it was somebody's job to take a practical approach to what happened in these legends, sort of like Alfred the butler in Batman or Jeeves in Jeeves and Wooster.
"The Arthurian story ended so sadly and I really wanted to explore how that would affect someone who was involved so closely in it."
The story is set in modern Wales where King Arthur and six of his knights are exposed as living among us and references many of the fragments of Welsh legend that still exist here.
Ceri Elen in rehearsal. Photo: Kirtsen McTernan
Here Be Monsters is on at Chapter in Cardiff from 6-10 August at 2pm, with additional 7pm performances on 8-9 August.
It will also show at the Park & Dare, Treorchy; Borough Theatre, Abergavenny; The Welfare Hall, Ystradgynlais; Blackwood Miners' Institute; The Riverfront, Newport; The Torch Theatre, Milford Haven; and Ffwrnes, Llanelli on various dates.
For more information on the production visit findthemonsters.com.
Mark Williams will be chatting to Louise Elliott on BBC Radio Wales on Monday, 22 July, about Here Be Monsters. Tune in from 1pm.