Comedy Festival to take place in Llandudno this weekend
Comedians Phill Jupitus, Arthur Smith, Marcus Brigstocke, Stephen K Amos and David Sedaris are just some of the acts taking part in a charity comedy festival in north Wales.
For the second year running the Giddy Goat festival is being organised to raise funds for St David's Hospice in Llandudno.
From Friday to Sunday a raft of events will be raising chortles and splitting sides at Venue Cymru in Llandudno and at Theatr Colwyn in Colwyn Bay.
The weekend features a gala night, a day-long conference on all aspects of comedy, as well as appearances and readings from various popular TV comedians.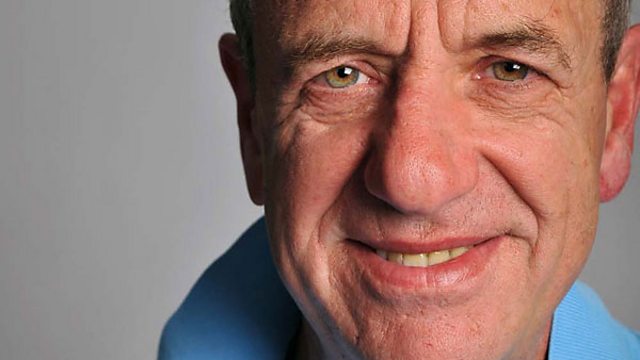 Arthur Smith
It has been made possible through the hard work of Steve Doherty, an income generation manager at the hospice who was previously a producer on shows including Never Mind The Buzzcocks and Have I Got News For You.
He has teamed up with the management at Venue Cymru and volunteers Lynne Jones and Paul Sampson to publicise and organise the festival.
The hospice provides palliative care to adult patients across north west Wales and offers support to their families at a devastating time in their lives.
Steve says he is indebted to Lynne and Paul, who between them set up the Giddy Goat website and designed all the printed material free of charge.
He said: "I don't know how we could have afforded the professional help we got from Paul and Lynne. They have been absolutely brilliant in their support for this venture.
"Paul is a great designer and photographer, the brochure and printed material is all down to him. Lynne is fantastic with a keyboard and mouse – she brought some real style to giddygoat.org."
The weekend kicks off with Friday's gala night at Venue Cymru, compered by Stephen K Amos and with appearances from Arthur Smith, Barry from Watford, Matt Rees, Iain Stirling and Francesca Martinez.
On Saturday from 11am-2pm, those wanting a deeper insight into all aspects of life as a comedy writer, actor or stand-up can attend the Craft of Comedy Conference, also at Venue Cymru.
Audiences are invited to take part in discussions with five people involved in the industry. They are: comedian and writer Dan Tetsell; Jon Rolph, former BBC Comedy commissioner who is now MD of Retort, the label which makes the IT Crowd and Phoneshop; comedy agent Kate Haldane; radio director Dirk Maggs, who wrote the popular radio play Hitchhiker's Guide to the Galaxy; and former editor of Marvel Comics, Tim Quinn.
After the conference at 3pm Buzzcocks favourite and popular stand-up comedian Phill Jupitus will take part in an improv event with students from Bangor University's comedy society.
Following this he will do a performance of his new show from the Edinburgh Festival - You're Probably Wondering Why I've Asked You Here.
Then on Saturday evening the American Grammy-nominated writer and satirist David Sedaris reads from a selection of his best-selling books.
Saturday's big headline event at Venue Cymru is an appearance by Marcus Brigstocke, introducing his new show The Brig Society.
On Sunday comedian Andy Hamilton, the co-writer and director of the hit BBC One show Outnumbered, will be at Theatr Colwyn in Colwyn Bay.
He will present a screening of two of his favourite-ever episodes of the show before being interviewed publicly and taking part in a Q&A session with the audience.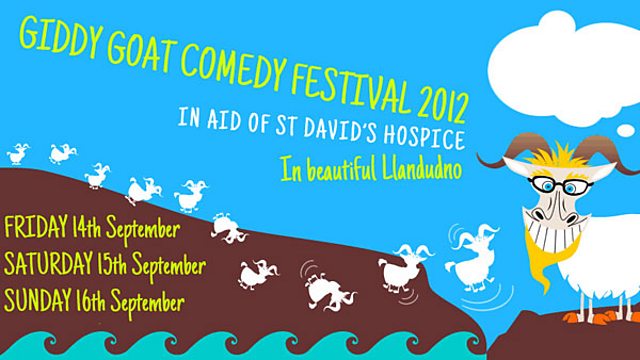 Giddy Goat comedy festival flyer
Tickets for the Giddy Goat comedy festival, including VIP and weekend and weekend passes, are still on sale now via venuecymru.co.uk or 01492 872000.
For the complete festival listings visit giddygoat.org and you can also follow on Twitter @GiddyGoatComedy and on Facebook.